Our fortnightly London tastings follow a theme, often a single type of spirit or a range of products from one brand. Sometimes it coincides with the launch of a new product, as was the case for our recent Elements of Islay tasting with occasional blog contributor Oliver Chilton, where we were treated to the first public outing of the brand's new blended malt: Peat.
Elements of Islay was launched in 2008 by our sister company Speciality Drinks. Selected by Oliver, for the past eight years, the Elements range has been a series of cask-strength single malts from Islay distilleries, each approved by a signature from an influential character in the whisky world. This changed last month with the release of Peat, a blended malt from across the island bottled at 59.3%. Even though its drinkablity and moreishness defies the strength, there's good news for those who don't like cask-strength whiskies – Oliver told us a 46% version will be appearing later in the year.
While the reason for the tasting was Peat (which you can read more about in Billy's post), there were seven other bottlings to try on the night – some current and some dearly departed.
We tasted
Br6 – distilled in 1992; clean, sweet and grassy
Bw5 – a vatting of two vintages, the youngest of which was 1996; complex, fruity and floral
Lp6 – distilled in 1998 and finished in first-fill ex-Buffalo Trace barrels for a decade; sweet peat, coconut and vanilla
Peat – blended malt with the youngest component aged for seven years; meaty with a maritime character
Bn6 – 2001 vintage whisky aged in a sherry butt; waxy texture with peach, butterscotch and ginger flavours
Lg5 – bottled in its teenage years; smoked meat and tropical fruit
Ar4 – distilled in 2000; big, bold and smoky with bourbon-cask sweetness
Oc2 – peated to around 160ppm; balanced by sweetness from ex-Spanish wine American oak
Best #TWETASTING Tweet
Billy Abbott @cowfish
It's so good, I put my name on it! [Bn6]
Whisky of the night
Peat showed exceptionally well on the night – the combination of smoky meat (bacon) and coastal character (brine and sea spray) is very well integrated with sweet fruit, the latter becoming more apparent with water. However for me, the star of the night was one of last year's releases: Lp6.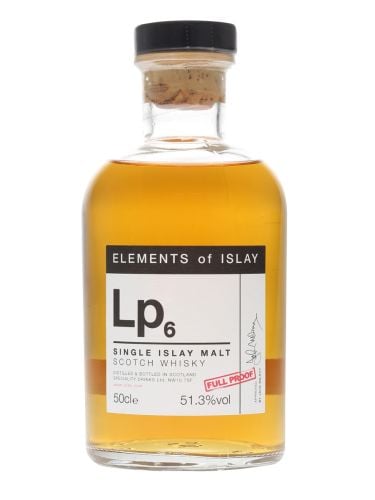 The Marmite of Scotch whisky, Lp bottlings are known for being big, bold and medicinal. Lp6 was finished in first-fill bourbon barrels.
Nose: Surprisingly restrained for an Lp; needs time for the notes of iodine, brine and black pepper to come through.
Palate: As with the nose, there's an elegance to this sixth release. The peaty character is very much in evidence, but there's a hint of vanilla in the background. Water brings this out, as well as pineapple and mango.
Finish: Long and dry, with underlying vanilla spice.
Comment: A versatile dram – if you're after a big savoury whisky, this is the one for you. On the other hand, if you like more fruit to balance the smoke, then adding water does the trick. Depending on my mood (and the British weather), I'd be happy with either!
Oliver chose eight whiskies to show off the variety of the range, from unpeated Br6 all the way to the super-heavily-peated Oc2. Every bottling was chosen by a guest as their whisky of the evening, and with the aforementioned 46% version of Peat on the way, the series offers something for every Islay-whisky fan.