'If it has been done before, we are not interested in doing it.' An apt motto when you learn that it comes from Corsair, the US-based distiller that has turned more than a few heads with its unconventional releases using diverse ingredients such as pumpkin, quinoa and vanilla beans.
Based across two sites – one in Nashville, Tennessee and the other further north in Bowling Green, Kentucky – Corsair was founded by childhood friends Darek Bell (a graduate of the now-defunct Bruichladdich Distilling Academy) and Andrew Webber. They began by brewing their own beer and making their own wine, and after running into problems while working on a biodiesel plant, they changed course and decided to create spirits instead.
We tried a good selection of Corsair spirits recently; this is what we thought: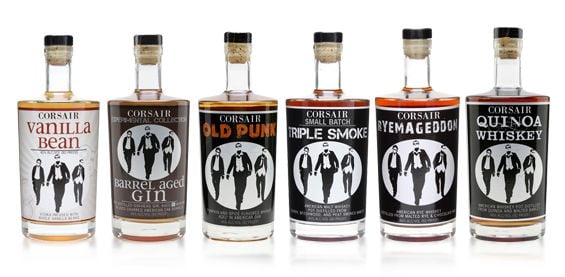 Nose: Surprise, surprise: a big whack of vanilla. But it's clean, not cloying, with a wet-stone/flinty note, too.
Palate: Again, very clean, despite the big hit of natural vanilla. Not confected, but rather warm and welcoming. This would be an ideal way to give a vanilla hit to your cocktails.
Finish: Did I mention the vanilla?
Nose: Fresh juniper at first, then full-on citrus aromas of lemon and orange, followed by cinnamon and clove. Rich and toasty, with a butter-toffee note rounding things off.
Palate: Cleaner than the nose would suggest, this is perfectly poised, with candied orange and lemon peel. Refreshing, but with good weight.
Finish: The zingy lemon notes lead the way.
Nose: Rich, rooty sweetness from the pumpkin, plus tempting aromas of carrot cake, then clean, pure notes of ripe pears.
Palate: Very clean, bright fruit, with more ripe pears, plus squeaky-clean grapefruit citrus and subtle spicing of black pepper and clove.
Finish: Clean and fruity.
Nose: Rich, deep and dark, with aromas of stewed fruits and cherry compote. Heavier notes of dark chocolate, mocha and damp earth rise from the glass.
Palate: Smooth mouthfeel with cherry-liqueur and Black Forest gateau notes. No sharp edges, although soft smoke arrives late on.
Finish: The rich dark fruit lingers, then the peppery smoke takes hold.
Nose: Appealing spicy aromas, with cinnamon-infused dark chocolate, nutmeg, malt and toasty oak. There's some juicy fruit in there, too – cherries and orange peel.
Palate: Rich, dark chocolate cake laced with fennel and caraway seeds, joined by Christmas-cake spices: cinnamon and nutmeg.
Finish: Rich and spicy.
Nose: Strong emphasis on nutty spiciness – cracked black pepper, caraway seeds – as well as red fruits, dry straw and honey.
Palate: Simple, well-defined flavours of roasted nuts, black pepper and honeyed fruit. Clean, with a pleasing texture.
Finish: The toasty, honeyed fruit lingers.
This was my first taste of Corsair's spirits, and it was a fascinating trip through all manner of flavours. My favourites were the Triple Smoke and the Ryemaggedon – both big, brooding beasts that delivered plenty of rich, spicy fruit. Keep an eye out for more Corsair bottlings on The Whisky Exchange website!