Something different for February's Spirit of the Month – a liqueur. We've chosen a classic Italian almond-flavoured example: Salizá Amaretto Veneziano from Bepi Tosolini.
Amaretto is an almond-flavoured liqueur which is predominantly made in Italy. For many years, the best-selling brand has been one that hails from (di)Saronno in Lombardy; however this is not made with real almonds, and while that may be great news for those with nut allergies, Salizá is made with crushed almonds, staying true to amaretto's origins.
Bepi Tosolini founded the eponymous company in 1943, building a distillery in Udine in the 1950s to produce grappa. Today, the producer is in the hands of his three grandchildren: Guiseppe, Bruno and Lisa, who continue to make a range of liqueurs, brandies, and of course grappa, using the innovative methods introduced by Bepi, the main result of which was to produce spirit that came off the stills clear, rather than amber in colour. Formerly known as Mascarada, which is still represented by the image of mask-wearing lady on the front of the bottle, Salizá highlights amaretto's traditional home of Venice, where it was served at parties in the nobler palaces in the 18th century where, according to legend, it was popular with Giacomo Casanova.
Here are my thoughts: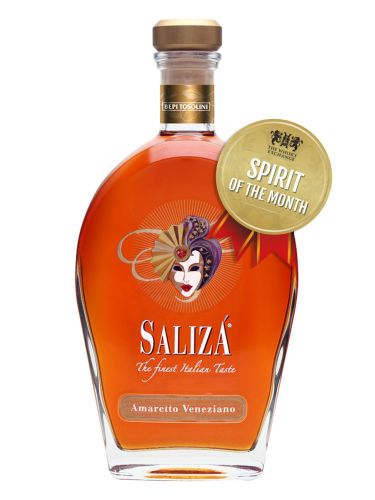 Nose: Enticing combination of Battenberg cake and cherry Bakewell tart with an intense almond note.
Palate: Rich, sweet and syrupy – but not sticky – there's a freshness to it, too. As expected, almond is the predominant flavour, expertly balanced by notes of orange, marzipan, orange zest, hints of ginger and honey and a very slight bitterness to offset the sweetness.
Finish: Long with intense almond slowly dissipating to leave a pleasant hint of ginger at the finale.
Comment: The best amaretto I've tried. The nose drew me in with two of my favourite desserts and continued onto the palate with superb integration of flavours. Much more enjoyable and less cloying than I was expecting.
Salizá Amaretto Veneziano is £3 off for the whole of February. Think you know amaretto? Think again!