Every sport has that jaw-dropping moment (inevitably with matching commentary) that stays in the memory for years to come. For football it's Kenneth Wolstenholme and the fourth goal in the 1966 World Cup Final; there's Michael Jordan's 'The Shot' in basketball; and tennis has the Chang/Lendl Match at the 1989 French Open. For rugby it's 'the greatest try ever scored' (aka 'that try') scored by Gareth Edwards for the Barbarians against New Zealand at Cardiff Arms Park on 27 January 1973 – here it in is full 1970s televisual glory:
The 2015 Rugby World Cup starts this evening, with Wales' first game against Uruguay in two days' time. Penderyn, the principality's only single malt distillery, has released a rugby-themed bottling as the fourth instalment in its Icon of Wales series – That Try. We have two bottles to give away, each with a box signed by the legendary try scorer Gareth Edwards himself. Matured initially in bourbon barrels, the whisky was transferred to small quarter casks which used to hold peated whisky from Islay, to add a smokiness which complements the sweetness.
Here are the official tasting notes: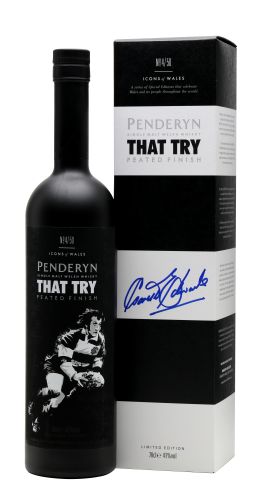 Nose: Mild aromas of peat smoke, early morning at the rocky seaside and warm marmalade-on-toast all compete for our attention.
Palate:  A very fresh and clean whisky, beautifully distilled gives pleasure from the very first sip. In the mouth it begins with great sweetness before the smoky, slightly medicinal flavours descend.
Finish: Slight bitterness follows that leaves a long and lingering fresh taste in the mouth.
To be in with a chance of winning one, buy a bottle of Penderyn's Legend, Myth or Madeira before 11.59pm on Monday 2 November and you'll automatically be entered into the draw. Full details, along with Ts and Cs, can be seen on our competition page – pob iwc!