Japanese whisky has seen a huge growth in recognition over the past year, partly due to Yamazaki Sherry Cask being named as 2015 World Whisky of the Year in Jim Murray's Whisky Bible. It has taken more than 90 years to come to the attention of the masses – the first whisky distillery in the country was Yamazaki, founded in 1923. One of the founders was Masataka Taketsuru, who left to set up his own company (later to become Nikka), establishing Yoichi distillery on Hokkaido in 1934. We were delighted to welcome Nikka's European brand ambassador, Sayumi Oyama, to TWE Vinopolis last month.
In their own words – Sayumi Oyama
'I first tried whisky when my father gave me a Japanese one 20 years ago. [I can't remember what it was, but] it opened my eyes and I started to learn about alcoholic beverages – I was a whisky fan before I got the job'
'This year we are discontinuing our single malt range and replacing them with no-age-statement bottlings as we don't have enough stock. It's partly due to a big boom in Japan because of last year's TV drama based on Masataka and Rita Taketsuru [Massan], and also as 20 years ago there was an economic crisis, so production was limited – now we need more whisky'
'I think the boom will continue, but there will be an issue of stock for everyone: us, Suntory and Chichibu. I think Japanese whisky will become rarer and more expensive'
'The new Nikka 12 blend will have an age statement as we have enough old grain, so we only need a smaller amount of aged malt'
'[On rumours there is Ben Nevis in Nikka Pure Malt White] We try to use only Japanese whisky, but I think today it is necessary to use malt from other countries. It's very secret though, even I can't get a lot of information about that from our master blenders'
'My favourite Nikka is Yoichi 15; it's peated, complex and nutty with a long finish and a hint of salt. I'm a peaty whisky fan – I like Islay whiskies, especially Port Charlotte'
'I hope the age statements will be coming back. We can't say when, but hopefully within 10 years'
We tasted
Nikka Coffey Grain – aged for up to 20 years; sweet, spicy and very moreish.
Nikka From The Barrel – big, spicy and tasty in the mizuwari that started the evening.
Nikka Taketsuru Pure Malt – refreshingly fruity with tobacco and spice.
Nikka Taketsuru 17 Year Old – incredibly complex with a hint of peat. Outstanding.
Nikka Miyagikyo 10 Year Old – the spicy heart of the Nikka blends.
Nikka Yoichi 12 Year Old – a delightful combination of peat and sherry casks.
Best #TWETASTING Tweet
Tom Forrest @VinopolisTom
Nikka Taketsuru [Pure Malt] – spicy, mellow stone fruit some fennel and other herbs giving a twist to the finish.
Whisky of the night
It was a close-run thing, and although my whisky of the night was Taketsuru 17 Year Old, it seems everyone agrees and we've sold out. However Taketsuru Pure Malt is a superb alternative: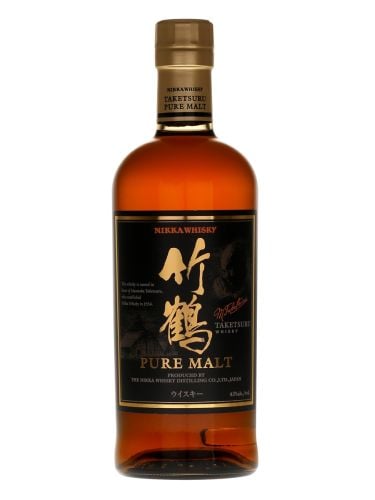 Nose: Combination of vanilla and black pepper up front, balanced by a sweeter citrus note in the background.
Palate: A rich and creamy mouthfeel. The spiciness from the Miyagikyo comes through at first as clove and nutmeg, being joined by a fruity orange note from the Yoichi component. There's a hint of tobacco and sweetness which brings it all together.
Finish: Long with the spice, fruit and sweetness all in perfect harmony.
Comment: A complex and delicious blended whisky. This is a great introduction to the high-quality whisky that has helped to ensure Japanese whisky rightly gets the acclaim it has been due for so long.
The future is certainly bright for Nikka, and for all Japanese whisky. While the age statements may be disappearing, I believe this is not a move towards using primarily very young whisky in the blends, but merely to retain a common label for the brands, as batches will no doubt vary in the future. One of the stars of the evening, Taketsuru Pure Malt, may not carry an age statement on the bottle, but is matured for an average of 10 years and this is where Sayumi says the new NAS releases will be priced at. The new bottlings should arrive before the end of the year, when we'll give them a try and report back.