A lot of distilleries talk about their history, but there are few still in operation who can point to generations of family ownership. One of the best known distilling families in that exclusive club are the Grants of Glenfarclas, owners of the distillery for 150 years. To celebrate this milestone, they have released a new whisky, the cryptically named Glenfarclas £511.19s.0d.
The story behind the name is actually simple: On 8 June 1865, 29 years after its founding, John Grant bought Glenfarclas for the princely sum of £511.19s.0d. A bit of digging on the Bank of England's website suggests that this was equivalent to about £57,000 in today's money, quite the bargain for a working distillery. The distillery was only part of the purchase, as the family were actually buying the tenancy of Rechlerich farm, and the distillery came along with it – the total bill was £1224.19s.7d. The Grant's leased out the distillery but when their tenant, distant cousin John Smith, resigned in order to found Cragganmore, John and his son George took over. Since then, the family have run the distillery.
As George S Grant, son of current director John L S Grant, has said at tastings, it's unnerving to visit the family graveyard and see your name on so many gravestones – the Grants have been quite conservative when naming their children and over the years they've almost all been called John or George. However, it does mean that now, 150 years after the family bought the distillery, a John and a George again run the company as a father and son team.
Along with the release of £511.19s.0d, the distillery celebrated the anniversary by filling 10 sherry butts and 10 sherry hogsheads, ready for the future generations. The family are still planning for the long-term, laying down stock now to ensure that years down the line they'll have all of the whisky they need.
Glenfarclas is well known for its heavily sherried whisky, and this celebratory dram starts off down the same path, consisting mainly of first-fill sherry butts. However, there's more to it than just a blast of dried fruit: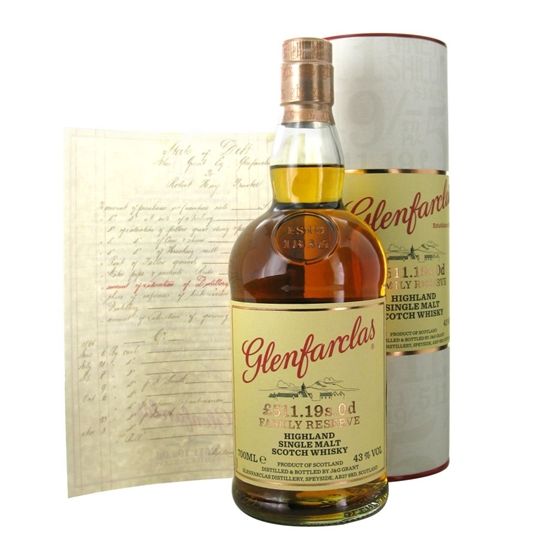 Nose: Honey and raisins with gentle charred-cask bitterness hidden behind. Stewed apples and pears develop in the glass, along with golden sugar, Portugese custard tarts, buttered fruit cake, nutmeg and clove. Despite those heavier notes, it's still quite fresh, with freshly sliced Golden Delicious apple and hints of candied lemon.
Palate: Soft and rounded, with delicate sherry-cask spice and fruit to start. The flavours get darker as it develops, moving on through raisins and dark fruit cake to gentle notes of char and mixed spice. Just before the death, fresh apple pops up, accompanied by damp leaves and forest floor earthiness.
Finish: Nutmeg and cinnamon toast, soft and lingering with tart apple sauce and a hint of liquorice.
Comment: A game of two halves, with fresh fruit and weighty sherry-matured flavours balanced carefully, with each taking their turn on the nose and palate.
Lighter and more elegant than some of Glenfarclas's drams, but still with the classic sherry cask punch hidden underneath. It is available now from The Whisky Exchange.