We launched Malt of the Month last year to highlight our favourite whiskies, with Spirit of the Month following in April. Such was the success, and to celebrate the start of summer, we're adding sparkling wine to our regular recommendations – say hello to our first Champagne of the Moment: R de Ruinart, at £3 off.
Ruinart was the first Champagne house, founded by Nicolas Ruinart (nephew of Dom Ruinart, friend of Dom Pérignon. Producer of the original rosé Champagne in 1764 (Ruinart Rosé), the house continues to be at the forefront of the category more than 250 years later, albeit now in the hands of Moët et Chandon, who took over the reins from the Ruinart de Brimont family in 1963. The range comes in an elegant curved bottle, reminiscent of the original ones from the 18th century, and Chardonnay remains at the heart of all the cuvées. 'R' is the introduction to the range; here are the official tasting notes: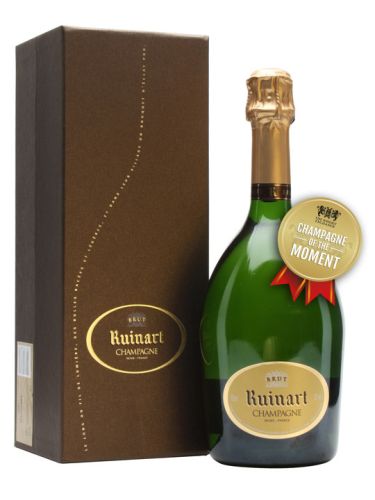 Colour: A vibrant, clear yellow colour with golden reflections. Good brilliance with sustained effervescence and a very persistent foam.
Nose: At first the nose is delicate, fresh and fruity, filled with white-fleshed fruits (pears, Bosc apples), apricots, as well as hazelnuts and fresh almonds. Several floral and spicy notes add an extra hint of complexity. The second nose reveals superb olfactory intensity on a more biscuity, brioche-like base. A hint of sea spray, but rich and plush, with punchy fruit, sweet malt, and floral aromas.
Palate: Frank and direct attack on the palate. A balanced wine, rounded and full-bodied, with an attack scented with ripe fruits (greengages and nectarines).
Finish: The finish is long, the well-integrated dosage giving way to the characteristic freshness of the Chardonnay which makes up most of the blend.
R de Ruinart is a classic Champagne that is refreshing and full of flavour – a superb aperitif. If you're looking for the perfect bottle for a summer gathering or just have a craving for Champagne (let's face it, who needs an excuse to drink Champagne!), this is a great choice and, when it's on offer at just £37.25 (£3 off), one that's hard to resist.