Cocktail bitters have seen a resurgence over the past decade, with craft producers such as Bittermens and Fee Brothers entering the fray. One man has been at the forefront since he cut his teeth at New York's Rainbow Room in the late 1980s – Dale DeGroff, aka 'King Cocktail'. In collaboration with absinthe legend and founder of Jade, Ted Breaux, he created DeGroff's Pimento Bitters, made at the Combier distillery in France's Loire Valley.
Originally produced as a replacement for one of DeGroff's most-used bitters (but at the time had been discontinued), Pimento Dram, Pimento Bitters is based on allspice, combined with anise and other botanicals, herbs and spices.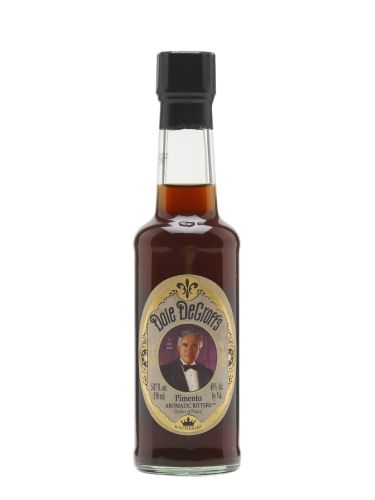 Nose: Herbal, with the allspice immediately apparent, followed by clove, menthol, eucalyptus, liquorice, cinnamon and nutmeg.
Palate: Very bitter with ginger and a hint of burnt Christmas cake starting to fight its way through the herbs present on the nose.
Finish: Long and very drying, with a burnt woodiness left at the end (I know that sounds unpleasant, but they're not meant to be drunk neat – it's an important character for cocktail bitters).
What cocktails should they be used in ? As with any good bitters, these will add depth and complexity to any classic cocktail. If you use rye whiskey for your Manhattan or Old Fashioned then replacing the Angostura with these will complement the spice of the rye whiskey. One of DeGroff's recommended cocktails is the Sazerac:
chill a rocks glass and set aside
muddle a small sugar cube, two dashes of DeGroff's Pimento Bitters and a teaspoon of water in a mixing glass until the sugar is completely dissolved
add 25ml Cognac, 25ml rye whiskey and large ice cubes to the mixing glass
pour a splash of absinthe into the chilled rocks glass, roll to coat the side of the glass with the absinthe and empty.
strain the contents of the mixing glass into the rocks glass
garnish with a lemon twist.
With so much choice in the bitters category, it can be hard to choose the right one. If you want to add extra spice to your cocktails, then these are exceptional. Using more than 30 years of experience, DeGroff has honed the recipe to produce bitters that will complement a wide variety of classic cocktails, as well as some more contemporary ones. Part of the appeal of home cocktail making is that (as with cooking), it's about experimentation, so get practising!