They're big whisky drinkers in Spain, and while blends such as Ballantine's and Johnnie Walker are the top sellers, one single malt has a huge following, too: Cardhu. Head into any half-decent bar, and it's odds-on there'll be a Cardhu available – in fact, the Spanish account for 75% of all Cardhu drunk around the world.
Cardhu is still a mainstay of Diageo blends – the distillery is known as 'the spiritual home of Johnnie Walker' – but thankfully, Cardhu has been given the chance to shine as a single malt in its own right.
The 12 Year Old is the best-known Cardhu bottling; with its honey-tinged fruit and soft, approachable style, it has generated a loyal following. This month, however, we are concentrating on its big brother, the 18 Year Old. The 18yo is a grown-up version of the 12: the fruit is richer, plus there are intriguing notes of leather and dark chocolate in there.
As it's our Malt of the Month for February 2015, you can pick up a bottle from us for just £61.95, a saving of £10. Here's what the Cardhu team say about it: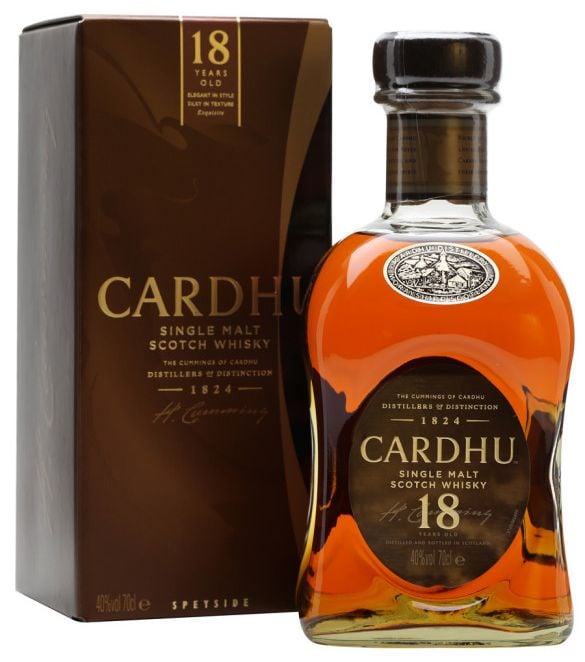 Appearance: Burnished copper.
Nose: Not forward, yet attractively 'natural' and in time rich, balanced and very complex. Macerated fruits; pears, plums, cherries. Hints of pineapple develop a light, green, gooseberry-like edge. Delicate scents of wild rose, menthol and polished leather rise above a soft base of Christmas cake or buttery pastry. Water opens it all up elegantly, without altering the main themes.
Body: Rich and smooth-textured.
Palate: A smooth and sweet taste, unctuous, yet with light and lively acidity. The soft, delicate, fruity core is cradled by rich, chocolate-edged flavours, the texture, chocolate and fruit combining to evoke a cherry liqueur chocolate truffle. Warming overall, it's softer with water, when the balance of tastes remains the same, though lighter.
Finish: Exciting and complex, the conclusion is long, smooth, gently drying and rich in cocoa.
By the way, if you ever get the chance to visit the distillery, it's well worth a trip. Cardhu's location is prettier than most, set among green fields just north of the River Spey. If you can't get there, then treat yourself to a bottle of their 18 Year Old and enjoy a taste of classic Speyside.