The folks at Glenfarclas are best known for producing whisky of a very specific style: sherry matured. They've done many releases with a nod to other styles, but the core of what they do is rich and heavy whisky, showing the classic sherry-matured style. However, every now and again, they find some interesting casks and release something that shows another side of the distillery's character. The most recent of these special releases is the Glenfarclas 1966 Fino Casks.
The type of sherry usually associated with the classic sherry-cask-matured style is oloroso, a rich and dark wine, packed with dark-fruit flavours. This character usually comes through in whiskies aged in oloroso casks, but oloroso is far from being the only kind of sherry.
The three casks that were vatted to produce this release were purchased in 1966 by George S Grant, father of current distillery chairman John LS Grant, from an Edinburgh-based cask broker. They were simply classified as 'sherry casks', filled and then left in the warehouse to mature. Almost five decades passed before someone in the warehouse was tasting cask samples and noticed there was something different about them – they definitely weren't oloroso casks. Research was done, and George S Grant's extensive records pointed to a pair of sister casks, which when tasted showed the same character. The difference? The casks had previously contained fino sherry.
Fino is much lighter and typically drier than oloroso, with a zesty bite. It's not usually matured for long, and does so without contact with the air, helping to maintain its pale colour and fresh flavour. As such, its time in a cask seasons the wood in a very different way to the heavier oloroso, giving quite a different character to whisky later matured in the cask. It's rare to see fino casks used for whisky these days, since the Spanish export regulations changed in 1981 and forbade the use of wooden casks to transport sherry – it was these transport casks that were commonly used to mature whisky once the sherry had been emptied. The lack of detailed records before that change also means that distillers often don't know the style of sherry that was in a cask – many fino casks have almost certainly been vatted away without anyone realising.
Fortunately someone at Glenfarclas caught these, giving us a chance to try something very different from what you might expect in a traditional, old, sherry-cask matured whisky.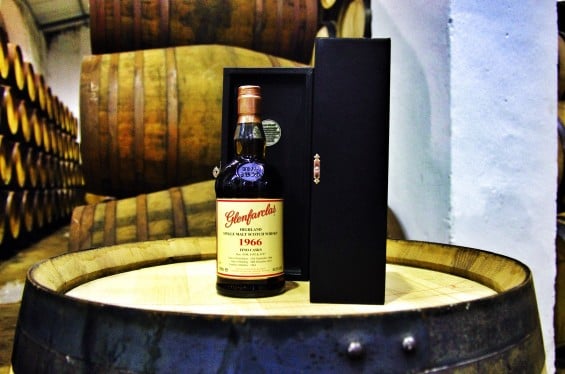 Nose: Almonds, vanilla toffee and honeysuckle to start, almost like a young and sweet bourbon-cask dram. Darker flavours then start to make themselves known, with nutmeg, cinder toffee and milk chocolate. Nutty and yeasty notes develop, along with citrus oil and dry toast. Sweetness builds as it sits in the glass, with maple syrup, subtle nail varnish, toffee, sweet grape skin and white pepper.
Palate: Sharper and fresher than expected from the comparatively soft and gentle nose, with old oak, leafy ferns and barrel char balanced by peach, ripe pear, boiled sweets, citrusy honey and lemon zest. More depth of flavour comes from dark liquorice and sweet woody spice.
Finish: Old oak, sharp woody spice, nutmeg and sweet butter. It hangs around for a while, with toffee and zesty citrus notes lingering.
Comment: Further demonstration that guessing what a whisky will taste like simply from the previous occupant of a cask is hard. There is some fino-sherry character to the whisky, but it's run through with honey, toffee and fruit, with a sweetness not often found in a dry sherry. Fortunately, the wine left lots of character in the wood, which we can now taste in the whisky.
The 1966 Fino Casks is the first in a new series from Glenfarclas, celebrating the family's history. There will be six bottlings, one for each of the six generations that have been involved with the distillery, from founder John Grant to current brand ambassador George S Grant. They're keeping quiet on what the rest of the series will involve, but for now, this first edition is available on The Whisky Exchange website.