October's Malt of the Month is Glenmorangie Lasanta 12 Year Old, an oloroso-sherry-finished whisky that is part of the extra-matured range that also includes Quinta Ruban (ruby port finish) and Nectar D'Or (Sauternes finish). The Highland distillery is regarded as a pioneer of wood finishing, having introduced a range in the mid-1990s, although The Balvenie had been finishing their Classic in sherry butts since the early-1980s (without mentioning it).
Lasanta was launched towards the end of the Noughties as a no-age-statement expression, being upgraded in summer 2010 to a 12-year-old. It is aged for the first 10 years in American white oak ex-bourbon casks, before being finished in oloroso sherry casks for the final two years.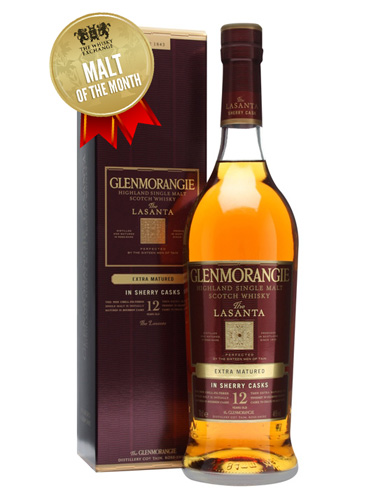 Nose: Complex with notes of green apple, dark chocolate and Christmas pudding with underlying cinnamon spiciness.
Palate: Warming, rich and spicy with dark chocolate, roasted coffee beans, espresso, cinnamon and a hint of ash in the background.
Finish: Medium length with dark chocolate and a dry, spicy kick at the end.
Comment: A rich and sherried whisky, but one that is easy to drink. Lasanta is Gaelic for 'warmth and passion' and it lives up to its name, although the warmth comes from the spicy cinnamon rather than from the alcohol.
Lasanta is further evidence that Glenmorangie excels at wood finishing. At £5 off for the whole of October, it's cracking value – head to The Whisky Exchange website to buy a bottle.