This year's Whisky Show has been a rather busy time for us. Not only did we have a show to put on (it went very well, thank you for asking – our writeup of the weekend is over here) but we also had a bunch of bottling projects coming to a head at the same time. Tim teased us with a few details a couple of weeks back, but I've had the pleasure of trying them all again since the show and can reveal a bit more about them. Firstly: The new releases from the Elements of Islay.
We've picked out six new entries in the Elements series this time, covering quite a range of flavours and whisky styles. As is often the way with these bottlings, one has already sold out and a few are in short supply, so if any take your fancy we'd advise jumping in as soon as possible…
First up is our sold out whisky – Pl2. Our second release from this 'virtual' distillery, it's a little different from the last one. That release, the rather popular Pl1, sold out around this time last year after not only picking up a gold medal at the Malt Maniacs Awards, but also the 'Best Premium Peated Whisky' award. This one plots a rather different path to its predecessor as you can tell from a side by side visual comparison:
I touted an unmarked bottle of the Pl2 around Maltstock this year and got some excellent feedback – generally along the lines of 'That's a <name redacted> isn't it?' and 'I don't know what it is, but I want some', which was quite encouraging. It was also one of the hits at the Whisky Show, which is one of the reasons why it now joins the ranks of the dearly departed.
For commemorative purposes, here are my tasting notes:
Billy
Nose: Werthers Originals, soured cream,  milk bottle sweets, gummi fruit and big estery notes.
Palate: A big hit of smoke on the front of the palate, with sweet-cured bacon, apples and boiled sweets coming in behind.
Finish: Sour green leaves with balanced soot and charred wood
Comment: A bit more towards what you might expect from this 'distillery', but with lots of sweetness along with the big smoky punch.
Tim
Nose
: Buttery, with apples and flapjacks, fruit yoghurt and strong woodsmoke. Develops leafy, barky notes.
Palate: Very sweet initially, than a massive blast of coalsmoke and hot spices. Hints of oysters, oil and wet sand lurking behind. Water soothes the smoke and lifts the sweetness and minerality.
Finish: Warming. A slow fade, with spices, pepper and grilled, buttered legumes, almost like a mezcal.
Comment: Not devastatingly complex but great fun nonetheless, and swims really well. Augurs well for the future, I can't wait to see how this spirit will be at twenty or thirty years old.
Next on this list is one that is 'coming soon' – we had a few bottles around for the show, but they flew off the shelves. We have some more arriving very soon and they'll be back up on the website as soon as they hit the warehouse. The whisky in question is Lg4. As usual we can't say much about the origins and make-up of the whisky, but suffice to say that this is not something that appears very often as an independent bottling and we're rather pleased to have been able to release this one. Some notes:
Billy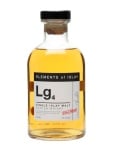 Nose: Freshly ground coffee, dark barrel char and rich earth. Cured ham, brown sugar, smoked apples and touches of fresh leather, but with a spirity freshness hiding underneath
Palate: Ferns, earth and tingly menthol, backed up liquorice, green leaves and gentle woody spice. Touches of brine and rock pools.
Finish: Lingering minerality, with sour wood, ham and sweet apple.
Comment: A much darker flavoured whisky than its colour suggests, with spice and rich sweetness.
Tim
Nose: A strikingly full nose of sweet cereal bars and singed wet turf, developing prominent medicine cabinet aromas of bandages and liniments.  The phenols get heavier, with the emphasis on smoke rather than peat.
Palate:  Very sweet attack initially, then a huge surge of turfy, ashy smoke and a backdraft of TCP.  Much bigger than expected.
Finish: Sweet and smoky, with a mildly eucalyptic edge. Fennel and phenols. Late-arriving salt.
Comment: Unexpectedly big. Not difficult to see why the owners of this distillery prefer to hang on to their stocks.
Now on to the whiskies we have bottles of. First up, Br5. Islay's reputation for smoke, brine and general 'oomphiness' often leads those to assume that every whisky from the island is like that. However that's definitely not the case. This is, as is traditional from this distillery, unpeated and focuses on the more grassy, sweet and soft side of Islay.  It's a vatting of a few casks, selected to compliment each other and bring some complexity to the dram that the individual casks didn't have on their own:
Billy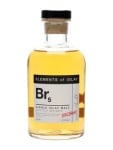 Nose: Sweet, with honeydew melon, grassy meadows, straw and floral hints.
Palate: Sweet wood, honey, flower petals, hazelnut brittle, cinnamon and chocolate touches.
Finish: Warming spice, orange peel and hints of clove.
Comment: This fulfils the brief – grassy and sweet with some underlying spice and nuttiness. It also takes a drop of water well, bringing out more melon and honey.
Tim
Nose: Wonderfully grassy, with very clean, light honey and barley sugar. Develops on hay and hints of clove, dried bark and raisin.  Picks up some melon and kiwi with water.
Palate:  Sweet, but with a nice little bite of salt.  The oak comes in mid-palate, adding spice to proceedings.
Finish: Warming and dry at full strength, with brine and a spicy tingle.
Comment: Lovely balance of salt and sweet – best with a small drop of water.
Next, a dram from a distillery that's often towards the softer side of the Islay peat spectrium – Bw3. However, don't let the pussycat reputation fool you, these folks know how to produce a whisky with both punchy flavours and smoke, as various limited edition OBs have shown us over the years. This is again a vatting of a small number of casks, with the intention being to amplify the distillery's character as well as dial up the intensity of flavour:
Billy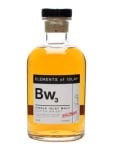 Nose: Fragrant wood smoke with a peaty tang, floral hints and meadow grass. Butter and milk chocolate buttons.
Palate: Coal dust and wood ash, with lemons, sugar syrup, stroopwaffel, salted caramel and brine.
Finish: Floral touches with lingering wood smoke and polished wood.
Comment: A light hint of the more traditionally floral tones found in older releases from this distillery, paired with all of the intensity and sea spray of some of their recently lauded bottlings.
Tim
Nose: Perhaps not as obviously uber-fruity as Bw1, but there's still some nice hints of melon and peach, alongside sugared almonds, autumn leaves, bandages and woody ash.
Palate:  More phenolic than expected, with wet peat and bonfire smoke immediately.  Again, the fruit is quite restrained with hints of strawberry liquorice and tinned peach / apricot syrup in the background
Finish:  A nice fruity saltiness with lingering wet turf and wet cut grass.
Comment: This beguiling combination of fruit and peat is absoutely classic for the distillery. Water does nothing for it, in my opinion – this one is best exactly as it comes.
The final two whiskies have something in common – they both had sherry casks involved in their making, something not particularly common in the world of smoky drams. The first and more restrained of the pair is Lp4. Its colour gives away that it's not a darkened beast of a whisky, but it's definitely picked up a nice slab of sherry cask flavour during its time in wood, giving a more balanced demonstration of the smoke/sherry combination than we usually get:
Billy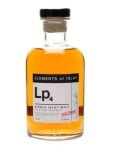 Nose: Bung cloth, fresh bandages and sherry vinegar, charred wood, burned stones. (Damper bread on fire according to our resident Australian)
Palate: More smoke than peat, with astringent wood smoke and coal dust, mixed with green wood and flashes of dried fruit.
Finish: Warming and smokey, with lots of minerality and green leaves.
Comment: A focus on smoky flavours with a nice backbone of fruit to stop it being to austere – one for the refill sherry fans.
Tim
Nose:  Seaweed and swimming pools, with wet bark, brown bread and toasted raisiny malt loaf behind.
Palate: Big, warm, sweet and sooty, with hints of raisins and lots of dusty, turfy, earthy flavours.  A medicinal note of iodine and bandages in the background and a thread of honey throughout. Remarkably, a drop of water releases brown sugar and faint hints of some rather toothsome tropical fruit.
Finish: Very long. Iodine, the famous tarry rope and some Fisherman's Friends.  A lovely dry cinnamon note towards the death.
Comment: This is just my sort of thing.  Marvellous.
Last on the mat is a dram that we're rather pleased to have found – Ar3. While this distillery does produced a fantastic sherried regular expression it's not quite in the same league as this when it comes to sherry influence – the colour alone tells a tale. I've checked with our cask king to see what I can spill about the wood that this matured in and I'm allowed to say that it involved some Pedro Ximenez at some stage along its journey, something that shouldn't shock anyone who's tried it:
Billy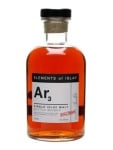 Nose: Cedar wood and glacé cherries, sponge cake and hot leather. Dried fruit, earthy peat and dark dry sherry.
Palate: Initially dry and woody with big dried fruit sweetness bursting through. Sweet liquorice touches, blackcurrant jam and woody spice.
Finish: Rich earth, tannic red fruit and lingering smoked bacon touches.
Comment: Big, dark, rich and packed full of smoke and muddy peat. A bit of a monster, even with a few drops of water to take the edge off.
Tim
Nose:  Big and rich, with treacle, dark gingerbread, recently-extinguished bonfire, dead leaves, raisin fudge, muesli, some seaweed and medicine cabinet aromas in the background. There's a lot going on here.
Palate: Strong raisin flavours off the bat; then some sweet smoke.  Very manageable at full strength. Raisin syrup, nougat, malt loaf, sugared almonds, smoke, cinnamon, clove.
Finish: Sweet, warm, fading coal and wet peat, with a spicy touch.
Comment: I wish I could reveal the cask makeup of this vatting.  I know how odious it is to blow one's own trumpet, but I'm very happy with how it turned out.
All in all, an excellent bunch of releases, even if I am at least subconsciously biased, and some great additions to the Elements range. You can find all of the whiskies from the series (along with some t-shirts) that still have available on the Whisky Exchange website – The Elements of Islay.