It's difficult to believe that Her Maj has been sixty years on the throne.  But on 2nd June 1953, Elizabeth Windsor was crowned Sovereign of the United Kingdom and Commonwealth territories in Westminster Abbey. A little later the same year, a very special spirit was distilled at one of The Whisky Exchange's favourite distilleries: Glenfarclas.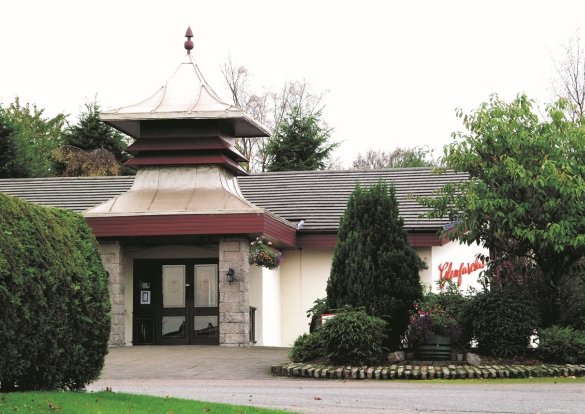 Established in 1836, Glenfarclas have remained fiercely independent and are still a family company run by the descendants of John Grant, who bought Ballindalloch's Recherlich Farm, where the distillery is situated, in 1865.  Glenfarclas is a very traditional distillery whose adherence to artisan whisky-making and commitment to quality have ensured that their whisky has remained in the top echelon, and is held in the highest esteem by whisky connoisseurs.
As you probably know, we're a family company here at TWE as well, and we share Glenfarclas's commitment to quality and tradition.  We are therefore delighted to have been given the opportunity to team up with Glenfarclas to create a very special one-off bottling. It's with great pride that we introduce The Glenfarclas 1953 Queen's Coronation Decanter, commemorating the 60th anniversary of the Coronation of Queen Elizabeth II.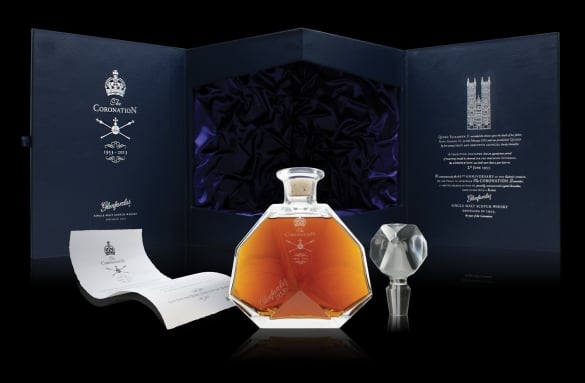 Just 60 specially commissioned crystal decanters have been filled with this remarkable spirit, chosen by the TWE tasting panel after a truly exhaustive (but very enjoyable) selection process.  The liquid was distilled in 1953 and bottled in 2012 on its 59th birthday after almost six full decades of maturation in Glenfarclas's cellars in Ballindalloch. Undergoing only a light filtration to remove any particles of wood from the cask, the whisky has not been reduced and is bottled at its full cask strength of 51.1%.  Only air, wood and time have influenced the development of its magnificent flavour profile.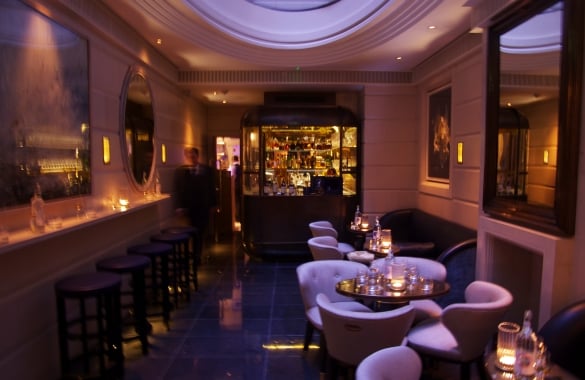 It was launched last night at the Connaught Hotel, with Glenfarclas's George Grant presenting a range of whiskies from the distillery, including our new 1953. He also confirmed that the anecdotal story floating around the office of how we chose the cask was true: during a trip to Glenfarclas, Sukhinder asked what the best cask in the warehouse was.  However, rather than asking George the question, he went for someone who would know even better which cask was best – Tommy the warehouse manager.  He was taken to what is now our cask of 1953 and was blown away by the contents – he's rather a big fan of old whisky with tropical fruity notes. From there it was just a matter of convincing George to let us have the whisky and coming up with a reason to bottle it – the anniversary of the Coronation was pleasingly convenient.
We, the denizens of TWE Blog, have been rather fortunate to be involved in the release of the whisky, and got to have a wee taste:
Tim:
Nose: Begins on blackberry and apple pie.  Some dark fruit, old leather, mince pies, polished wood, orange liqueur, spiced spongecake with singed raisins, dried autumn leaves, muddy forest floor, toffee apples and natural caramel.
Palate: Rich and sweet to start, with intense apple and raisin notes, cinnamon spice and raisin bread. Orangey citrus, becoming more tart (grapefruit), along with delicious barley sugar and the expected mature oakiness. Becomes more savoury over time, with old polished oak flooring, soft old leather chairs, orange oil and spikes of ground cinnamon and clove balanced by a very light honey note. Water brings out even more sweetness, with sugar syrup and hints of aniseed balls, apple skin and a faint hazelnut note.
Finish: Medium-length, slowly drying. Vanilla sponge, bread pudding, fresh oak, cooked oranges and a dusting of clove and black pepper.
 Billy:
Nose: Dry and lightly fruity up front, with hints of menthol, polished wood, overripe apples, stewed rhubarb, sandal wood, lightly sour raisins, pungent leather and forest floor rancio, with bouquet garni herbs hiding at the back.
Palate: It launches into rich raisins with lots of sugar, backed up by dark oak and cinnamon sticks. Sour grapes and sour stewed apples make an appearance, balanced by the still lasting sweetness, along with stewed blackberries and damp forest notes – muddy paths and wet leaves. It gradually loses a lot of its sweetness, with spicy dry oak and leafy herbs mingling with a menthol/anis/tarragon note.
Finish: Soft but lingering, with orchard fruit and apple cores giving way to a more savoury herbal note backed up by perfumed wood.
The Glenfarclas 1953 Queen's Coronation Decanter is available exclusively from TWE, and you can find it now on our website.