It's no secret that I'm a bit of a sucker for nicely presented bottles. From gins with anthropomorphic foxes on the label to book shaped decanters and full-sized crystal skulls, I am tempted to acquire all of the pretty things.
One day I will have my Tiki Skull full of red jelly beans. Oh yes.
However, there are a few whiskies out there that go for a more artistic take on presentation and one range that's popped up recently is anCnoc's collaboration with Peter Arkle.
Peter is a Scottish freelance illustrator, now based in New York, well known for his line art which pops up in magazines and newspapers around the world. Being a big fan of simple line work I was rather excited to hear that he was teaming up with anCnoc (the whisky distilled at Knockdhu, which I visited a couple of years back) to produce a set of limited editions with his artwork on the labels.
The third release in the series (well, fourth if you include the travel retail exclusive edition) is called 'Bricks'. The tube and label are covered with bricks. As the name suggests. The series may not be getting any awards for creative naming, but the artwork is excellent.
Here's what the man himself says:
"I have loved working with anCnoc and am very proud of our latest limited edition. The distillery at Knock is such a great place and I had a fantastic time visiting there. This particular illustration for me really shows a complex thought in a very simple way. On one hand it's just a drawing of the bricks that make up the walls of the distillery and the warehouses with a yellow sign stuck on. But, on the other hand, those bricks are so old and so soaked with the essences of anCnoc – absorbed over the years – that they are not just any old bricks. They are bricks with real character and history. And the sign is there to remind people that anCnoc is not something you can take for granted. One must handle something remarkable with care."
The whisky in Bricks is a vatting of both Spanish ex-sherry butts and American ex-bourbon barrels, bottled at 46% with no added colouring. The emphasis is very much on the presentation, but what does it actually taste like?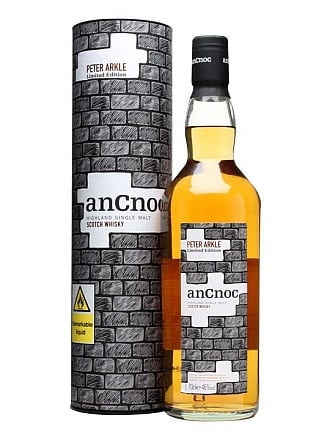 Nose: Toffee apples, buttered spice, lemon zest, sharp oak, floral soap, a hint of sherry meatiness and some youthful undertones.
Palate: Thick in the mouth and initially sweet and creamy. Candied lemons get more sour as it sits in the mouth, with some darker sherry notes slowly developing. Cocoa powder, apple skins and hints of cinnamon spice.
Finish: Soft and medium length, with milky hot chocolate, sliced apple, a squeeze of lemon and a sprinkling of nutmeg.
Comment: Lighter than the mention of sherry casks in the make-up suggests, with hints of woody spice and some light chocolatey notes indicating their presence. All in all a light and easy drinking whisky, with some zesty youth and balanced spice.
The Peter Arkle Bricks is now available on The Whisky Exchange website for £49.25. We also have a few bottles of the second edition in the range – Casks.