"These go to eleven… well, it's one louder, isn't it?"
Facts: Diageo have released a No-Age-Statement (NAS) edition of their Talisker single malt. This new iteration is called Storm and is purportedly 'more intense and smoky, with enhanced and vibrant maritime notes, smoothly balanced with Talisker's signature hot sweetness.' Master Blender Jim Beveridge explains further: "We wanted to focus on distillery character… we sought out some great mature Talisker [from] carefully rejuvenated casks, and brought that together with some very fresh distillery character preserved by maturation in refill casks."
Analysis: There's been plenty of argumentative carping lively debate already about the merits or otherwise of No-Age-Statement whiskies and I explained my position more than three years ago here, from which I have budged not a single tittle or iota, so I'm not getting into it again.
For such a big company and with more than two dozen malt distilleries to play with, it's perhaps surprising that Diageo haven't done more on the NAS front before now, especially given the frequently-mentioned squeeze on supply currently being experienced across the industry by the demands of the seemingly voraciously thirsty emergent middle classes in the BRICS countries.
In fact I can think of only a handful of ongoing No-Age-Statement single malts released by Diageo (leaving aside one-offs and distillery-only bottlings): Caol Ila Cask Strength and Talisker 57 North, which are both heavy-duty cask strength versions of popular malts; Caol Ila Moch, which is the opposite – a lighter, fresher style; Royal Lochnagar Selected Reserve, which is a top of the range bottling from a tiny distillery; and Cardhu Special Cask Reserve, which is probably the closest in ethos to what we have here.
This new Talisker release, though, has more of a feel of 2011's Johnnie Walker Double Black to me. Double Black, like the Cardhu SCR, saw Diageo dip their toes into the market of NAS versions of the most popular of their world-bestraddling whiskies (perhaps having noticed the success of the likes of Laphroaig Quarter Cask and everything that Ardbeg have done since 2009). Fans responded enthusiastically and the Double Black was rolled out from Travel Retail into the standard range shortly thereafter.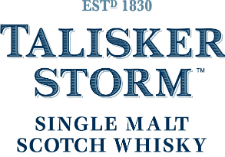 Following Double Black's success, we now have Talisker Storm, which on the face of it is a very similar concept. The principle seems to be to take the character of a successful whisky and turn it up to 11, Spinal Tap-style. This sort of release generally has the twin goal of giving the public what they want – there is always a demand for bigger, shoutier whiskies – while also hopefully taking some of the pressure off the supply of the age-statement stablemate.
The word 'bold' has been bandied about in most literature referring to Talisker Storm. Jaded cynics may wish to insert their own joke about the price being higher than the 10yo at this stage. Personally, I honestly don't care as long as in my opinion the liquid justifies the tag. That is a simple (and entirely subjective) price / quality evaluation which I do for all whiskies and which has nothing to do with an age statement. Thankfully, judging by the early sales (the whisky has been on the TWE site for a month and a bit), the NAS controversy doesn't seem to have bothered the thirsty hordes of the great unwashed.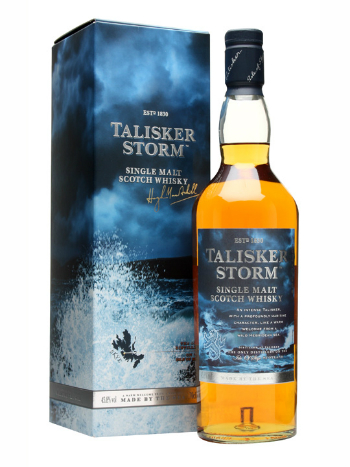 Tasting Notes:
Billy
Nose: Salty (as you'd hope), with lime and orange peels, touches of mud and pine, damp blankets, woody spice and some caramel sweetness hiding underneath. Behind all of it is a layer of woody smoke, maybe with a few leaves thrown onto the fire for good measure.
Palate: Sweet and syrupy up front, quickly followed by ferns and bitter woody bark in a bit of a balancing act. Riding along with that is prickly white pepper, rock pool brine, a touch of sweet fruit and a nice waxiness. Again behind everything, standing a little separate but waving at all of the other flavours, is woody smoke – beach bonfires and pungent peat.
Finish: Warm and peppery with some sweet dark wood.
Comment: Does what it says on the tin – regular Talisker (salty, smoky and a little bit sweet) turned up a bit (saltier, smokier and a little bit sweeter in places). Unlike the hypothetical NAS whiskies that many people seem to fear (and which generally haven't appeared) this doesn't taste like it's hiding younger spirit behind a flashy label – it's a nice whisky, even if it hasn't set my world on fire.
Tim
Nose: Rich and unexpectedly honeyed initially. Then some pleasing singed oaky notes and bandagey aromas. Now bonfire smoke comes through. There even seems to be some milk chocolate and appley fruit lurking in the rear. Everything in place; all very promising.
Palate: Medium-full, the usual Diageo polished mouthfeel, with initial honey and then a very decent dose of hot smoke. The oak is there too, with vanilla and some (actually quite polite) peppery spices. The young whisky component is well-masked and the whole is rather more restrained in terms of mouthfeel than I expected, but the flavour intensity is, in my opinion, unarguably greater than the standard Talisker 10, which to be honest I have found surprisingly tame of late. Gets sweeter towards the death as the pepper lingers, counterpointed with unexpected sweet fruit and even a note of strawberry liquorice which somehow works very well.
Finish: Woody and spicy without becoming bitter. Good length. Sweetness returns at the death.
Comment: As a NAS malt, perhaps this isn't one for the purists – but as a good-quality drinking whisky in its price range, it probably deserves to be. Yes, it's more expensive than the 10yo – on current form, it's probably a better whisky. *Flees baying, pitchfork-waving mob*.