One of our favourite bottlings last year was the now sold out Springbank Rundlets & Kilderkins. It reignited my love of Springbank's whiskies, after a while of trying to remember what it was I used to like about them, and I snapped up a bottle as soon as it hit our website. However, even back then there were rumours that this wouldn't be the last we'd see of 'R&K'.
The Rundlets & Kilderkins in question are barrel sizes, 15 and 18 gallons (Imperial) respectively. I know of the latter, affectionately known as Kils, from my days as a student union barman, as I used to roll around 18s of Carlsberg and Löwenbräu in our cellar to fill the waiting bellies of my compatriots, but they don't get much of a look-in in the world of whisky. As they're quite a bit smaller than a regular hogshead (2/7ths and 1/3rd the size respectively) or a bourbon barrel (3/5ths and 2/3rds the size) the maturing spirit gets more wood contact, allowing it to get more influence from the wood and thus 'mature' faster. The quotes around the mature are there for good reason – maturation isn't just about wood contact, with time playing a critical factor, but a lot of the characteristics of maturation come to the fore faster with a smaller cask. As a demonstration, we tried the Springbank Rundlets & Kilderkins at a blind tasting I attended recently and the average guessed age for the whisky was in the late teens – it was actually 10 years old.
Now, Springbank, to the annoyance of the SWA, don't just make Springbank whisky at their distillery, also producing two other variants – the triple distilled Hazelburn and the peaty Longrow. If they could produce a Springbank R&K, what's to stop them making a Longrow or Hazelburn edition? The answer – nothing, with the Longrow Rundlets and Kilderkins appearing in January 2013 and the Hazelburn predicted in early 2014.
It was distilled in 2001, the same year as the Springbank edition, and bottled in January this year at 11 years old. We were rather excited by the prospect of a smokier Longrow version of the R&K and I got to try some at a Springbank/Longrow masterclass earlier this year.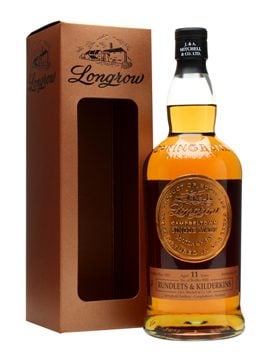 Nose: Smoked pine needles, dry red wine sourness, dry hemp rope and a touch of tar. Water brought out more sweet fruit and softened the wine notes.
Palate: Initially lots of sweetness, with fruit (tropical and orchard – the sort of thing that appears in a peaty whisky as the peat fades), smoky peat, rich earth (what I assume Loam to be like), wood smoke and sugar syrup. Water opened things up a bit, knocking back some of the syrupy sweetness and adding in some rich vanilla.
Finish: Light lingering smoke and tar, black treacle and peppery spice.
Comment: This is great stuff, sweet, smoky and fruity in just the right kind of balance. If I was to mark it down it would be simply due to it not being quite as good as the Sprinbank from last year – it's not quite as complex or interesting. So it's just a very good whisky rather than one of my favourites of the year, which is far from a bad thing.
The Longrow Rundlets & Kilderkins is available to purchase on The Whisky Exchange website for £58.49.