The folks at Glenfiddich have been busy recently. Since Christmas we've had a couple of new and interesting bottles pop through our warehouse doors, and just this week another new whisky has appeared on our shelves. To celebrate this fact, the folks at Grant's invited us along to a launch afternoon to learn a bit more about the three whiskies from their master blender, Brian Kinsman.
First on the list is the new presentation of the Glenfiddich 21 year old Gran Reserva. The whisky itself hasn't changed, but they've jazzed up the packaging to better suit its position at the top of their regular range – it's still the same 21 year old whisky matured in a mixture of first and re-fill bourbon casks (with a little bit of sherry wood in the mix), and finished in Caribbean rum casks – it just looks a little snazzier.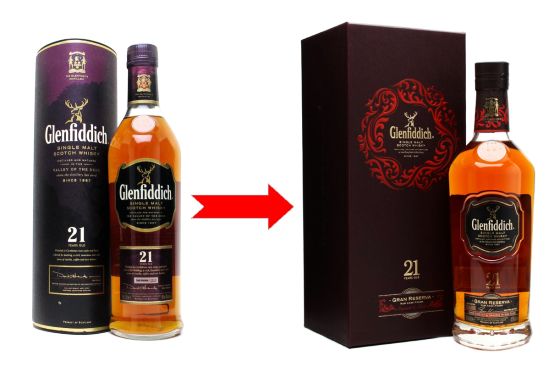 The whisky has changed its name a few times over the years but has now settled on the tagline 'Gran Reserva', which the press release says '…alludes to the single malt Scotch whisky's exceptional quality'. So, how do we reckon it tastes?
Tim:
Nose: Rich with a brown sugar / toffee apple character. Also hints of milky coffee.
Palate: Rich again, with characteristic nuts and cooked fruit. As with the nose, the rum finish has lent greater weight and a noticeable sweetness. The oak is prominent without dominating the lively spirit. Dessert flavours – chocolate sponge cake, toffee pudding, crème brulée, even a hint of pannacotta.
Finish: Medium length, doesn't outstay its welcome.
Comments: A well-crafted, moreish dram. Not as overtly rummy as one might expect.
Billy:
Nose: Beeswax, honey, café au lait and buttered brioche – a French breakfast? Apples, pear drops, floral honeysuckle and a touch of orange on the side (the 5-a-day element perhaps).
Palate: Sweet and rich with an oily mouthfeel. A good balance of polished oak and orchard fruit, along with some brulée sugar and gooey caramel.
Finish: Apple, grainy pear, wood polish, some dark chocolate and a not unpleasant hint of cardboard.
Comments: Sweet but balanced by both fruit and wood.
Second on the mat was the new kid, although more of a 'new kid who just switched school and whose reputation is vaguely known in his new town' – Glenfiddich Age of Discovery. Originally released as a travel retail exclusive, this has now made its way into the regular market, with a new undisclosed exclusive waiting in the wings. It's a 19 year old finished in Madeira casks, created in honour of the Portugese explorers of the 15th century who opened up the trading map of the world with their long sea voyages. It's their first 19 year old and their first madeira finished whisky…how does it stack up?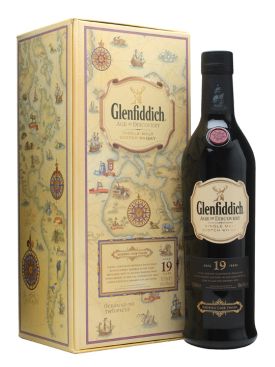 Tim:
Nose: Quite nutty & oaky. Some pleasant, subtle cooked apple flavours behind.
Palate: Again, noticeable sweet oak, with hazelnuts, brazilnuts. Packs a good punch considering it's just 40%. Becomes drier and sweeter through the mid-palate.
Finish: Decent length, remains quite fresh and lively. Hint of citrus and grassiness coming through.
Comment: A pleasant, enjoyable easy-drinking dram.
Billy:
Nose: Cloves, apples, stewed gooseberry, pine, orange and a hint of old library mustiness.
Palate: Caramel sweetness up front, although restrained compared to the 21yo, with apple, lemon and nutty cake – cinnamon, raisins, and general cakey goodness. Some wood kicks in at the end to round off the sweetness a touch.
Finish: Sweet woody spice, sharp apples and old polished wooden panelling.
Comments: Less sweet than the 21 but also a bit less complicated.
Last of the afternoon was the one that I was most looking forward to trying, having not had a chance to dig in to any of the Vintage Reserve range – Glenfiddich 1974 Vintage Reserve. This whisky was chosen by a panel consisting of Master Blender Brian and the 15 worldwide brand ambassadors, including the UK's very own Jamie Milne, and released as a vatting rather than as a single cask like the rest of the range. Brian made up 1973, 1974 and 1975 vattings for the panel to taste and after an afternoon of heated discussion the corpses were cleared away and the 1974 emerged victorious. It's a mix of three 1974 vintage casks, meaning that there's a little bit more of this one to go around than usual. That said, it's still just 1000 bottles and they're going fast. Our thoughts: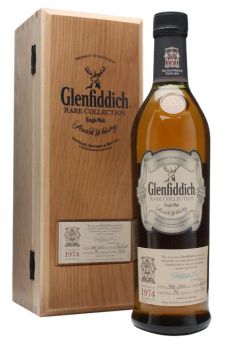 Tim:
Nose: Quite light, considering the age; elegant and subtle, yet with real character. We're back in the bakery, with homemade pastry, cocoa powder and apple pie notes. Also a seasoned oak aroma, hot chocolate and dried leaves alongside a fresher grassiness, becoming herbaceous. Develops a damson jelly & sponge cake aroma with time.
Palate: Mediumweight, but well-flavoured. A nuttiness that wasn't really there on the nose, with chocolate and a wave of polished oak. The leafy notes are there too.
Finish: Honeyed, drying and quite spicy as the oak takes over.
Comments: Not a full-on dram, but all the better for it. Elegant and fully mature, on a knife edge in places, but just retains its balance.
Billy:
Nose: Fresh, especially considering its age. Pears, pear drops, rhubarb and custard boiled sweets, gummi chews and a touch of spearmint. Freshly cut old wood, well worn leather jackets, some floral hints and buttery brioche.
Palate: Icing sugar sweetness up front, fading through medium-sweet oranges to Mr Sheen polished tables and tropical fruit sweets.
Finish: Sweet mint, tingly wood spice and freshly cut boards.
Comments: Not as heavy and old as I'd expect, although definitely rounded by its time in oak. Fresh and fruity with some nice old wood, maybe a little much for me as it spills over into the finish.
 All three are now up for sale on our website.