The holidays are a time of merriment and family, often accompanied by bottles that make their yearly debut, hang around for a couple of days and then return to the drinks cupboard where they wait for the rest of the year. A sad story for many wonderful spirits, but never fear, there is a solution. We have searched high and low to find the answer to this post-Christmas booze dilemma and this week we are tackling both Cognac and Calvados.
Cognac
Over recent decades, Cognac has developed a reputation of being an old man's drink, sparking images of hazy libraries filled with cigar smoke, and leather armchairs next to a roaring fire. Not really images that suggest a young person's drink. We disagree – Cognac is a great spirit that is already shedding its fusty image and fusing history with modern drinking. Historically Cognac has been one of the great spirits in the world of cocktail making, with its most famous appearances being in the Sidecar and the French 75, but it also has a place in the culinary world.
Cooking – Stock Up On Soup
This time of year, soup is a warming, comforting meal that is made all around the world. One such soup is Bee Hoon soup, which hails from Singapore – a noodle soup made with marinated fish and fish broth. Some recipes include milk or alcohol in the broth and we recommend using an XO Cognac, like this recipe from What To Cook Today.
Cocktail – The Road To Greatness
A classic cocktail from the 1920s, the Sidecar is a slightly sour drink often served in a glass with a sugared rim to temper the tartness. Made with Cognac, triple sec and lemon juice, this easy to make drink is sure to become a firm favourite at the home bar.
Ingredients:
50ml Cognac
25ml Triple Sec
25ml lemon juice
A handful of ice
Method:
Place a coupe glass in the fridge to chill, pour all of the ingredients into a cocktail shaker and shake well. Pour into the chilled coupe glass and garnish with a twist of lemon.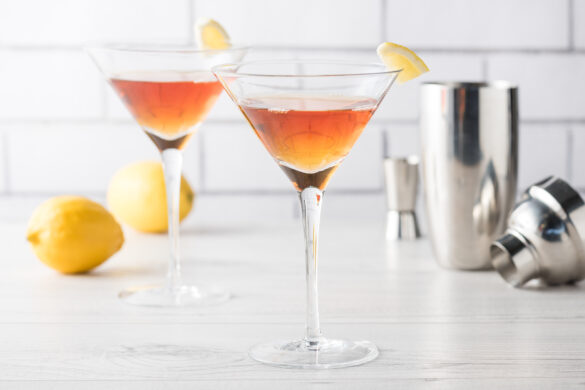 Pot Luck – Add A Little Bit Of Spice
Refined and elegant, Cognac is known for its fruity, oaky flavours and sometimes has a floral edge. Add a little bit of flair by mixing your Cognac with sweet and spicy ginger ale, alongside ice and a twist of lemon and you'll have yourself a Brandy Buck – a classy and fun drink that's easy to make and even easier to enjoy. If you're feeling even fancier you can add a splash of Grand Marnier, as suggested by Simon Difford.
Calvados
An apple (and pear) brandy from Normandy, Calvados is unafflicted by Cognac's stuffy reputation, despite the three types of Calvados available it often flies under the radar. Fruity and elegant Calvados has many uses in cocktails and cooking alike.
Cooking – What Goes Better With Apples?
Tarte Tatin is a classic, world-famous French dessert made with sticky caramelised apples and sweet puff pastry. To add a little flair to this traditional dish, Calvados can be added in one of two ways – a gooey Calvados-based caramel, as seen in this Jamie Oliver recipe, or as a boozy cream to pour over the top of a traditionally-made tart, like this recipe from BBC Food.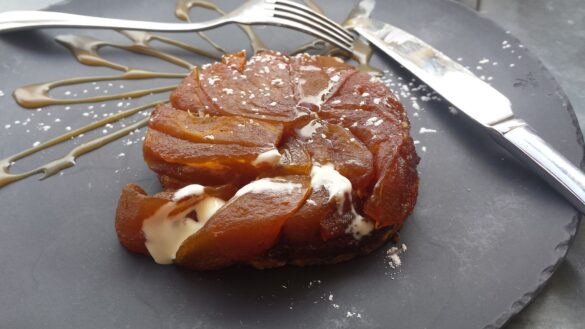 Cocktail – Spiced Sippers
Who doesn't like a nice cup of steaming mulled wine when it's cold outside? It may be warming up now, but even in summer, mulled drinks are in. Lighter than mulled wines, mulled cider is made with a combination of apple juice, cider and Calvados, as well as an array of spices, to create a wonderfully warm cocktail. Make your own with this recipe from BBC Good Food.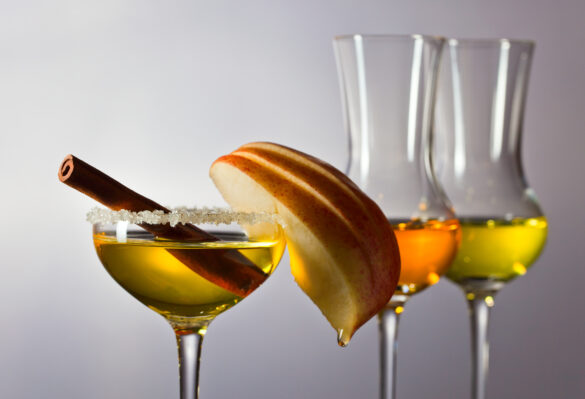 Pot Luck – A Simple Serve
Sometimes the most simple solutions are the best, and what could be more simple than adding soda water to your Calvados? Elegant and refreshing, this is a really good way to enjoy this traditional French spirit, with an easy modern twist.