It's not every day I try a whiskey that stops me dead in my tracks. It happens even less often to our head buyer Dawn Davies. She's dedicated her life to tasting interesting things, and when she tells you that you need to try something, you listen to what she says. The most recent thing that it happened with? WhistlePig Amburana.
What is amburana?
When it comes to types of wood used to make whisk(e)y, it pretty much starts and stops with oak. You get the occasional chestnut cask, or tales of weird and wonderful things hiding in warehouses around the world, but most spirit sees the inside of an oak cask or two, and nothing else.
In the world of cachaça it's much more likely that you'll see other wood used. Still far from common, as cachaça is normally unaged, but when it comes to ageing Brazil's national spirit they like to use something they can find locally – step forward amburana, a tree that grows across Latin America.
Outside of cachaça, there are a few other amburana experiments, with a handful of rums and beers now using the wood to add something a little different to their make-up. But, as far as we know, WhistlePig are the first people to use it to age whiskey, and they've not done it often – thanks to some detective work by the British Bourbon Society's Andrew Watson, we've found two other releases, both only available in the USA and both sold out.
What does amburana do to flavour?
The key flavour that amburana brings to the party is tonka, a bean with a complex character that brings together vanilla, cinnamon and coconut in a big, perfumed combination.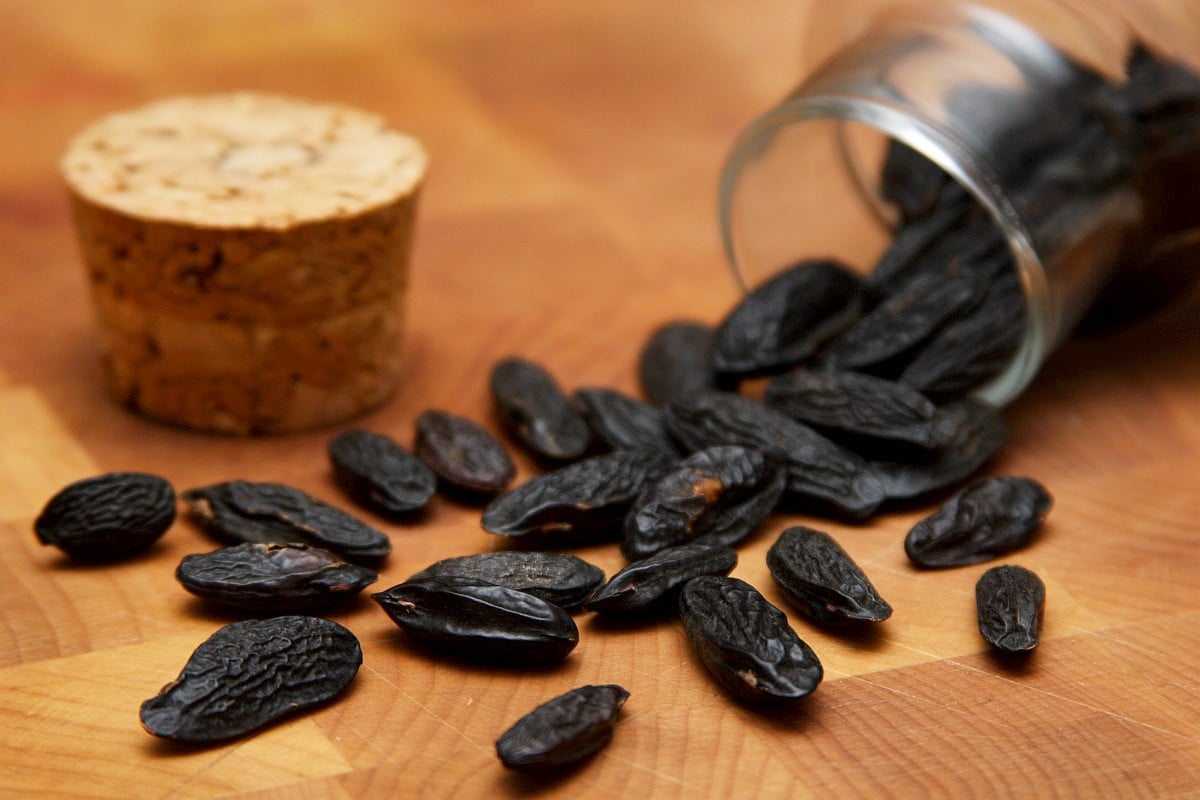 While tonka is a favourite tasting note of whisky fans around the world, it's usually just used as a synonym for vanilla – a crime I am occasionally guilty of committing. After sniffing our WhistlePig Amburana, it's an offense I will no longer perpetrating – there's a lot more to tonka than vanilla.
Our WhistlePig Amburana
At the Whisky Show back in 2018, there was a mysterious sample floating around. WhistlePig's Daniel Khan was pouring it for other exhibitors and the occasional adventurous guest, and word spread quickly. It came around to me and I was sold – it was  totally unlike anything else I'd ever tried. TWE buyer Dawn tried it and quickly did some buying: we secured a few casks to be bottled specially for us.
Jump forward a few months and it's now here.
The whiskey started out at MGP Ingredients in Indiana, made using the distillery's 95% rye/5% malted barley recipe that is the base for many of the great American ryes available today. It was matured in new 200-litre American-oak barrels – medium/long toast and char 3. While the label says 12 years, it was actually 13-and-a-half years before the folks at WhistlePig decided to add their own twist to it.
They sourced new amburana casks from the Kentucky branch of the Speyside Cooperage and filled them with the now-mature rye for just ten days. That's all it took to turn the whiskey from being a classic MGP rye into the complex beast it now is.
WhistlePig Old World Cask Finish Rye 100% Amburana
Nose: Fragrant wood, with coconut, real tonka bean, glacé cherry, mint fondant, pine resin, fresh cut grass, butter-icing and sultana-studded fairy cakes all popping up. Cherry Bakewells, minty spongecakes and a freshly mown field.
Palate: More coconut starts us off: Lamingtons and milk-chocolate Bounty bars. Mint and toasted spice builds through the centre, followed by creamy sweetness and a touch of balancing green grassiness. Darker notes of brown sugar and treacle hide at the bottom.
Finish: Grassy notes fade to leave chocolate, creamy coffee, coconut and green apples.
It's one of the most unique whiskies I've ever tried – there is simply nothing else like it. At its heart, it's still a great, spicy rye whiskey, but the layers of flavour on top of that add another dimension that I'm still trying to wrap my head around. It's not for everyone, but if you want to explore the edges of the world of whiskey, this is one for you – we'll have Perfect Measure samples arriving soon.
Now to go and find some Avua Cachaça Amburana and continue my investigation…
The Whisky Exchange exclusive WhistlePig 100% Amburana is now available from our London shops and online.
Tonka bean image is from Wikipedia user Mecredis and is used under CC BY-SA 3.0.