St Patrick's Day approaches – 17 March. It's a day of celebration, but what is it actually celebrating? We've written about St Patrick's Day for years here on The Whisky Exchange Blog, with tales of whiskey, Irish cream, poteen and more, but never really looked into who Patrick himself was, and why we celebrate his life. Time for a history lesson.
Who was St Patrick?
To start, Patrick (or Patricius as he referred to himself in his writing) was born in Great Britain rather than Ireland. Various places in England, Scotland and Wales have taken credit for him, but all we can be fairly sure about it that it was near the sea, a fact that led to his first connection to the Emerald Isle.
As a young man, he was abducted by raiding Irish pirates and spent years in captivity in Ireland. It seems that this was where he discovered Christianity, and when he escaped back to Britain – a particularly long walk in the fifth century – he trained to be a priest. Fifteen years later, he returned to Ireland to bring Christianity to the pagans and support the small Christian community that was already on the island.
Things St Patrick almost certainly didn't do:
1) Introduce Christianity to Ireland – there was not only already an Irish Christian community, but another priest called Patrick (also known as Palladius – the first bishop of Ireland) was sent over before him. There are theories that the tales of St Patrick are actually combinations of both of their exploits.
2) Got rid of the snakes in Ireland – as there almost certainly weren't any snakes in Ireland, he probably didn't get rid of them. It's almost certainly just a metaphor for the driving out of paganism, but I still like to imagine Patrick stood on a cliff, flicking worms into the sea.
Things St Patrick probably did:
1) Convert a large number of Irish people to Christianity – he was the major figure in Ireland's early church, and was the obvious candidate for the country's patron saint.
Celebrating St Patrick's Day
It didn't take long for Patrick to be taken up as Ireland's saint. He died in the second half of the fifth century, and within a few hundred years the day of his death was already being celebrated, with it becoming an official holy day in the early 1600s.
17 March, St Patrick's Day, falls in Lent, so a feast day would have been particularly boring, with no meat, no alcohol and a general sombre tone. However, being a holy day, Lenten rules were temporarily waived, leading to a mid-Lent party – meat, drink, dancing, and general partying, a nice break a couple of weeks into the season.
These days, it's not much different: eating, drinking and general partying. There's a lot of wearing of green and parades.
St Patrick's Day Parades
While St Patrick is very much the patron saint of Ireland, the first St Patrick's Day parades took place in the United States. There are a few claims to the first parade – including one from 1601 by Spanish-founded St Augustine in Florida in 1601, where St Patrick was the patron saint of the town's local fields – with the most likely Irish-related ones being in Boston in 1737 (although it seems to have been more of a selection of gatherings to eat big breakfasts) or New York in 1762 (there was definitely marching).
Ireland didn't get in on the parade game until 1903 and the first Dublin parade was in 1931. These days, every city around the world with a large Irish population throws some kind of party, with parades and music at their heart. It's especially big in the USA, where there are many times more people who claim Irish ancestry than there are people currently living in Ireland – seven times as many, according to the Washington Post back in 2013.
Drinking on St Patrick's Day
Long a part of celebrations in Ireland and beyond, great drinks are an essential for celebrating St Patrick's Day properly. Along with the traditional pints of Guinness (other Irish stouts are available), Irish whiskey is an obvious choice, and there are huge numbers of new distilleries opening across the country at the moment. Many of them don't have whiskey available yet, but St Patrick's Day is just going to get more interesting for whisky fans over the coming years.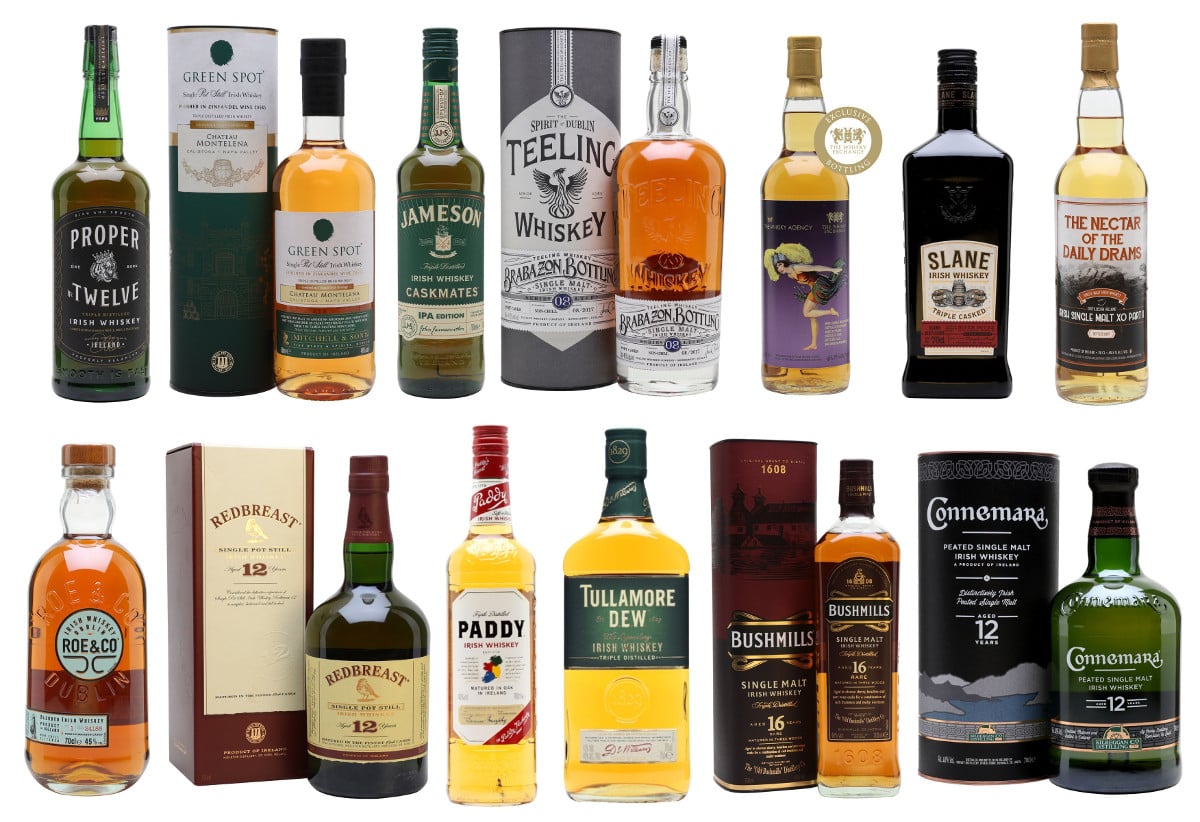 See all of our Irish whiskey >
Ireland doesn't stop at beer and whiskey, and while poteen is the country's native spirit, there's also loads more to try. From better known drinks like Baileys and Sheridan's, to Irish gins, like Boatyard and Dingle, and sweet things, like Jawbox's gin liqueurs and a whole range of Irish whiskey liqueurs.
You can find loads of suggestions over on our St Patrick's Day page.
St Patty's Day
And finally: if you really feel the need to abbreviate St Patrick's name, it's Paddy, not Patty. St Patty is St Patricia, the patron saint of Naples – you need to wait until 25 August if you want to celebrate her feastday with pizza and limoncello.