Ever sat in front of a Martini and wondered what, exactly, is vermouth? (aside from something that shouldn't get anywhere near your Martini, obviously). Ask, and someone will probably tell you that it's an aromatised wine… which isn't exactly helpful. Unless you particularly like reading drinks legislation (like us), or have spent a lot of time in Italy where most of them are made, the phrase 'aromatised wines' might have all the meaning of a randomly generated password.
The thing is, however, you've probably drunk a lot of them already – and you should definitely be drinking more. Here's our brief guide to the world of aromatised wines:
they're some of the world's oldest drinks
Humans have been making wine for around eight millennia, and for almost as long as that they've been chucking weird stuff into it. Aromatised wines started out as medicinal compounds (no inverted commas necessary) that acted like a herb delivery system for sick people. After all, what's better – having to eat a load of bitter wormwood, or drinking something nice-tasting that gets rid of your stomach ache and makes you want to dance around in your toga? Famous classical figures who dabbled with aromatised wines include Pythagoras, Hippocrates and Cicero – not to mention probably these guys:
Fast forward to the Middle Ages and, you guessed it, it was the monks who were pushing the development of these health-giving wines to the next level – in between brewing beer, inventing Champagne or generally running amo(n)k, obviously. These chaps refined the winemaking and herb-blending processes so well that today the best traditional wine producers still follow the same principles.
The last big development in the world of aromatised wines happened in the 17th century, when the focus moved from their medicinal properties to how they tasted – something that was only possible thanks to millennia of 'research' about how herbs best interacted with wine. The move to a focus on taste was largely driven by a rise in fashionable people adopting them: Chazalettes vermouth, for example, became the preferred drink of the Savoy Court. The company started exporting their products, complete with royal coat of arms, all around the world – further spreading the fashion and cementing the reputation of Italy as the powerhouse of aromatised wine production.
they're part of the fabric of italian life
Aromatised wines are produced around the world, but if there's one country for a global reputation for them, it's Italy. The Italians produce a lot of fantastic drinks – everything from stunning wines to smooth grappas – and aromatised wines are one of the four pillars of their output:
Wine: There are more than 600,000 hectares of vineyards in Italy, producing everything from Prosecco in the north to Aglianico in the south.
Distilled drinks: Grappa is the most common of these, and there are more than 130 grappa distilleries in the country.
Liqueurs and Amari: These have to have a minimum of 100g/l of sugar, and a minimum ABV of 15%. The production and consumption of these is very regional, but you'll have probably tried quite a few: liqueurs such as Sambuca, Amaretto and Limoncello, for example, or Amari (bitter spirit drinks) such as Campari. Interestingly, Aperol is too low-strength to be called an Amaro, so it's just a distilled drink. Still great in a spritz, though.
Aromatised wines: These are made with a base of at least 75% wine, and then fortified with alcohol to reach an ABV of between 14.5% and 22%. The most important factor, taste-wise, is that these wines also have aromatic ingredients like herbs, spices, fruits and/or flowers added to them.
Given that the Italians have such a strong winemaking tradition it's easy to see how the production of aromatised wines follows naturally – and why the quality is so high. Interestingly, in Italy aromatised wines are actually becoming more popular as an after-dinner drink because of their lower ABV, so production doesn't look like it will slow down anytime soon.
they come in lots of different styles
No-one ever asked if you'd like a cup of aromatised wine at the German winter market, but that's exactly what you're getting. Aside from mulled wine (which we could do with right now, given the snow in the UK), there are also several other categories of aromatised wines: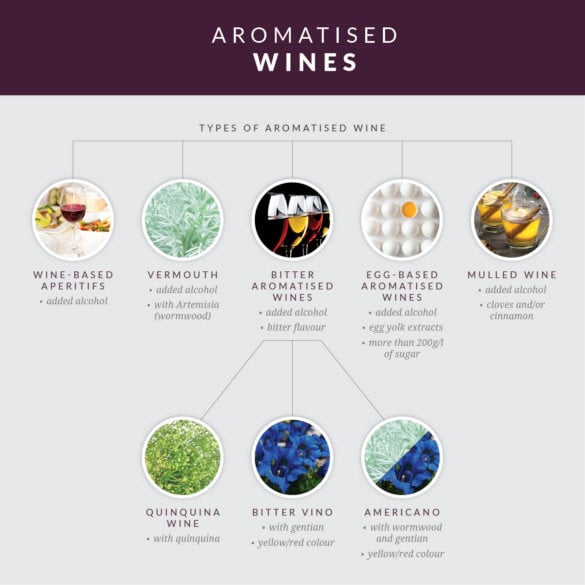 This is where we find our old friend vermouth, as well as classic bitter drinks such as Americano, bartender favourites like Quinquina and lesser-known delights such as Cremovo, the egg-based aromatised wine.
As drinks go, aromatised wines can be stunning – packed full of multilayered flavours, expressive of the quality of the base wine, and delicious to drink either on their own (try them over ice) or in a huge variety of drinks. If you're interested in exploring different flavours, and flavour blends, then aromatised wines are a must for your home bar.
But wait, you're thinking… you still haven't really told me what vermouth is! Tune in next week to find out – I'm off to ward off the cold with some mulled wine now.