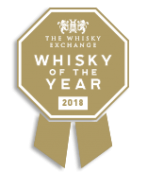 Whisky of the Year has gone global! For 2017 we opened up the awards to any bottle from across the world, provided it was not cask strength, below £60 and an ongoing release. Despite my repeated suggestions that we should hold the final somewhere warm and exotic to celebrate this momentous development, the event was once again held in The Rooms at Brown's, just a hop and a skip from our Covent Garden shop.
On arrival we warmed up with a Claymore – not the Scottish two-handled sword, but rather the winning cocktail from the 2017 Speciality Drinks Next Whisky Cocktail Classic Competition. Made from Chivas Regal 18 Year Old and Champagne cordial, it's delicious and relatively easy to make at home – providing you ever have leftover Champagne with which to make the syrup…
So what were we looking for in the eight unidentified whiskies sat temptingly in front of us? Our Master of Wine Dawn Davies, who was presiding over the evening, gave us a few tips:
don't be swayed by big flavours
look at the whisky's balance
consider how long you think about it afterwards
look carefully at the finish
taste a couple of whiskies to calibrate your palate before starting to give scores
Everyone in the room tasted each dram at the same time, giving us an opportunity to compare tasting notes and guess at the composition and origins of each whisky.
The drams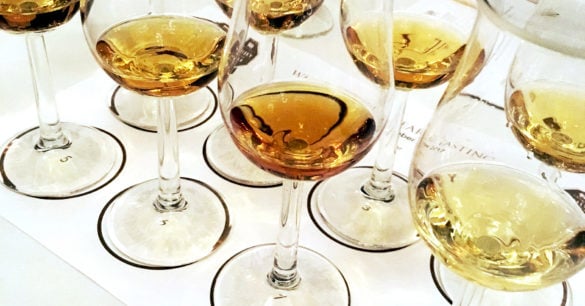 First up was Arran 14 Year Old, which won praise from the room for its grassy, coconut, vanilla and fruit notes, with some observing that it had a slightly tannic finish.
Nikka Coffey Malt followed, which one person said smelled like Kraken rum, while another said was a 'grain whisky made with barley sugar'. People found it easy to drink, noting flavours of toffee, vanilla, and gooseberry, but overall this dram proved to be much less of a talking point than the Arran.
Third was Cragganmore Distillers Edition 2004, which many said had similar elements to number one. It also, however, had smoky, woody and red-fruit notes, alongside a rich velvety texture. 'I always think of fabric in terms of texture' said Dawn.
The next one… well. The next one was Green Spot Leoville Barton, a wine-finished single pot still whiskey which, from a tasting point of view, deservedly won a place in the final. Unfortunately, we belatedly discovered that it doesn't meet our criterion of being an ongoing release, so we had to knock Green Spot off the top spot. Oops.
Number five was Benromach 15, in which the audience found notes of paprika, farmyards, smoke and Burgundy. As Billy observed, it was like the 'inside of a flaming Crunchie bar', which led us to wonder exactly what he gets up to in his spare time.
After a brief digression about chickens and Rudolf Steiner (it made sense on the night), Dawn led us on to sample whisky number six: Inchmoan 12 Year Old. By this point there was a lot of debate about which whiskies were Scotch and which weren't. 'It's like Scotland being in the World Cup final,' said one chap at my table, looking nervous. The Inchmoan, Loch Lomond's peated spirit, was observed to have notes that ranged from nit shampoo to pot pourri, with a tannic and dry finish.
Next we were off to Islay for Bowmore 15 Year Old, which elicited quite a few 'oooh's when people lifted the glass to their nose. Notes identified included Bonfire Night, Marmite, red fruits and bacon, with one attendee commenting 'it's almost too delicate to be an Islay.'
Our last dram was Ailsa Bay, a peated Lowland whisky that wrong-footed people with its salty, leafy bonfire characteristics alongside sweet citrus, white pepper and smoked-salmon notes.
The winner
Jonathan Dimbleby was unavailable to present the pre-results coverage, so while we waited for Billy to count the votes we turned our attention to the bonus ninth dram. This one, however, wasn't sampled blind: as our CEO Sukhinder told us, this was a Caol Ila 32 Year Old that had been selected as a show bottling for Whisky Show Old and Rare. ('Holy sh*t', commented someone at my table when the age and distillery were announced.)
While our focus for the eight finalist drams had been on balance, Sukhinder explained that this wasn't always the most essential factor for independent bottlers. 'Distillers look for something quite balanced, something that shows their character' he said, 'but what we're looking for is something that tastes nice. Sometimes we're looking for something that is perfectly balanced but sometimes you want something wild and flavourful. Overall we just look for a good whisky.' The Caol Ila, in case you haven't guessed, was very good indeed.
And the winner? The Whisky Exchange Whisky of the Year 2018 is Bowmore 15 Year Old, one of the two drams that were clear favourites with the audience. Runner-up is the striking Ailsa Bay, and thanks to our special offer, both are great value if you fancy seeing what all the – entirely justified – fuss is about.