Speyside distillery Glenrothes bucks the trend by releasing its whiskies by vintage rather than with an age statement. Since 2010 it has been under the sole ownership of wine merchant (and independent bottler) Berry Brothers & Rudd. We welcomed brand heritage director Ronnie Cox to host our latest TWE tasting.
In their own words – Ronnie Cox
'If you don't like the whisky, keep adding water to it. I have a colleague who loves drinking whiskies at 50%+ ABV – I think he has a tongue like a Highland cow, a very clever Highland cow'
'Someone told me they were getting Guatemalan bananas when tasting. I think he was showing off, so I asked him "do you mean in a bunch or singular!". With tasting notes you can get people who disappear up their own backsides'
'Richard Paterson has this habit of launching whisky into the air. I was on the stand next to him once and I kept getting drenched. The next time he was about to do it, I got everyone on the stand to fill their glasses with water and launch it back – he didn't do it again! I still think he's a wonderful guy, though'
'You should have light whiskies before dinner and heavier whiskies after. If you had vintage port before the meal and Champagne after, it'd be like having dinner in your suit and going clubbing after pudding'
'One of the investors in building the distillery was the Scottish Presbyterian Church of Knockando. The irony is, every Sunday parishioners had been told "thou shalt not drink – it's the devil's brew!"'
'I only ever knew John Ramsay [retired master blender] as a bolt-upright pillar of society. But I found out he used to play the hind legs of a donkey in children's panto in Glasgow – to add spice he used to take a squeezy bottle of water, lift his legs up and drench the front row during the show.'
'We offer a service to authenticate old bottles of our whisky. You can send a bottle, we'll verify it and send it back with a certificate. It's it's fake though, we'll destroy it. We haven't received any bottles in the past few years.
'Until dramming stopped in the 1970s, workers would have up to five doubles a day. The local postman used to turn up every day at 11am as he knew he'd get some whisky'
'I can guide people around the distillery and the complexity of the whisky, but what I cannot and will never do is teach you how to enjoy whisky. Only you can do that, and practice makes perfect'
We tasted
Bourbon Cask Reserve – formerly known as Alba Reserve, this is Glenrothes' kosher-certified release aged entirely in American oak – full of coconut and vanilla flavours
Sherry Cask Reserve – classic sherried Speyside whisky with notes of dried fruit, ginger, orange peel, crème brûlée and wood spice
Vintage Reserve – a marriage of 10 vintages ranging from 1989 to 2007, this is an easy-drinking and creamy introduction to Glenrothes with notes of red berries and nuts
Vintage 2001 (bottled 2014) – a classic Speyside whisky with notes of fruit cake, vanilla, cream and nutmeg
Vintage 1995 (bottled 2014) – partly matured in first-fill sherry casks, this is the sweetest Glenrothes currently available with notes of honeyed butterscotch, rich fruit and exotic spice
Vintage 1988 (bottled 2011) – aged for more than two decades in a combination of American and Spanish oak, this is rich and full bodied with candied orange peel and fruit compote flavours
Sample Room 1973 (bottled 2000) – Ronnie brought this along from his personal collection. Rich, complex and mouthwatering with lots of fruit: pineapple, peach, mango and orange.
Whisky of the night
The 1973 was a special treat and a completely different beast from the whiskies distilled in the 1980s, 1990s and 2000s. There is one whisky that shone for me from the current range though: the sweeter 1995. The vintage was historically important, too, as it was the first laid down by Berry Brothers with the intention of being bottled as a single-vintage whisky.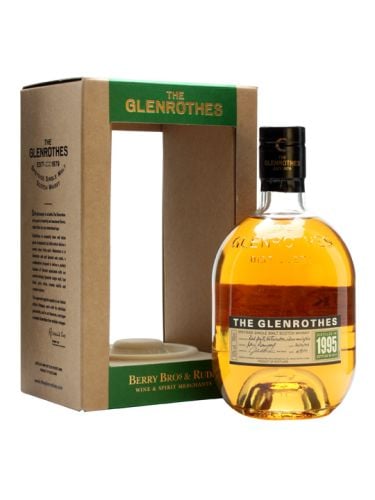 Nose: Sweet nose of butterscotch, toffee and orange with a hint of black pepper.
Palate: Rich, sweet and creamy with notes of butterscotch, cinnamon, vanilla, lemon meringue, treacle and hazelnuts.
Finish: Long with sweet toffee and tangy lemon.
Comment: This is a whisky that was made for those with a sweet tooth, but the sweetness is balanced by the creamy texture and it isn't cloying. A dram that works as a palate cleanser between starter and main, but will also hold its own after dinner.
Ronnie referred to the range in terms of enjoying them with food. From the lighter Bourbon Cask Reserve to the rich 1988, Glenrothes bottlings differ from easy-drinking to big and complex, while keeping to the distillery's elegant and fruity house style – of course they are just as enjoyable on their own, too.
One whisky we didn't taste on the night is a new innovation for Glenrothes: Peated Cask Reserve. Finished in Islay-whisky casks, this is a rare chance to enjoy a 20-year-old-plus whisky for under £50 and great value for money.
You can see all the Glenrothes whiskies available at The Whisky Exchange here.