'Hello. How are you? Quite well. Thank you very much.'
If you've seen Whyte & Mackay's Richard Paterson host a tasting before, you'll be familiar with his repertoire of catchphrases, his penchant for throwing whisky around the room, his props, tricks and one-liners. But he is no magician, no illusionist – everything he does helps to educate people how to get the best from their whisky.
Richard visited The Whisky Exchange for a unique tasting of all six components of King Alexander III from Dalmore, as well as a few other goodies. Having issued a quick threat to kill anyone in the room who was holding their whisky glass the wrong way, we moved on to the King Alexander III samples.
In Their Own Words – Richard Paterson
'This evening, we have an assemblage of wonderful whiskies and wonderful people!'
'Next year, I will celebrate 50 years in the whisky industry'
'When nosing whisky, you've got to be gentle – it's like kissing a lady's hand, although people don't do that anymore! But nosing a whisky will tell you 96% of what you need to know about it. If you're still unsure, take a taste'
'If you want to add ice, Coca-Cola or even milk to whisky, that's absolutely fine – but I will kill you…'
'When tasting whisky, don't do what they do in America: just knock back the glass and go "great". And if you're doing a tasting at home with a special whisky, turn the lights out! Make an effort!'
'If you're looking for muscle, structure and backbone in your whisky, come up to the Highlands'
'When you visit Dalmore, you'll see the mountains, you'll see the Cromarty Firth, you'll see our fat, bulbous stills and you'll know that this is a place that makes complex whisky'
'The classic note from Dalmore is chocolate orange'
'When I ask people if they've been to Islay, they all say yes. When I ask them how many have been to Jura, they say no, they didn't have time! The crossing takes five minutes!'
We Tasted
Six Dalmore King Alexander III component samples:
Marsala – honey-drenched fruit with ginger and clove
Madeira – richly textured, with dates, figs and violets – lovely perfume
Matusalem sherry – big, rich and nutty, with powerful dried fruits
Small-batch bourbon – plenty of toffee and vanilla, with some toastiness from the oak
Tawny port – clean red-berry fruit, plus milk chocolate and honey
Cabernet Sauvignon – a swathe of dark-berry fruit, cherry menthol and oak
And then on to three finished whiskies:
Dalmore King Alexander III – a triumph of blending; rich, velvety and very fruity
Dalmore 21 Year Old – classic Dalmore chocolate and orange notes, along with honeycomb, ginger and roasted nuts
Dalmore 1969 – very different to the two previous whiskies – heady and aromatic, with aromas of tobacco, sandalwood and orange blossom, with plenty of tropical fruit and chocolate on the palate
Best #twetasting Tweet
Made In scotland [email protected]
Drooling! You've just gotta love Dalmore. Great distillery, great whisky….very jealous
Whisky of the Night
The tasting was all about King Alexander III, but for me, the whisky that absolutely summed up Dalmore was the 21 Year Old. Rich, sherried loveliness.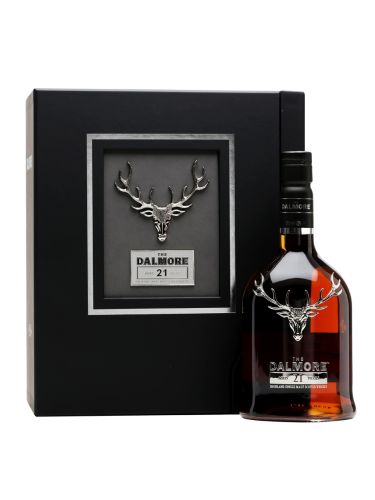 Nose: Rich and chocolatey, with tempting aromas of honeycomb and ginger, along with toasty oak and bitter-orange marmalade.
Palate: The rich, sweet notes continue on to the palate, with a big hit of chocolate-dipped oranges, roasted nuts and spice. Soft, silky mouthfeel.
Finish: The deep richness and fruitiness lingers.
Comment: This sums up Dalmore for me: rich, sherried whisky with bags of dried fruit and nuts, citrus notes and a plush, luxurious mouthfeel.
There aren't many whisky tastings where the audience rush to the stage for a selfie with the host, but Richard Paterson commands that level of affection. We have a huge range of Dalmore whiskies on our website – why not get one in time for Christmas?
And if you want to see Richard in action, watch this great clip below: