Peat has always been a divisive subject among whisky drinkers. For every individual who craves that salty, smoky hit that peaty whisky provides, there'll be another who shies away and heads for a gentler, fruitier dram. Well, peat haters should look away now, as this post is all about the latest release from Speciality Drinks' Elements of Islay range: Peat.
We first wrote about Peat here, so without covering too much of the same ground, Peat is the first ongoing release in the Elements range and is a blended malt from a number of Islay distilleries.
I attended the official launch of Peat at Black Rock, an innovative new whisky bar in the City of London from top mixology team Thomas Aske and Tristan Stephenson. Black Rock's unique feature is a six-metre English oak tree that runs virtually the length of the bar's interior. The tree has been cut through the middle and hollowed out into two gulleys, lined with both American and Limousin oak, and filled with two frequently changing whisk(e)y blends.
Ten things about peat and smoke
Thomas at Black Rock knows a thing or two about whisky. He also knows plenty about peat and smoke, too. Here are 10 juicy facts he shared on the night:
'Peat is made of plants that have died and been compacted in an acidic or water-driven environment'
'The aroma of smoke indicates comfort; for me, it indicates the start of autumn and winter'
'Peat is a fuel source, particularly in Scotland and Ireland, because there's a limited amount of wood available to burn for fuel'
'Humans started to use controlled fire about 250,000 years ago'
'It takes about 50 blocks of peat to heat one household for a day'
'A good peat cutter can create about 1,200 peat blocks a day. I've tried it and it's bloody hard work!'
'90% of peat cut today is used as fertiliser'
'The closer to the surface you cut peat, the greater the characteristics of the plant matter; as you get lower, it becomes darker and heavier'
'Peat doesn't burn like coal; it has a carbon content of 60% so it burns very slowly, and at lower temperatures. It can burn and smoke at 40°C'
'Malted barley can only take a certain amount of peat. There is a saturation point, after which coal is added to the fire to raise the temperature and fully dry out the barley'
What about the whisky itself? This is what I thought: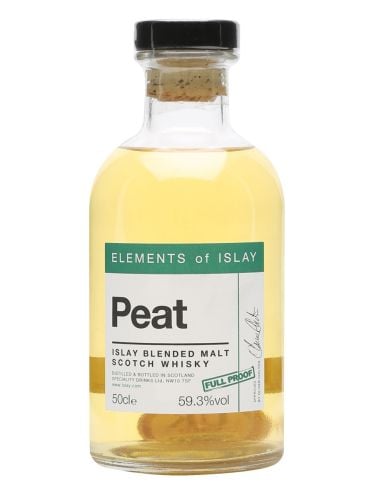 Nose: Fresh and fruity at first, with notes of lemon and orange oil, joined by roasted almonds and dark chocolate and enveloped by layers of warming peat smoke. Water brings out more refreshing citrus notes.
Palate: Richly textured, with pear and melon and a sprinkling of black pepper and honeyed fruit. Again, the soft smoke arrives, with bonfire embers imparting a lovely warmth and character.
Finish: Clean and fruity, with the soft wood smoke lingering.
Comment: There's a lot to like about this whisky. It doesn't try too hard, and instead shows the things that Islay fans love: peat, smoke and fruit. I'm not sure that water improves this whisky, either; I think it's pretty well balanced as it as, despite the high ABV.
Elements of Islay Peat is available to buy now from The Whisky Exchange website, priced at £34.95.