Two things we like at TWE are an intriguing product, and a play on words. So imagine our delight when a new apéritif arrived from Cornwall: Tarquin's Cornish Pastis.
Claiming to be the UK's first pastis, it is produced in small batches (fewer than 300 bottles) at the Southwestern Distillery, founded in 2012 by Tarquin Leadbetter in the hamlet of St Ervan, 10 miles east of the surfing capital of Newquay. There are two direct-flame-heated copper-pot stills – the original called Tamara (goddess of rivers and streams, from which the nearby River Tamar takes its name), and Senara, named after a local Cornish saint, added in 2014. The pastis is produced by one-shot distillation – a process where the botanicals (steeped overnight in wheat spirit), are distilled in one run, and watered down to bottling strength.
For Cornish Pastis, the botanicals include locally foraged gorse flowers (offering coconut aromas), Turkish green aniseed and sweet fennel seeds, Chinese star anise, Uzbek liquorice root, Polish angelica, Moroccan orris root, Guatemalan cardamom, Kosovan juniper, Madagascan cinnamon and fresh orange, lemon and grapefruit zest. Each bottle is hand-filled, sealed, dipped in wax and signed on site. The water used is naturally sweet, hails from nearby Boscastle and is now available in bottle form, too – Meadowsweet Cornish Spring Water.

The pastis has already won a host of awards, including a prestigious gold medal at the San Francisco World Spirits Competition in 2014, and is available on The Whisky Exchange website. It can be enjoyed in the traditional way (one part to two or more parts chilled water), but also makes a tasty long drink – one part mixed with five parts orange juice, for example.
Tarquin also produces a Cornish Dry Gin, made in the same still and with the same water as the pastis. The botanicals used are juniper, angelica, orris, liquorice, cardamom, cinnamon, and orange, lemon and grapefruit zests, from the same origins as for the pastis, with the addition of Bulgarian coriander (a sweeter variety), Moroccan bitter almond and violets grown in the distillery's garden, adding a pine-like note and completing the recipe. The gin was awarded a silver medal at 2014's San Francisco World Spirits Competition, beating internationally acclaimed brands such as Plymouth and Hendrick's – let's give it a try: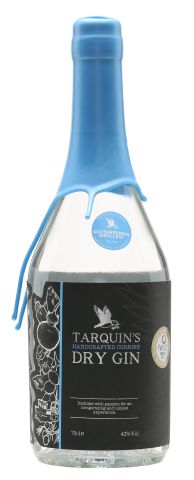 Nose: Rich, citrus aroma with sweet spice (coriander and fennel) in the background.
Palate: Creamy, mouthcoating texture. Dry juniper and pink grapefruit at the front and sweet cinnamon and nutmeg at the back.
Finish: Dry and spicy with a pine note appearing at the very end.
Comment: A different style of gin to those I've tried before, it's drier and spicier on the palate than I was expecting, especially considering sweeter varieties of fennel and coriander are used. The pine note from the violets slowly appears at the very end of the finish, and shows that every botanical used has its place in the recipe.
Serving suggestion: This is at home in both a G&T and a Martini. Tarquin suggests adding a drop of Cornish Pastis to five parts gin and one part dry vermouth for a Cornish Martini and given the spicy nature of the gin, I can see how these would complement each other.
Both products use local ingredients, which add a Cornish feel and identity. It's always interesting to see a new take on classic spirits – with a range of new-wave gins on the market, this is a familiar sight; but it's refreshing to see pastis given the same treatment, especially in a category which is dominated by just two brands.