The Whisky Lounge is rolling into town this May with their biggest event yet – The London Whisky Weekender. If you're near London between Friday 16 and Sunday 18 May, and like whisky, then you should probably come along.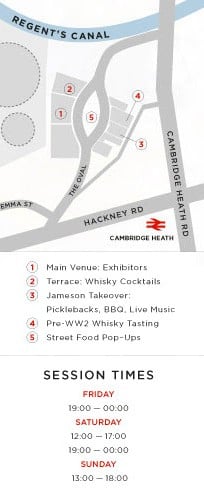 It's at Oval Space, a venue to the east of the city near to Cambridge Heath station, a few stops from Liverpool Street. It's a great space and has been a favourite of food and drinks festivals over the past year.
There are four sessions: Friday night from 7pm until midnight, Saturday afternoon from midday until 5pm, Saturday night from 7pm until midnight and Sunday afternoon from midday until 6pm.
Along with the usual gaggle of exhibitors – including whiskies from the USA, India and Ireland as well as Scotland – there are a whole host of other bits and pieces going on.  Especially interesting are the workshops happening on 'The Blitz Terrace', overlooking the last remaining, undeveloped bomb site in London. These include two particularly excellent-looking pre-war whisky tastings that they'll be running on the Saturday – there are still a few spaces available. There will also be street food, cocktails, barbecue, picklebacks, live music and much more.
Tickets are on sale now from The Whisky Lounge website: £35 per person on Friday or Saturday, and £20 on Sunday.
TWE will be on hand all weekend running the on-site whisky shop, which gives you yet another reason to come along. If you do make it, pop by and say hello – I'm the one with the increasingly stupid looking beard.