Around two hours' drive north-west of Tokyo, near the city of Saitama, is the largely mountainous town of Chichibu and the home of Chichibu distillery – Japan's youngest. Although Ichiro Akuto only started planning this distillery in 2007, he and his family have a long tradition of producing alcohol and – more recently – whisky in Japan. The Akuto business dates some 400 years, when they started making sake in the Chichibu area. In 1941, Ichiro's grandfather set up a new headquarters in Hanyu city and gained a whisky-making licence in 1946. It wasn't until the 1980s, however, that they started to make a serious attempt at making single malt whisky, and thus Hanyu was born.
At this point they were still making sake, and with single malt whisky much less in demand than blended, in 2000 he decided that it was best to stop distilling altogether. In 2004, Ichiro's father sold the company to new owners who were not interested in making whisky. The stills and distilling equipment were destroyed and, had Ichiro not stepped in, the whisky – some of it 20 years old – would have been disposed of. Thankfully, he managed to retain all of these lovely casks and stored them in a warehouse.
A year on and he released his first bottles from these casks. As the Hanyu name now meant very little, seeing as it no longer owned the distillery, Ichiro decided to call his new range Ichiro's Malt. The first release was a 1988 single malt of just 600 bottles, which took two years to sell out. When making this first bottling, Ichiro teamed up with a designer friend to create a label – his suggestion was a playing card, and Ichiro instantly fell in love with the idea. The initial design was well received, and Ichiro decided to make a further 53 whiskies, with this evening's final Joker whisky being the 54th card in the series.
Ichiro has picked up a lot of experience over the years through working not only for Suntory, but also a period at Karuizawa in 2006 and further year at Benriach in 2007. He then returned to Japan to the town of Chichibu, where his new distillery had finally been made, and in February 2008, he started distilling. Production is small in comparison to many other distilleries: he can only mill 400g of barley at one time, his mash tun is a mere 2,400 litres and his eight beautiful mizunara washbacks are just 3,000 litres. By comparison, Balvenie's 10 washbacks are 50,000 litres each and Bowmore's mash tun is 38,582 litres. He was also rather pleased with his two 'small, short and straight' spirit stills, both with a downward-pointing lyne arm.
Such is the attention to detail and precision of the running of Chichibu that Ichiro and his team travel to Scotland each year to make their own malt which is done the traditional way by floor malting. The malt is made in Scotland and the finished product sent to Japan. Barley is being grown near the distillery, however, and the company is in the process of making a floor malting, as well as using a Japanese variety of barley, which is machine malted, to make whisky, which is currently sitting in casks. Hopefully it's not too long before we see this in a bottle.
But on to the whiskies!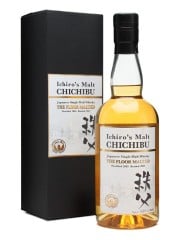 Nose: Lovely and fruity, packed with red cherries, summer berries (red), quite light with some roasted cereal notes and a malted character. Dave Broom joined us for the evening to present the whiskies and he also picked up crème caramel and white chocolate.
Palate: Quite light in texture, red fruits coming through as with the nose, but with a floral lift to them. Although it starts light, this one develops in the mouth, gets chunkier and develops a lovely weight. Those toasted cereal notes are there also, with some granola thrown into the bowl. This time I can spot the white chocolate – or did Dave put that flavour in my mind? With water added, the chocolate character becomes much more prominent and takes over the fruit as the leading role.It becomes oilier, rounded and has a much better texture to it which feels a little more balanced.
Finish: A lovely finish that's long lasting. There's cereal, granola, pannacotta, and coffee going on but it remains gentle and comes through with a touch of sweetness.
Comment: This comes to life with water. Ichiro bottles his range at varying strengths, specific to each whisky. For me, this is a little too strong on its own, but with just a tiny drop of water it becomes soft, rounded and has that lovely cereal character with a subtle chocolate undertone.
This whisky starts its life in ex-bourbon casks and matures in them for two years before being transferred into portpipes for the final year.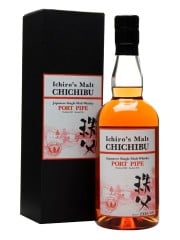 Appearance: I don't often comment on the colour or appearance of whiskies but I just had to mention this one. It has an onion-skin colour with a pink hue, almost reminiscent of Tavel rosé wine.
Nose: There's a lovely spicy character to this one and the colour of the whisky comes through onto the nose. I'm getting pink flowers, cranberry, rhubarb, Turkish delight (rose), some gentle red fruits and lovely sweet spice.
Palate: Dried cranberry, raspberry, touch of tannins, lots of fruit, rose petals, floral, and slightly hot on the tongue. With water, raspberries begin to dominate. Still some tannins present and a herbal note lurking in the background. It's gentle, soft, sweet and something like a red-apple-skin flavour going on.
Finish: Quite hot, but the fruit lingers much longer than the alcohol, bringing a sweet and spicy character.
Comment: Really fruity and fresh for a port finish. I often find these styles have a clawing, musty character which is nowhere to be seen in this one. It's surprisingly like its colour, too – lots of pink and red fruits.
Time for a short lesson in Japanese. Chibi is Japanese for small, and daru means cask. Can you guess what's unique about this one yet? It's aged in a quarter cask. There is a small difference to this one however. To make these casks, they chop both sides off a traditional 225l barrel (leaving just the middle section) and put new ends on. The new barrels are small and dumpy like cigars in appearance and don't have the sloping sides and small ends you would find on a traditional quarter cask. This technique actually came about by accident – as is often the way with many things whisky related. Ichiro didn't have a cooperage nearby that could make quarter casks, and when some of his standard casks developed a leak, he chopped the ends off and put new ends on – hey presto, he had made his own quarter casks. The cask for this one is ex-bourbon but with new heads – which will be much larger than those on a traditional quarter cask.
Chichibu now has a cooperage on site, headed up by a 97-year-old cooper who previously owned the (now closed) local cooperage before retiring. He now comes to the distillery to train new coopers, although sometimes he doesn't show up for work if it's quite hot. Or if it's raining…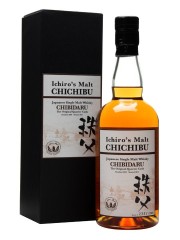 Nose: Lots of caramel, toffee, stone and orchard fruits, notably nectarines and ripe peach, roses and some scented Japanese spices in the background along with marzipan.
Palate: Toffee, caramel, slightly sweet, lovely creamy texture, bold and quite rich, very forward, ripe Braeburn apples, nectarine, ripe peach, coconut, strawberry bootlaces, wild thick-set honey, menthol.
Finish: Caramel, sweetness, peach, creamy and that menthol note comes out a bit more.
Comment: Seriously rich, sweet and fruity. There's a lovely thick-set honey flavour on the palate and a light lift on the finish.
I like the name of this one. Ichiro started distilling whisky at Chichibu in 2008 and On The Way was bottled in 2013 containing a portion of his oldest, five-year-old whisky, along with other barrels distilled between 2008 and 2010. In essence, Chichibu is on its way to bottling a straight five year old, but it's not quite there yet. Each individual cask that goes into this, much of it his Floor Malted, starts its life in an ex-bourbon cask before spending a final year in mizunara wood.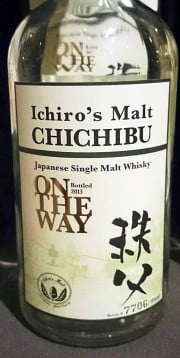 Nose: Beautiful. Sweet spice, mint, cut grass, green, herbal, fennel, anise, floral, less fruity than the others, but there is some pear or apple maybe in there.
Palate: Sweet, oily, thick and spicy. Lots of exotic fruits such as papaya, mango, lychee and guava, full of heat and that herbal note is back. With water this remains rich but becomes creamier and an incense flavour comes into play and pushes the tropical fruits into the background. It's not strong incense, however, it's more akin to standing near a Buddhist temple; you know that somewhere nearby there is incense burning, but it's softer and less pungent.
Finish: Sweet spice, incense, temples and a firm grip with some tannin.
Comment: The use of mizunara really brings this one out. Without water, it's bold and full of tropical fruit, but just a tiny drop of water and the mizunara comes to play and that incense character shoots into the limelight.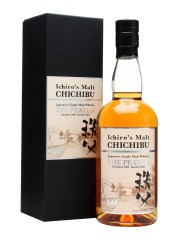 Nose: I'm back on Islay, stood by the shore between two distilleries and there is a smoked-meat festival taking place behind me on top of the hill. Or, more simply, I'm getting peat, brine, salty sea air, smoked sausage, cut grass, a garden bonfire, wood smoke and smoked ham.
Palate: Smoked meats again – ham and sausage – green fruits, bonfire, ash, full of smoke, waxy and very big in the mouth. There's a serious punch of heat coming through here which is intensified by the smoke.
Finish: Summer bonfires and smoked meats.
Comment: This is big and punchy. It feels a little less complex than the other whiskies, with just smoke and smoked meat coming through for me – but that certainly doesn't mean it doesn't taste good. A great winter-evening dram.
Slightly paler than the previous peated whisky, Ichiro has increased the peating levels and abv for this bottling. For me, the difference is huge.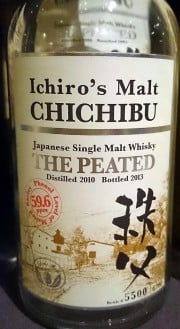 Nose: Full, clean, much more restrained and elegant than the older bottling. The smoke, brine, grassy notes are all still there but they seem much more integrated.
Palate: Elegant, creamy, well-balanced alcohol, vanilla, brine, white peach, apple, scented aromatic spices. Delicious.
Finish: Soft, delicate smoke and white fruits. I finished off my notes here with 'divine'.
Comment: The difference between these two bottling is quite vast. He's taken something that was good and taken it up several levels. It's interesting to note that even with a higher level of alcohol and peating, there is much more restraint in this one and it's balanced. All the flavour and power is there, but it approaches you slowly and woos you, it doesn't need to do anything fancy, no chat-up lines required – it sits back and lets you fall in love with ease.
So, here we are, the final card in the series: The Joker(s). For his final card, Ichiro has released two Jokers; the first, a vatting of 14 casks over six vintages of Hanyu from 1985, 1986, 1988, 1990, 1991 and 2000. The casks types for this are sherry butt, puncheon, hogshead, Cognac, chibidaru, Madeira hogshead and bourbon; 3,640 bottles of this were made. The second Joker has a monochrome label and much rarer – sadly we didn't get to try this one, although this is not surprising given that this is just one cask from 1985 and only 241 bottles have been made.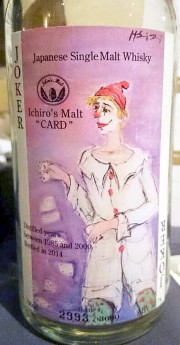 Appearance: Dark caramel, copper/amber
Nose: Soft caramel, polished brass, fragrant wood, cedar, so much depth. It's waxy, rich, concentrated, stewed dried prunes and dates, bitter orange peel (dried), pink peppercorns, old leather. Given a bit more time to open up in the glass, a floral note kicks in, with some rose petals and Turkish delight in the background.
Palate: Caramel, it starts quite soft, almost retrained, and slowly develops on your palate. There's no big hit; it just slowly offers more and more over time. There's ripe red and black fruits, blackberry, prune, fig, bitter orange peel, it's rich but subtle. Grapefruit and dried citrus peel come forward after time.
Finish: Seriously long. It's warm, with that bitter citrus peel backed with blackberry, fig, and a subtle woody note.
Comment: This doesn't scream at you, it introduces itself and lets you get acquainted. It starts out slightly shy and opens up over time. Once you get to experience all that it has to offer, though, you won't be upset. This has so much going on, and each time I revisited it, I was welcomed by a new aroma and taste, with each one as delicious as the next.
As always, our thanks go out to Akuto-san and Dave Broom for hosting such a fantastic evening.
You can read more about Chichibu in Tim's post from when he visited, and you can sign up to receive an email when the new Chichibus and the Joker are available on the following links: Chichibu On The Way, Chichibu Peated 2013 and Ichiro's Malt – The Joker. They should be available by mid-May.
Update: Unfortunately the Hanyu Joker has been delayed – we hope to have it by The Whisky Show in October.