It was an excited crowd that milled in the beautiful, airy conservatory at London's Bombay Brasserie on Tuesday night. The Whisky Exchange Whisky Show Pre-Show Dinner (to give it its full, quite-a-lot-too-long title) began with a flavoursome mystery cask strength malt, brief welcome intros from BB's Michelin-starred chef Sriram Aylur and Dave Broom, and a delicious bourbon cocktail from Ryan Chetiyawardana.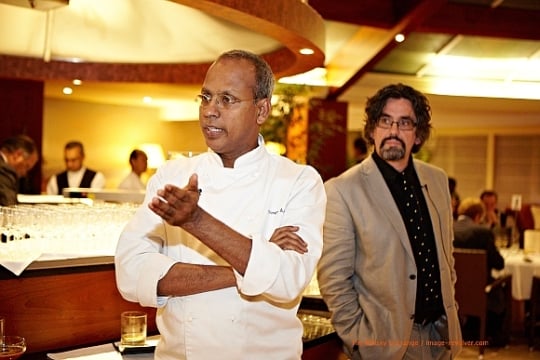 Once at our tables we were treated to a cavalcade of superb food and great whiskies, with every course and pairing prompting plenty of discussion amongst the lucky attendees, who were a mix of the great and good from the whisky world interspersed with journalists and enthusiastic foodies.
The food itself, of course, was fabulous –Sriram's signature dish of battered prawns and spicy tilapia was simply divine, while the main of Lamb Roganjosh, with Aloo Katliyan, Dal Tadka and Chicken Biryani was a stunning combination of perfectly-defined complementary flavours.
In between courses, Dave would spring to the front of the room, grab a mic, elicit some guesses from the guests and then do the big reveal of what we'd just been drinking with our food.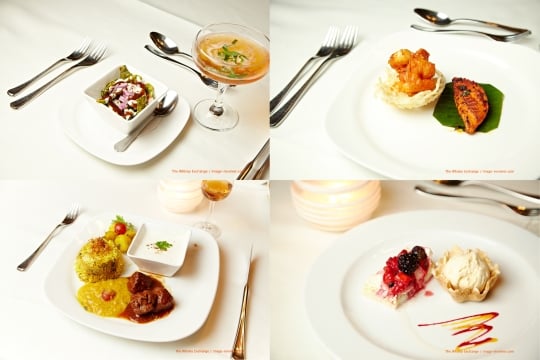 The full menu and whisky matches for each course was as follows:
Mystery Whisky – Paul John 3yo (a very exclusive new Indian whisky that you will be hearing more about in the near future)
Cocktail – "Clawed Earth"
35ml Eagle Rare 10
15ml Cocchi Americano
10ml bitter turmeric liqueur
Short shake, double strain into a coupette with one ice cube. Garnish with shredded basil
Starter – Palak Patta Chaat paired with the new Balvenie Caribbean Cask (on the site soon…)
Crispy baby spinach with sweet mango relish
Fish Course – Prawn Tokri and Pan Fried Tilapia paired with Johnnie Walker Blue Label
Batter fried spice prawns and pan fried masala coated Tilapia
Main Course – Lamb Roganjosh, Aloo Katliyan, Dal Tadka and Chicken Biryani paired with Midleton Barry Crockett Legacy
Tender lamb masala, spiced potato slices, traditional lentils and chicken with basmati rice
Dessert – Berries Reduced Milk Pudding and Malai Kulfi paired with Ardbeg Uigeadail
Set milk pudding with berries and Cardamon infused Indian ice cream
Coffee and Chocolate paired with Glenfarclas 105 20 year old (on the site soon…)
Selected to pair with the accompanying whisky
It was fun to try and guess the whiskies as we went along – the whiskies were all served blind, and with the unusual food-matching it was a very stern test of our tastebuds, and provoked some fierce debates at the tables. Naturally, the reveals brought excited oohs and aahs from the crowd – most notably the Johnnie Walker Blue which accompanied the fish course.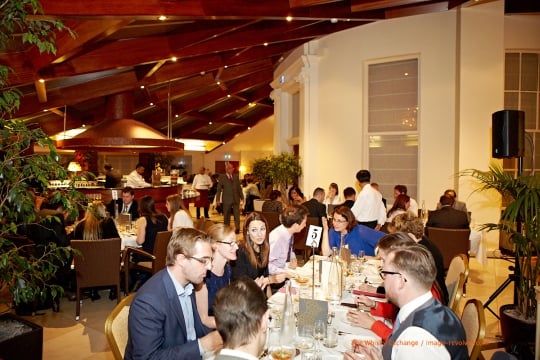 Of course, everyone had their own opinion on which matches worked and didn't work. I thought the Barry Crockett worked brilliantly with the main (and was particularly pleased that I spotted it was Irish at first sniff, as I'd been pretty flummoxed by the previous four drams). Probably the most controversial was the Ardbeg Uigeadail (another one I guessed immediately) with the ice cream – there were some mutterings, but I thought it worked well, although as an aside the Uigeadail seemed much younger and more spirity than I remembered it.
Many thanks to Sriram & his team, Dave Broom and all the brands and companies who supported the event, it was a terrific night and a great way to kick off the TWE Whisky Show with a bang.
Even with only three weeks left before the Show (engage panic mode) there's still quite a lot still to announce, so keep an eye on the website, our Twitter feed and Facebook to see what's going on.  BTW, if you're hoping to visit the Saturday session of the Show and you haven't got a ticket yet, better get your skates on as they're likely to sell out in the next week or so.