We don't talk all that much about our main website here on TWEBlog, but behind the scenes our tech team are constantly tweaking and poking around to add new features.
One of the most commonly requested features is the ability to sign up for an alert to hear when out of stock products come back in again. We're rather pleased to announce that after chaining our lead developer to his desk and threatening him with removal of whisky privileges we've now made it so you can do this.
It's simple to do:
1) Go to a page for a sold out whisky. For example, the recently released and massively popular Ardbeg Galileo.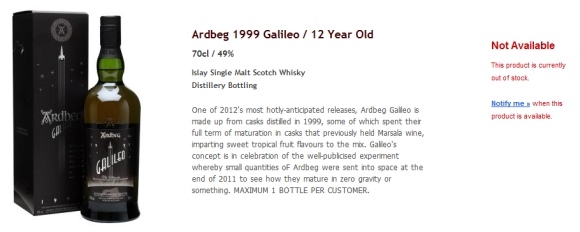 2) Weep quietly that you weren't fast enough to grab a bottle.
3) Click on the 'Notify Me' link, handily positioned where the 'Add to Basket' button would normally be.
4) Fill in your details.
5) Sit back and wait for your inbox to ping.
We can't guarantee that every product that we've stocked will come back in, many of our bottlings are old and discontinued releases that we buy in private sales and auctions that we never find again – but if the bottle you are interested in does reappear at any point in the future, you'll get an email as soon as it arrives on the website.
And if you want to try out the service then you could do worse than sign up to the Ardbeg Galileo alert. You may have heard that we've got a Whisky Show in a few weeks time and there will hopefully be some Galileo on the Ardbeg stand. It wouldn't be very good planning on our part if we didn't have some to sell around the time of the Show…
Anyway, now to find a cattle prod and have a chat with the developers about adding wishlists to the website.  Watch this space…