Over here in the UK we don't hear all that much from the burgeoning US craft distilling movement, apart from occasional articles in magazines and on blogs assuring us that it is growing. The problem with a small distiller is that getting their spirits out of the US and into the wider world is often more trouble than it's worth, and outside the abilities of a small regional company. At Whisky Live London last week there were a couple of newer entries into the world of distilling who had made it over to the UK: Balcones (whose whiskies are still not readily available here) and Hudson.
Hudson whiskey is made at the Tuthilltown distillery in upstate New York, run by business partners Ralph Erenzo and Brian Lee. The story behind the distillery isn't particularly traditional. Ralph is a former professional climber (a profession that I'm still having trouble imagining a day-in-the-life of) who acquired the Tuthilltown Gristmill back in 2001, with the intention of turning it into a climbing ranch to serve the nearby Shawangunk mountains. However, the locals didn't approve and blocked his applications to change the land use of his farm and after several years of legal wrangling he looked into what else he could do with the place.
Asking around he was told that a winery would be counted as farming, something that the locals couldn't do anything about. Unfortunately Ralph isn't a wine fan, but he did find that a new type of distilling license had recently been created, for smaller distillers, with the former low-end fees of $60k per year dropped to $1250 per year. At around the same time his not-yet business partner Brian came to the farm to buy the grist mill, looking to move from his career of electrical engineering to milling flour. After a couple of days of trying out the mill he came to the conclusion that the life of a miller was not for him and left, only to have Ralph e-mail him a few days later with a proposition – did he want to become a partner in a distillery.
Ralph and Brian then, with only a little bit of outside help, built the distillery from scratch, learned how to brew and distill, and then started up their company Tuthilltown Spirits. These days they have a team of employees onsite, and a range of white spirits, whiskies and liqueurs available at the distillery and in bars and shops in 17 states of the USA. They also have a few bottles up on our website…
In 2011 William Grant's, makers of Glenfiddich, Balvenie, Monkey Shoulder and (predictably) Grant's, approached them with an offer to acquire the Hudson Whiskey range and a deal was reached – Tuthilltown would continue to make Hudson whiskey (and no other whiskies) and Grant's would distribute them around the world. It's at this point that we join the story at Whisky Live.
While TWE have been importing the Hudson whiskies ourselves for the last year or so, they haven't been generally available outside of the USA, but the international nature of Grant's means that situation can now be remedied. In late April/Early May two of the Hudson whiskies will be released in the UK – their flagship product Baby Bourbon and, luckily for me, the one that is gaining a lot of buzz at the moment: Manhattan Rye. The range is rounded out by their Four Grain Bourbon, a Single Malt and the unaged New York Corn whiskey, which may make it over to the UK (officially, at least) in the future.
Over the Whisky Live London weekend both Nic from our trade desk and I got to sit down with Ralph and learn about their whiskies. First up, none of their whisky is very old, generally staying between 6 and 9 months in the barrel. In order to make sure they still get enough woody character from such a short time they utilise a couple of interesting methods: Firstly, they use small casks ranging from 3 to 55 gallons in size, with most sitting around the 20 gallon mark – about 75 litres, under half the size of a standard bourbon cask. The larger wood to spirit ratio of the smaller casks ensures more influence in a smaller amount of time. The second, and more leftfield, way that they help the whiskey along is with music, playing bass-heavy tunes to agitate the whiskey in the casks (lots of East coast hip-hop according to those who know about this kind of thing way better than me – I'd have gone for Black Sabbath and let Geezer Butler tickle the spirit). This came about when Ralph walked into the warehouse after learning that turning the barrels would help maturation, only to see a sea of casks in front of him. The distillers engaged their brains and ended up with a plan for 'sonic maturation' using subwoofers and an iPod rather than extra physical exertion. I have no idea if it has any great effect but it gives an indication of what life at a distillery with a teepee in the back garden is like.
So, onto the drinking. First up is their flagship whiskey, the one that will be leading the charge when the range hits Europe – Baby Bourbon. It's as close to a 100% corn whiskey as they could make, with only a small amount of malted barley in the mix to help the fermentation, along with some added enzymes so they could keep the malt level low enough so that it wouldn't affect the flavour. On top of that they augment their regular field corn with an antique artisanal variety that is grown specially for them – they got 4 ears of the corn from a seed vault and started growing from that. It's a low yield grain but while the amount of whiskey you get is less it has lots of flavour.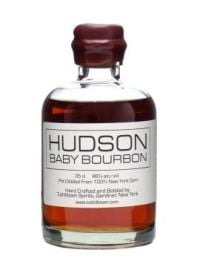 Billy:
Nose: Quite light and fresh, with buttery spice and toffee popcorn.
Palate: Big and spicy, with menthol, caraway seeds and lots of wood.
Finish: Damp bark and forest floors.
Comment: A decent bourbon but missing something for my taste – the flavour is all about the sides of the tongue without anything really hitting the middle, making it slightly hollow.
Nic:
Nose: Oak, Oak, and more Oak! Vanilla, a hint of spice and a bit leathery?
Palate: There is some sweetness laced with a vegetal/spiced note, a little bit hot on the tongue. A big oak grip throughout.
Finish: A little sharp towards the fade, with a graininess present and some vanilla.
Comment: This may be a little too young.  Probably needs a bit more time in the cask to develop a little more complexity, but a promising start.
Next up is the New York Corn, the unaged version of the Baby Bourbon. While US regulations demand a new charred oak cask is used every time for all other whiskey, corn whiskey is not allowed to be aged in one. If it does go into a cask it must be uncharred, but Tuthilltown bottle theirs without maturation. Due to the small amount of time their whiskies spend in wood the distillers have to ensure that the spirit has a lot of the final flavour present before maturation, which you can see from the New York Corn: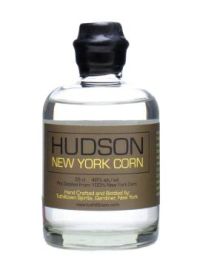 Billy:
Nose: You get buttered popcorn even before you get the glass up to your face, followed by lemon and lime zest, sweet grain, some spice and a little bit of lime pickle pungency.
Palate: Not as sweet as expected from the nose, with cream, more lime, anis, cloves and some crisp minerality.
Finish: Buttered sweetcorn and damp, mossy stones
Comment: An excellent white dog, full of flavour and an obvious precursor to the Baby Bourbon.
Nic:
Nose: Buttered popcorn and Granny Smith apples, some obvious cereal notes as well.
Palate: Viscous start, corn sweetness layered with a grassy/vegetal note. Slightly spicy but very approachable.
Finish: Fades quickly on the death, gristy mouthfeel at the end and gently warming.
Comment: New make sprit seems to be all the rage right now and this one does not disappoint. Very easy drinking at 46%.
While we've managed to pick up most of the whiskies in their range, as yet we've not been able to get hold of any of the Hudson Single Malt. While similarly named to its Scottish counterpart, it's made with Canadian malt and aged for less than a year using new charred barrels made from Missouri oak, immediately singling it out as something different. Annoyingly I didn't get a chance to try this at Whisky Live, but Nic got his nose in a glass a couple of days later: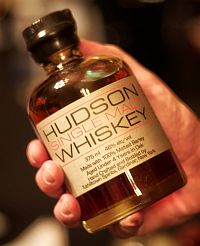 Nic:
Nose: Stewed apples with cinnamon and sugar, traces of vanilla and oak, a somewhat restrained, but slightly elegant aroma.
Palate: Christmas spice, with caramel and vanilla again, candy corn and the oak is apparent mid-palate.
Finish: Resurfaces big-time towards the death with some spice and some honeysuckle, perhaps, then a clean medium-weight finish.
Comment: This does not drink like a Single Malt Whisky, but if you like young fresh Bourbon or Rye this is right up your alley.
They are constantly experimenting with mash bills at Tuthilltown, with one-off single grain oat and wheat whiskies selling out immediately; and spelt, amaranth and wild rice whiskies sitting in wood waiting to see the light of day. At the other end of the mash bill spectrum is the Four Grain Bourbon, corn heavy (as required by bourbon naming regulations) but with added rye, malted barley and wheat.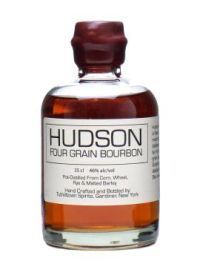 Billy:
Nose: Spicy malt loaf, digestive biscuits, treacle toffee, some mint and menthol, dark chocolate, Shreddies, custard and some wax heavy wood polish.
Palate: Sweet with lots of orange jelly/Jell-O, soft caramel, spiced vanilla cream, cooling woody spice and a touch of bitterness.
Finish: Long, with cooling mint and spicy grain.
Comment: This whiskey constantly changes in the glass, picking up new notes every time I went back to it. In the end it's a cross between decadent breakfast cereal and an orange jelly trifle. Which is quite a nice thing.
Nic:
Nose: Apples, quite floral, with a coffee note and some slight spice, vanilla bean.
Palate: There is some caramel sweetness, with a doughy/yeasty quality, red berries, and spice again with the oak wrapping it all up.
Finish: A beautiful finish with great spice and that familiar caramel/vanilla sweetness.
Comment: This is a really promising Bourbon with great quality of the grains but just needs a little more time in the cask!
Last, but far from least, is the Manhattan Rye. Tuthilltown started making this when the current craze for rye whiskey exploded a few years back. Thanks to their shorter maturation times they managed to get their production ramped up quickly and into bars in New York. It's focused at the cocktail market, named for the cocktail it will probably appear in a lot of the time, and designed it to have flavours that will shine out even when swamped with vermouth. The rye will be the other whiskey to come over to Europe next month, no doubt thanks to the current bartender love it's getting.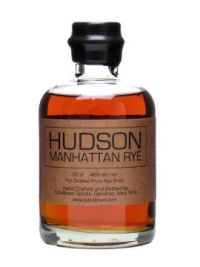 Billy:
Nose: Very fresh and fruity (thanks to their yeast selection, says Ralph), with oranges, cloves, chocolate and some custard vanilla hiding at the back.
Palate: Both sour orange flesh and sweet juice, hot cinnamon, cloves, cracked black pepper, big tropical fruit (kiwi?) and a balanced woody bitterness
Finish: Minty with even more fruit and spice.
Comment: I don't like rye whiskey on its own – I love it in cocktails, but neat the astringent spiciness is normally too much for me. But not here – it dials down the astringency and ups the fruit, creating a rye that I'd like to drink on its own. I think I need to do some cocktail experimentation…
Nic:
Nose: Maraschino cherries laced with sweet mint, a floral quality(Rose Petal?), some coarse oak and tobacco leaf.
Palate: Not a typical Rye entry, vanilla with mint again, almost honeyed to a degree, some peppery oak on the back end.
Finish: Rye more evident with spice and the oak fighting for supremacy along with some cinnamon sticks.  A hot and saucy swallow.
Comment: This is the real standout of the Hudson line.  There is a lot going on here in terms of flavours and it reminds a lot of the Templeton Rye.  Seek this one out!
So, what's next for Tuthilltown? With the European launch of their whiskies and the continued increasing demand for them in the USA I suspect that a lot of their time will be spent filling a lot of casks, but they've got other things hidden up their sleeves. They're still making white spirits, initially released to raise revenue while their whisky matured, but now as ongoing lines due to their popularity, and should be expanding their range to do more with local apples (Hudson Applejack anyone?) and also look towards more complex spirits (New York gin?). However, their output is so small that it barely makes it further than their own shop, so I doubt we'll see anything over here soon. Although, with a bit of TWE magic you never know…
Many thanks to the folks at First Drinks for getting us some time with Ralph and sorting us out some photos from the events.