Over the past two decades, The Whisky Exchange has been at the forefront of the whisky world. Not only have we stocked the finest whiskies from all over the globe and sourced great exclusive bottlings, we have also pushed the envelope whenever we can.
We helped launch Japanese whisky in the UK and supported releases from distilleries like Karuizawa when no one else did. We've championed in-person tastings in our shops and at our award-winning shows and put education at the core of what we do. Now, we embark on a new adventure, creating a category of spirit unlike any other.
Introducing The Gastronomy Selection: Fine Spirits for the Home or Professional Kitchen.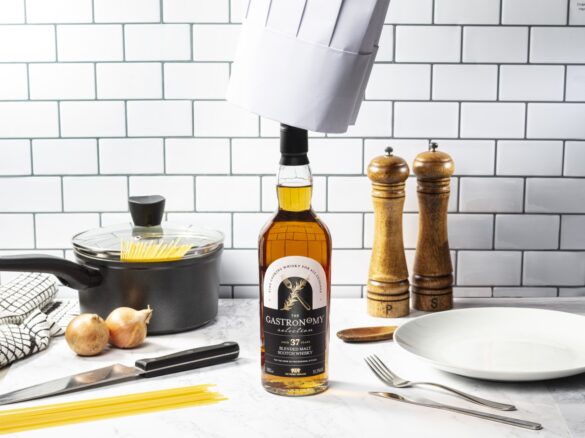 The journey of The Gastronomy Selection started many years ago, with experimentation in The Whisky Exchange co-founder Sukhinder Singh's home kitchen. Already a dab hand with a frying pan, he turned his eye to improving the classic dishes that he had already mastered.
"Since the first time I replaced the white wine in my Bolognese with 1980s malt whisky I've never looked back," he told us. "I know it's not traditionally Italian, but it really brings an extra layer of complexity."
From this eureka moment, Sukhinder has continued his experimentation, pairing different spirits and cuisines to create previously unthinkable combinations. Enlisting the help of head buyer and former sommelier Dawn Davies MW, he has finally made this decade-spanning dream a reality.
THE INAUGURAL RELEASE – 37 YEAR OLD BLENDED MALT
The first release in The Gastronomy Selection range launches today. It is a versatile 37-year-old blended malt, crafted by The Whisky Exchange's blending team to lift any dish it is added to. We caught up with project leader and pathological Scotsman Gordon Oliver – who was at the time slaving over a vat of prototypical peated hollandaise – to get some background on this ground-breaking release.
"Blenders are the chefs of the whisky world. Casks are like their ingredients – their vegetables and meat and-so-on – and the blending vat is just a big saucepan if you think about it, right? Well anyway, we decided it was a strong enough analogy on which to launch our new range of cooking spirits."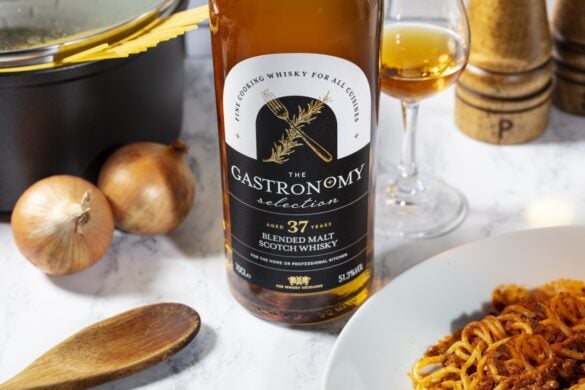 The Gastronomy Selection 37 Year Old Blended Malt, 51.3%
Nose: Fine Devon fudge and butter toffee, made with milk from undisturbed cows, the finest hand-spun cane sugar and sea-salted, long-cultured farmhouse butter. Freshly shelled hazelnuts and Swiss milk chocolate follow, a crunch-laden enrobing with a sprinkling of finely julienned orange zest. The creaminess builds, packed with gentle Madagascan vanilla character and hints of cream-laden coffee: thick, dark, sweet Rwandan beans, brewed over flame in a Japanese siphon.
Palate: The notes of creamy sweetness return, rolling over unsnapped single-origin chocolate shards into a pool of bobbing windfall apples: tart Granny Smith and sweet Pink Lady with a handful of transatlantic Honeycrisp. The nutty notes develop: hazelnuts from the bottom of the bowl with lightly toasted Spanish almonds, all lightly dusted with soft, golden caster sugar. Crunchy spun-sugar nests are draped over thinly sliced conference pears and freshly malted Golden Promise barley. Beeswax-polished oak is sprinkled with gently bruised mint leaves.
Finish: Rich, baked-apple purée builds in waves, lingering beyond developing mint and creamy caramel. Chocolate water-ganache, let down with cream, leads to polished oak off-cuts and honey-baked vanilla pods.
Comment: An excellent whisky, and an excellent ingredient. Its sweeter notes enhance and embolden desserts and naturally sweet savouries, while also contrasting and pairing with the best meats and roasted vegetables. This sweet and savoury combination make it perfect for use in a slow-cooked ragu, enhancing the meaty umami as well as amplifying the sweetness of tomato. A cooking whisky so good, you might be tempted to drink it on its own!
Buy The Gastronomy Selection 37 Year Old Blended Malt now >
How to Use it?
The Gastronomy Selection 37 Year Old blended malt Scotch whisky is incredibly versatile. While we started the project focusing on Italian sauces, we quickly realised that this was merely the tip of a tasty iceberg.
For home cooks, there are a number of dishes that we can recommend, including deep fried Mars Bars that utilise whisky instead of water in the batter. The alcohol in the whisky cooks off faster than water, leading to a crunchier chocolate treat, run through with all the charm of this Stonehaven classic.
We've also not forgotten vegans in our research. Tofu marinated in the Inaugural Release makes the perfect accompaniment to umami-rich mushroom dishes. The whisky actually alters the texture of this vegetarian favourite, making it an excellent substitute for pulled pork. And while we're on the subject, once you've added a fine old malt whisky like this to your BBQ sauce, you'll never have it any other way.
UNTRADITIONALLY TRADITIONAL
In preparation for future releases in the Gastronomy Selection series, The Whisky Exchange Test Kitchen (trademark application submitted), is experimenting with more whiskies from across the decades, using them as core ingredients as well as marinades and glazes.
Favourites so far include a 1960's-vintage Bowmore, which the team have been drizzling over a variety of dishes as a finishing touch. While the whisky's famed tropical fruit character makes an excellent addition to many desserts, it was a savoury treat that kicked the project from skunkworks to reality.
"Anyone who knows me will tell you, I am obsessed with Hawaiian pizza," head buyer Dawn Davies told us while hungrily watching the Dominos delivery tracker. "A little spritz of Bowmore just as you open the takeaway box adds a depth of flavour that you just can't beat."
The Search for Fruit and Nut
Using Davies's connections in the fine dining world, we enlisted a number of top chefs to help us explore the potential of the Gastronomy Selection, all of whom have asked to remain anonymous. Dishes currently in development with our testers in the field include chips dusted with powderised 1996 Ben Nevis and cask aged salad dressings. Maturing a waxy single malt like Clynelish with olive oil and seasonings in ex-bourbon barrels has shown to add layers of nuance and, in some cases, a crunchy texture.
Reports of some chefs simply drinking the whisky are untrue and should not be believed. This is a range of spirits specially created to be used when cooking. And while we're starting off with a whisky, there's much more to come.
The future
In the end, we see this as the future of spirits. As wine took over from water as the cooking liquid of choice, so will cooking spirits flush wine down the pan of history – wine's just unfinished brandy anyway.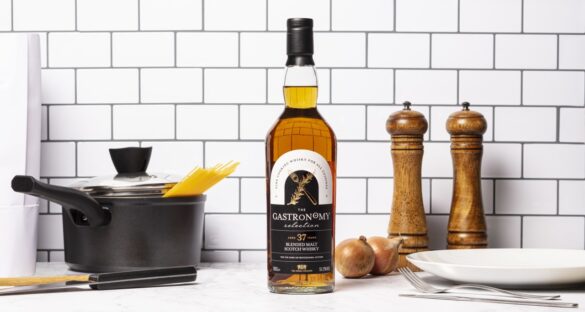 We are kickstarting the revolution with The Gastronomy Selection Blended Malt Scotch Whisky, and hope to see others follow in our wake.  A fine malt shouldn't just be saved for special occasions, it should be enjoyed, in good company and in food. After all, we shouldn't take whisky too seriously.
Happy April Fool's Day, everyone!
However, the Gastronomy Selection 37 Year Old Blended Malt is real, and available from The Whisky Exchange website and our London shops. We recommend that you drink it – it's a great, well-aged blended malt, packed with flavour, and much too good to hide in a ragu.