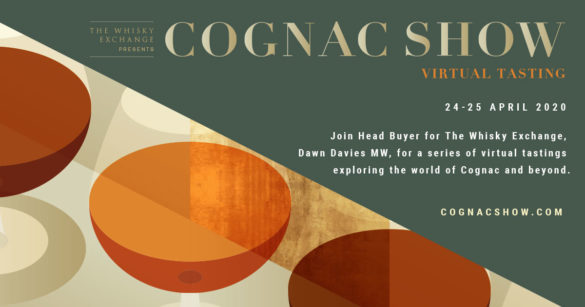 It's time for the third edition of The Whisky Exchange's award-winning Cognac Show. However, there's one major difference this year – it's going to be online.
While we've had to postpone the in-person Cognac Show, for the time being, the show must go on, and we'll have a series of tastings and talks across the weekend of 24 and 25 April 2020. They'll be free to watch online, but if you want to join in with the tastings, you can buy a tasting pack from our Virtual Cognac Show page.
What's on?
You can find full details over on the Cognac Show website, but here's a quick rundown on what's happening each day:
Friday 24 April
Cognac 101 – 5.30pm BST – Join The Whisky Exchange's head buyer Dawn Davies MW for an introduction to the wide range of flavours and styles you can find in Cognac.
Cocktails with Bar Luciole – 6.30pm BST – Guillaume le Dorner – top cocktail bartender and co-founder of Cognac-cocktail-focused Bar Luciole – will show you how to make classic Cognac cocktails from his home bar.
Saturday 25 April
The Many Faces of Cognac – 5.30pm BST – Dawn has selected six great Cognacs to show you quite how much depth and difference there is in France's national spirit.
Calvados 101 – 6.30pm BST – this year's guest spirit is Calvados, Cognacs orchard-fruit sibling, Dawn will present six great examples to educate and inform about France's 'other' spirit.
All weekend
There'll be talks and seminars from the people behind the spirit – perfect opportunities to learn more about Cognac and ask them your questions.
How do I get involved?
Keep an eye on the Cognac Show Virtual Tastings page for more details as they are confirmed.
…and if Cognac isn't your thing, don't forget that we have a series of Virtual Tastings going on throughout April and May, with rum and whisky on the schedule. You can find out more in our Virtual Tastings post.