While TV-tie in whiskies were once an idea only raised in the context of jokes, the success of Diageo's Game of Thrones series last year proved beyond doubt that they are anything but. Other brands have quickly followed suit, and we expect to have both the Downton Abbey gin and Outlander tie-in whisky Sassenach on our shelves soon – Dame MagG&T, anyone?
Perhaps the whisky series we're most excited about, however, is one that's based on an old TV series currently enjoying a revival thanks to a new West End theatre show: the Only Fools & Horses Only Drams of Whisky range.
No income tax, no VAT, no money back, no guarantee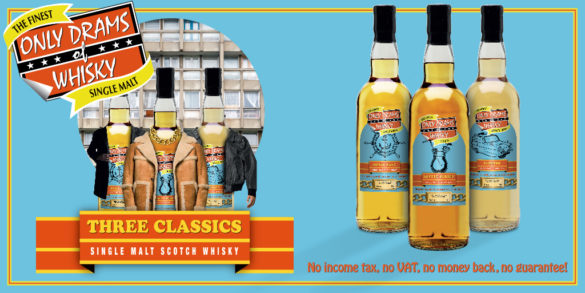 After literally days of industry rumour, the range of limited edition bottles has been revealed: three age statement single malts, 'Rodney', 'Del Boy' and 'Uncle Albert'. The OF&H series of limited-edition whiskies – produced in small batches of just one lorry-load – will be comprised of three 'core' bottles, each named after one of the primary characters in the show:
Del Boy – a 10-year-old Highland whisky matured in vintage Beaujolais Nouveau casks
Rodney – a 6-year-old Speyside single malt, matured in refill bourbon casks
Uncle Albert – a 21-year-old Highland single malt matured in ex-Navy-rum casks of undisclosed origin
This time next year we'll be millionaires!
Due to the coronavirus pandemic, the launch party for the series was held online in a virtual pub – the Nag's Head – where attendees tasted through the four whiskies, accompanied by drops of the limited-edition tie-in mineral water, 'Plonker', drawn from the pure depths of South London's famed Peckham Springs.
Influencers were also treated to a Q&A with Carol Abbott – vision mixer on Sleepless in Peckham – and invited to submit videos of themselves falling through a virtual bar, with the best video taking the prize of a tour of South London's markets in a restored Reliant Regal Van with notable Only Fools and Horses expert Ross Kemp.
The Whisky Exchange was lucky enough to be invited to the launch, and while a balletic synchronised bar-falling routine from the TWE Blog team netted us a top-three place in the video competition, we weren't quite good enough to take the top spot. Whisky writer Dave 'Rodney' Broom's recital of the complete script to episode 'Yuppy Love' in a screen-accurate cockney accent was a worthy winner.
Lovely jubbly
Competitions out of the way, we were able to taste our way through the range – click the bottles to see the labels in detail: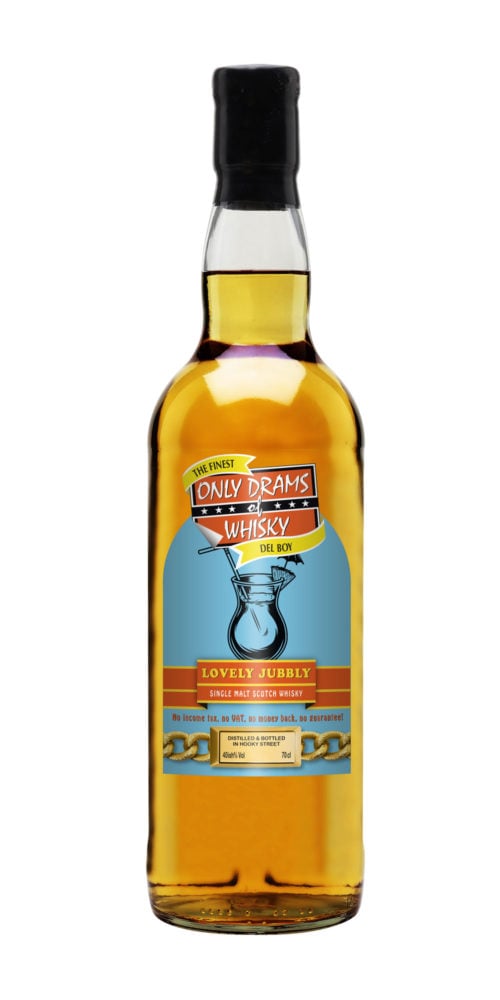 Del Boy
Nose: Rugged and tweedy, with exotic spices and a hint of seductive masculinity. Wine notes – red or white – develop.
Palate: The wine dominates – the 70s' vintages really have bite, adding notes of balsamic and petrichor.
Finish: While the spice quickly falls through the bar, the long-aged wine notes add lingering depth.
Comment: The Crème de la Menthe of the range!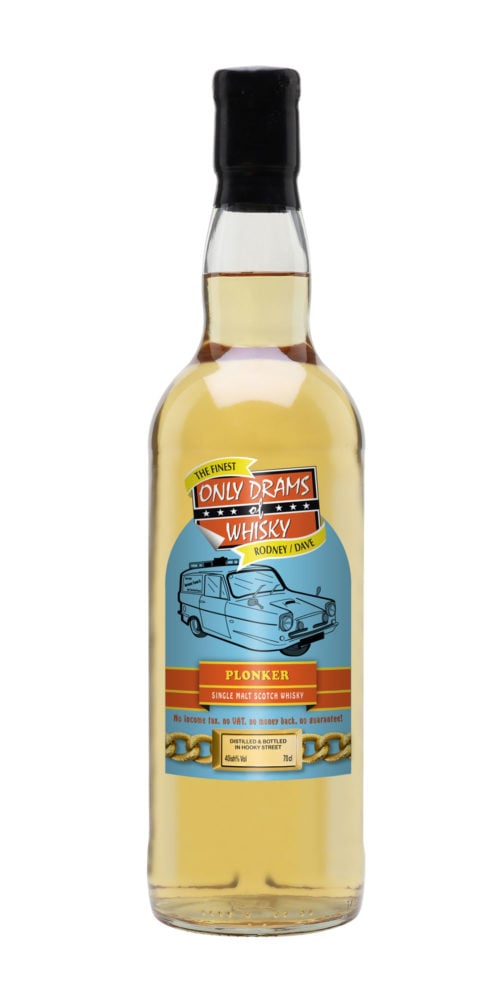 Rodney
Nose: Light fruit and airy vanilla are grounded in a more sensible, down-to-earth dried-fruit and woody notes.
Palate: Vanilla and tonka bean are gently intertwined with cream, soft cinnamon and honey.
Finish: Vanilla, tonka, cream. Cinnamon and honey slowly fade.
Comment: Solid, reliable, a little flat but retains just enough lightness and optimism to remain engaging.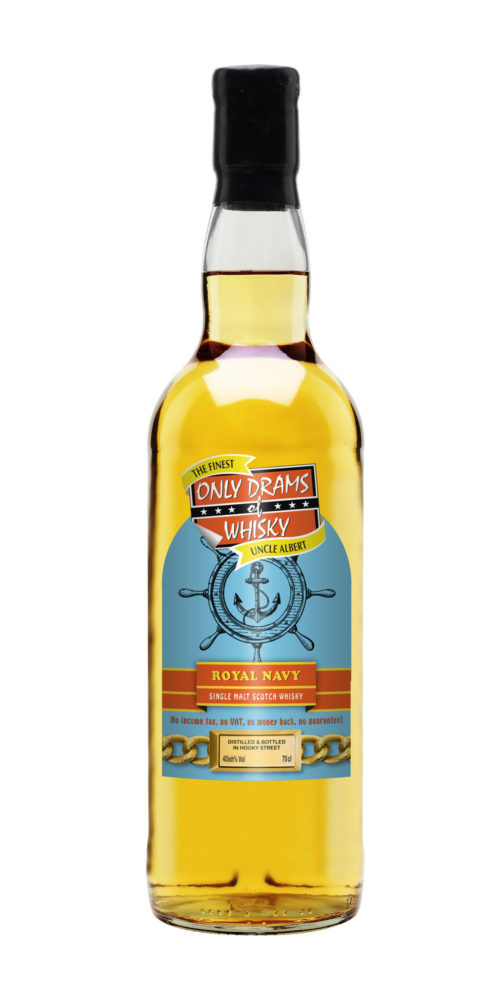 Uncle Albert
Nose: Complex and difficult to suss out. Really does offer a peek into history, though exactly which bit is difficult to say.
Palate: An abundance of very, very, very ripe fruits, reinforced by the navy rum cask. A playful and reassuring, if somewhat confused dram.
Finish: Burnt bacon and distant maritime notes.
Comment: A deceptively sprightly dram that'll creep up on you if you let it. Not to be underestimated.
It's not goodbye, just bonjour
The show's creators also have plans to release occasional, premium editions as part of the series, including a 1926-vintage Macallan in a Lalique-chandelier decanter and a replica of Harrison's clock containing a single drop of 80-year-old whisky from Old Pulteney.
The team behind the series also plans to release further TV tie-ins, including 'Allo 'Allo French Spirit by Hennessy, Dad's Army Whisky from the Spirit of Yorkshire distillery, and a Casualty-themed Bloody Mary ready-to-drink canned cocktail from Belvedere.
The Only Fools & Horses core range will be available online soon, and you can sign up to our special newsletter to be the first to know about the new releases as well as half-price cracked ice, miles and miles of carpet tiles, TVs, deep freeze and David Bowie LPs.