Whisky Show 2019 is this weekend! Saturday 28 and Sunday 29 September will see London's Old Billingsgate transformed into our biggest whisky festival yet, with over 950 whiskies, rums and more to try. My stand is shaping up nicely, with a selection of new whiskies and some old favourites, all exclusive to The Whisky Exchange, including four very special new drams – Whisky Show: The Magic of the Cask series.
Learn more about Whisky Show >
Each year we release a selection of whiskies specially selected for the show. Not only does it give us a chance to dig out some great casks, but it also gives our creative director, Raj Chavda, a chance to come up with some of the year's best looking labels.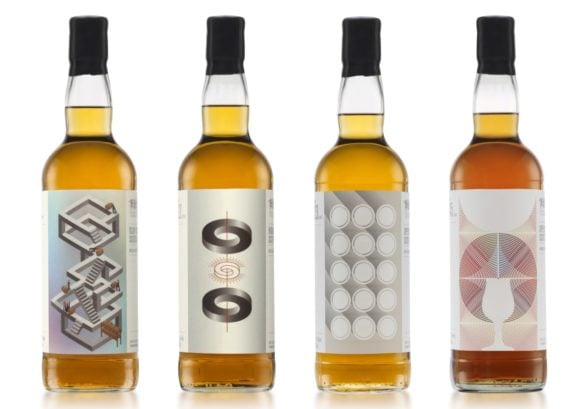 Last year's award-winning 3D lenticular labels – and the three whiskies in the bottles –  were always going to be hard to top, but we think we've done it. Inspired by the theme of this year's show – The Journey of the Cask – we've pulled together four whiskies with casks that aren't what you might immediately expect, a series called The Magic of the Cask.
To sit alongside the whiskies we needed some special labels, and Raj has stepped up again. Starting with the thought that you can't see what a cask is doing to a whisky until you open it, he decided to create labels that hide information about the whisky in a unique way.
Using special ink and paper, he has created four labels that look normal under regular lighting but which show more details of the whisky and hidden patterns within the design when exposed to ultraviolet light.
They not only look pretty, but each tastes great and has a story.
Caol Ila 2009 9 Year Old Gonzalez & Byass cask
It's difficult to tell casks apart when they're stacked up in a warehouse. But every now and again you notice differences. A cask that's not quite the same as the rest. Hiding under the paint on the end of this whisky's cask were the words Gonzalez & Byass, a name famed sherry maker Gonzalez Byass stopped using more than 100 years ago. We don't know how old the cask is, but it's old.
These days, sherry casks in the whisky world are almost all made specially for maturing whisky. But this cask is from before that time – an old-fashioned cask, giving us a glimpse into the past.
Nose: Thick fruit and smoke to start: concentrated apple, lemon and lime with a punch of liquorice-laden peat smoke. As it sits, it opens up to reveal zingy citrus zest, rock-pool freshness and a crash of breaking waves. Weightier notes sit underneath, with ashiness pushing through the smoke and a background of savouriness – old wood with a touch of earthy mushroom.
Palate: Softer and more rounded than expected, but not shy. Big smoke sits at the back, with burning bracken and peat joined by wood smoke and smoky liquorice. Sweet citrus and orchard fruit dominate the front of the palate, with chocolate sat between the sweetness and smoke – chocolate limes and apple pie by a bonfire.
Finish: Sweet fruit at first, with notes of smoke building, taking over and lingering.
308 bottles / 58.7% / £84.96
Ben Nevis 1995 22 Year Old Refill sherry butt
When we talk about sherry-matured whisky, we so often focus on the flavours of fresh, active casks. Intense dried fruit, plums, dates – the headliners in the world of sherried whisky. But there's much more to sherry casks than that. The second fill of a cask will reveal a different character, with the intensity dialled down, letting the spirit show its face as well as the wood.
That's the case here. The distillery's fruity spirit and the cask are intertwined in harmony. Fresh and candied fruit mingle, bringing subtle sherry-oak tones to the party.
Nose: Fruit rolls out of the glass – cherries, sultanas and raisins – with oloroso-sherry-soaked fruit cake not far behind. Damp leaves and rich earth provide a savoury backdrop, with fruit sweetness dancing on top.
Palate: Sweet and fruity, with a thick and dark backbone chocolate and leather. Dried cherries, apple rings and sultanas are sprinkled with brown sugar while a river of molasses and fruity dark chocolate flows underneath. Soft and sweet spice sits on top like a light blanket, with hints of old oak and forest floor slowly building.
Finish: Sweet chocolate cake slowly becomes bittersweet. Dried cherries and apples linger.
519 bottles  51.6% / £165
Imperial 1995 23 Year Old Refill bourbon barrel
Casks are a time capsule, carrying whisky forward into the future for generations of drinkers to come. While fresh and active casks often take the limelight, it's the older, refilled casks that hide some of the most astonishing whisky.
The cask still adds flavour but there's another process that is often overlooked – the transformation of the spirit by time itself. Two and a half decades of ageing have allowed this whisky to mellow and change, revealing the heart and soul of this lamentedly lost distillery's character.
Nose: Sugared almonds, malted-milk biscuits, candy bracelets, lemon curd tart and lemon meringue pie. Time in the glass reveals spring-meadow flowers and just-turning autumn leaves. Crunchy barley-sugar sweetness and sherbet lemon tartness slowly build.
Palate: Soft and sweet, with the sugared almonds and candy bracelets from the nose leading. Sweet cream becomes slowly spicy, with a pinch of cinnamon. Buttermints and lemon zest develop along with more meringue: soft and sweet.
Finish: Lemon and mint fizz on the palate before fading to leave polished oak and Love Heart candy.
125 bottles / 45.2% / £165
1973-vintage Blended Malt 45 Year Old Refill sherry butt
In the past, the simple act of moving whisky between casks to 'finish' was just seen as good warehouse management, but in our modern era it is a key part of whisky making. Layering the influence of different casks can create excellent drams – when it's done right.
This whisky takes things a stage further, with a selection of casks blended and filled into a single refill sherry butt in 2005 for a final protracted rest. The cask has mellowed the whisky without hiding its complex and intricate history – a well-balanced combination of skilful blending and cask selection.
Nose: Brown sugar and light fruitcake lead: Mr Kipling's Country Slices with a side-order of brown bread and butter. Darker, savoury notes slowly build, with char and singed raisins balanced by rich earthiness and old-Cognac rancio. Fruit sits at the core: maraschino cherries, plump raisins, baked apples, wine-poached pears and a hint of dried mango.
Palate: Venerable but fresh – old oak is poised against sweet baked apples; sultanas balance bitter char. Soft spice builds across the palate: brown sugar and nutmeg lead to the fruit from the nose. The fruitcake is back and remains light, sprinkled with crunchy crystals of sugar. Thick damp oak and fragrant riverbank earthiness provide a backbone.
Finish: Brown sugar lingers, accompanied by char and a parade of fruit: apples, sultanas and, finally, sticky raisins.
549 bottles / 45.1% / £399
You can taste these whiskies at Whisky Show 2019 this weekend on the show bottlings stand. They will be on sale at the show, and will be available online and in our shops after the show.