Gin has an illustrious history in the UK and is enjoying a well-earned resurgence. And now, The Whisky Exchange is proud to announce its first-ever gin bottling – Park Royal Gin – made in the heart of its London home.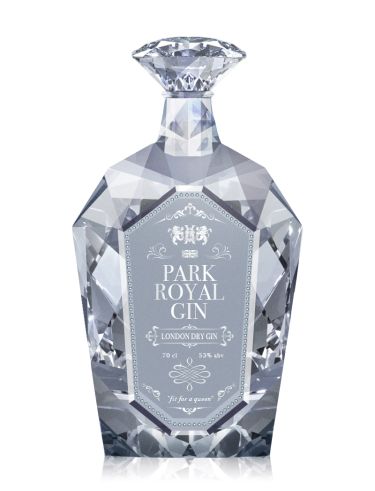 Park Royal Gin is a gin like no other – this is why:
we make the new-make spirit ourselves from special summer wheat on the site of the former Guinness factory, distilled in a 30-metre column still
we source all the botanicals from Park Royal in north-west London
the gin itself is distilled in a bespoke pot still and made with freshly drawn Royal water
the gin is filtered through real diamonds to ensure unrivalled purity
Park Royal Gin is bottled at 'Regal Strength' – 53% ABV
the bottle is diamond-cut by hand and features a replica of the iconic Koh-i-noor diamond
with an RRP of £10,000, it is the world's most expensive gin
The Whisky Exchange's director Sukhinder Singh said: 'The world has fallen in love with gin again so we felt it was the right time for us to make and bottle our own. We also wanted to make a high-class gin with just as much complexity as the finest single malt whiskies. Both the gin and the bottle are superb, and we are confident that the uber-luxury market will want Park Royal Gin pride of place in their drinks cabinets.'
No fewer than 250 botanicals are used in every bottle of Park Royal Gin (96 of which are hand-foraged), including three types of cinnamon, rare herbs including Buddha's Hand and Tiger Fist, and trace elements and precious metals including platinum, palladium and ruthenium.
We also persuaded the best names in the business to collaborate and make stills for us. For the 30-metre column still (for the new-make spirit), we sought out Italy's Frilli and Vendome from the USA, while the pot still in which Park Royal Gin is distilled was the work of Scotland's Forsyths and Carl in Germany.
The result is a bold, full-flavoured London Dry gin that elevates gin cocktails and the classic G&T to new heights, but really shines served neat and slightly chilled in a crystal glass.
What inspired us to make Park Royal Gin? Well, it's all thanks to the Royal Agricultural Society. The Society first held its annual Show in Park Royal in 1903, bringing displays of the latest agricultural grains, crops and exotic spices.
The crops flourished and took root across the area. And despite the area's subsequent industrial transformation, modern-day Park Royal is a popular foraging spot – even Michelin-starred restaurants have been known to send their sous-chefs here to find micro-herbs and rare plants.
Before launching our new gin, we sent out samples of Park Royal Gin to the best palates in the business. This is what they had to say:
'When Sukhinder sent me this, my heart sank. Does the world need another gin? But let's see…kaffir lime from Malaysia, Champagne yeast, basil Genovese, Chinese cassia…a cosmopolitan gin, that's for sure. Provençal herbs, sexy cinnamon and lots of fruit – even a touch of Alsatian Pinot Gris…and these were all sourced from secret spots in Park Royal? I must go there and seek them out' – Serge Valentin, whiskyfun.com
'I've been searching for so long for the ultimate Martini ingredient, and with Park Royal Gin, I have found it. My Martinis are the best ever. My life is complete' – Alessandro Palazzi, bar manager, Dukes
'The botanical list is inspired, and I love the way the juniper jumps up and slaps you in the face. Frankly, I'm amazed it's as cheap as it is. I don't think I've ever tasted a finer gin. It really is fit for a queen – or, at the very least, our new princess' – Geraldine Coates, gin expert
'Park Royal Gin from The Whisky Exchange claims to use a whopping 250 botanicals and I have to say I could detect almost all of them. Sure, it's not the cheapest bottle on the market but this is a must-try gin. It would be a barbarity to drown this gin with tonic – chill it down, serve it neat, and enjoy' – David T Smith, Summer Fruit Cup
Park Royal Gin is available to buy on The Whisky Exchange website, priced at £10,000 for a 70cl bottle. And if you get your hands on a bottle, you'll be in good company – it will be served at the upcoming royal wedding of Prince Harry and Meghan Markle.
Happy 1 April everyone…