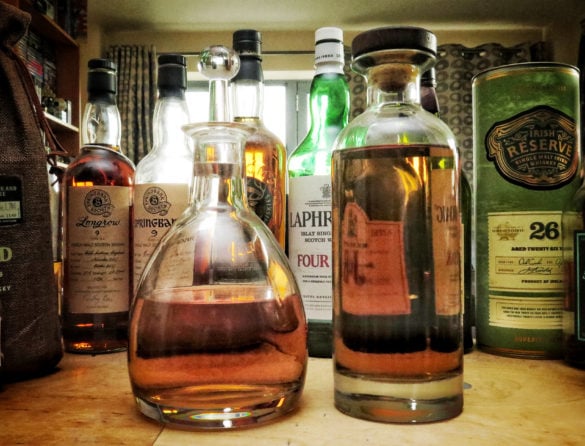 Blending whisky is hard. It takes master blenders years to hone their skills, working up slowly through the ranks to take on the creation of new whiskies. However, that shouldn't stop you having a go yourself at home. One of the easiest ways of examining this facet of the world of whisky creation is to make yourself a never-emptying infinity bottle – whenever it gets low, top it up with some more whisky.
I've currently got four different blends on the go: Speyside, Highlands and Islands, Islay and 'Misc'. The final one is my longest running and I have a notebook listing everything I've added to it over the past five years – odds and ends, the occasional specially purchased bottle, and lots of great drams. Whenever I taste it, I have a think about what it needs next and add a little slug of that from my collection of open bottles. Slowly but surely, with an occasional backward step, all four of my blends move towards being my ideal drams.
However, as with everything, there are a few rules of thumb to follow:
Starting out…
There are many schools of thought to this. The two I like most are:
1) Start with a bottle of reasonably priced whisky you know you like – this will give you a good base and allow you to build on flavours you are already familiar with.
2) Start with a random mix of odds and ends – whisky doesn't last forever in the bottle once it's opened, and if you only have a dram left, then it's probably going to become flat and lifeless before long. Why not combine all of your dregs into a starter blend? It might be confused, but finding the threads and dragging it into excellence can be fun.
I've done both, and while the first method creates more reliably decent whisky, the occasional flash of excellence from a random mix and the subsequent work to polish its edges is immensely satisfying.
Have a plan before you add anything
Chucking any old whisky into your infinity bottle is probably not going to make the best blend. However, a few minutes' thought about where you want it to go can help make sensible choices. Is it too dry? Add something sweet. Is it too heavy? Add some lighter whisky. Does it need some richness? Add some sherried whisky. Is it too smoky? Add something unpeated. Simple decisions that can push your blend closer to your ideal whisky.
Be careful with smoke
Smoke is a powerful flavour and should be used in moderation. For a demonstration, grab a glass of your favourite unpeated dram and add a few drops of a heavily peated whisky. You'll be surprised how few you need to add before it becomes very smoky.
Remember: you can always add a splash more whisky, but taking it out again gets very complicated…
Don't be afraid to experiment
Want to see what will happen if you add some bourbon to a blend of Scottish whiskies? Want to add something that isn't whisky? Go ahead! You don't need to use your whole batch, but have a play in a glass if you want to try something whacky – it might be excellent and be worth a test on the full infinity bottle.
While my regional blends have fairly obvious rules as to what I'll add, for my Misc bottle, anything goes. It contains whisky from around the world, whatever I thought might make it taste good. I've not stretched across drink boundaries yet, but rumours of Compass Box's Scovados (Scotch and Calvados) experiments make me think I should…
Taste, taste and taste again
The whole point of having an infinity bottle is to explore the flavours of whisky, so make sure you taste it regularly. Not only will you see how the whisky slowly changes as the components marry – whisky is a complex mix of compounds and they take time to settle down – but how else are you meant to make space in the top for the next dram you want to add?
Good luck, and may your infinity bottle never be emptied.
If you want to step things up and start making bigger batches of blended whisky, check out former TWE blogger Tim Forbes's excellent guide.