Spring has sprung and London Wine Week is upon us yet again. If you're in London and are either a wine fan or someone who wants to learn more, then head over to the Wine Week website and grab a wristband now by clicking the pretty picture below: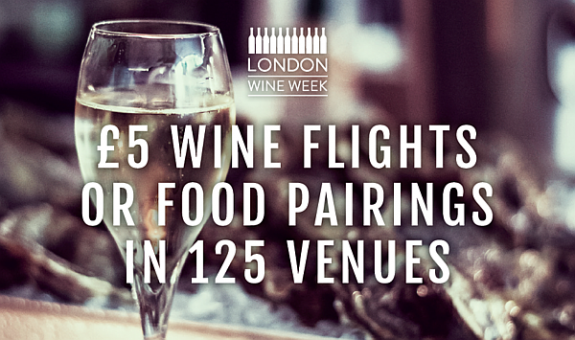 Along with great-value wine flights and food pairings in bars across the capital, there are also loads of events. We've dug through the list and pulled out a few of our favourites:
---

Tuesday 24 May, 6.30pm
The perfect start to the week, giving you the tools you need to get the most out of wine and food. The Wine & Spirit Educational Trust is one of the world's most respected drinks training groups, and in this, class Master of Wine Michelle Cherutti-Kowal will guide you through the minefield of food and wine pairing, while you eat and drink tasty things.
Find out more…
---

Wednesday 25 May, 5-10pm
With the weather looking good, how better to celebrate the midpoint of the week than by drinking wine and eating barbecue on a rooftop? Queen of Hoxton is just around the corner from Liverpool Street, and will be offering great Loire valley wine as well as food from the bar's famed barbecue.
Find out more…
---

This year, the LWW gang have joined forces with the Disappearing Dining Club for a series of dinners and long lunches. There are four in total, all taking place in the lofts overlooking the London Wine Week Hub in Devonshire Square. Pop along for five courses of fantastic food and wines to match:
Alsace Twilight Banquet, Thursday 27 May, 7.30pm
Sparkling Twilight Banquet, Friday 27 May, 7.30pm
Argentinian Long Lunch, Saturday 28 May, 1pm
Argentinian Twilight Banquet, Saturday 28 May, 7.30pm
Sicilian Long Lunch, Sunday 29 May, 1pm
---
There are loads more things to see and do during London Wine Week – you can find them all over on the events and bars pages on the LWW website.