I am often shocked by a lack of culture from my TWE Blog colleagues. While I was happy to lend them a copy of Dude Where's My Car – the finest film ever made – to ensure they understand most of the shibby that I say, I was recently dismayed by the complete lack of knowledge of one of the greatest films in existence by both Rocky and Stu: they hadn't seen Zoolander.
My comments on my difficulties with turning left, eugooglies and the perils of being really, really, really ridiculously good looking fell on deaf ears. Even after finding a copy of the DVD and giving it to them to be watched as homework, I still get funny looks when I wax lyrically about how moisture is the essence of wetness, while doing merMAN impressions on the floor of the office. For some reason.
Anyway, the sequel, Zoolander 2, is now out around the world, having premiered here in London – the centre of the international fashion industry – last week. Despite the blatant gap in my colleagues' knowledge of great movies, we're celebrating the release with a prize draw.
To tie in with the movie, the folks at Cîroc have released a special-edition vodka in collaboration with Ben Stiller, Mr Zoolander's alter ego, and fashion photographer Mario Testino – Cîroc Derek Zoolander Blue Steel Vodka.
They've created a very blue and steely bottle of vodka and we're offering our customers a chance to win a gigantic three-litre double magnum – just buy either the regular 70cl or supersized 175cl version and we'll enter you into a prize draw for the bottle. You can find full details, and terms and conditions on the prize draw page.
I leave you with the stunning essence of Zoolander himself, and the source of the new Cîroc's name: Derek Zoolander's signature look – Blue Steel: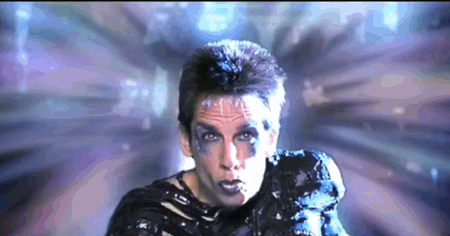 …or is that Magnum? I can never tell the difference…