This Sunday (16 August) is National Rum Day. Placed slap bang in the middle of summer, it's the perfect time to try some rum cocktails. We've created a shiny page with three of our favourites:
Mojito
Cuba's national cocktail can trace its origins to the 16th century. This is one of the simplest to make – just add, sir and top up as below.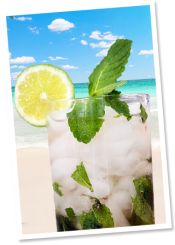 You will need:
1. Gently bruise the mint in the base of the glass.
2. Add the rum, lime juice and sugar syrup.
3. Half-fill glass with ice and stir vigorously.
4. Add more ice and stir again. Top up with soda.
5. Garnish with a mint sprig and a lime slice.
Old Fashioned
A cocktail better known for using American whiskey (usually bourbon or rye), the recipe allows the spirit (in this case golden rum) to shine through.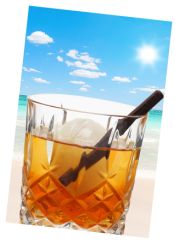 You will need:
1. Stir the rum with three ice cubes until chilled.
2. Add sugar, Angostura, optional falernum and two more ice cubes.
3. Stir until very cold, add more ice and garnish with a cinnamon stick.
Planter's Punch
Originating from Jamaica, but named after a hotel in South Carolina, this is a refreshingly fruity summery drink. Rich dark rums work best in this Caribbean classic.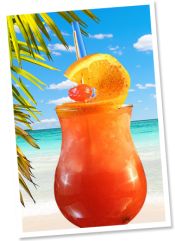 You will need:
45ml Bacardi Carta Negra
35ml orange juice
35ml pineapple juice
20ml fresh lime juice
10ml grenadine
10ml sugar syrup
3 dashes Angostura bitters
1. Pour all the ingredients apart from the bitters into a shaker with lots of ice.
2. Shake well and pour into a tall glass of ice.
3. Add the Angostura and garnish with a cocktail cherry and slice of orange.
So there you have it; three delicious and refreshing rum cocktails for you to try at home. And don't forget if you buy any two full-size bottles of rum before 20 August 2015, you'll be entered into our Black Tot Rum prize draw to win a bottle worth more than £600. ¡Salud!