I'm well known in the office for my love of grain whisky. While single malt is the spirit that dragged me into the world of drinks, I'm fascinated by both the technical side of grain distillation and the difference in character from other types of whisky. However, almost all of the grains I've had a chance to try are from Scotland – one of the few from elsewhere is from Ireland: Kilbeggan 8 year old.
It's only just been rechristened, having appeared years back as Greenore. It's grain whiskey from Cooley, until fairly recently not only the newest Irish distillery but also the only independent distiller in the country. Things have changed a lot over the past few years, with Cooley first being bought by Beam Inc, makers of Jim Beam and Laphroaig among others, and their subsequent purchase by Suntory, purveyors of Japanese whisky and also owners of Bowmore, Auchentoshan and Glen Garioch. Add to that the new crop of small Irish distillers and bigger projects, such as the building of a new Tullamore distillery, and the Irish whiskey scene is no longer what it was.
Now that the dust has settled, the folks at Cooley have relaunched their grain whiskey as a Kilbeggan, rolling it into that already-well-known range and giving it more exposure. It's a whiskey that definitely deserves it, with a great mix of grain whisky character and traditional Irish whiskey flavour.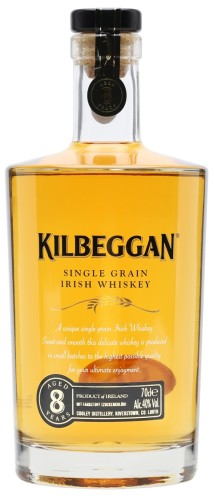 Nose: Perfumed, but with some noticeable alcohol. Rose water, vanilla, spicy cinnamon and a touch of apple.
Palate: Light and sweet, with pear drops, boiled sweets and white chocolate, as well as some of the floral, rosy notes from the nose. It calms down to a more cereal-led finish, with cornflake touches and some creaminess. A drop of water brings out more fizziness and fruit, with Refresher chews and vanilla toffee.
Finish: Quite short, with sweet butter and toffee.
Comment: Despite its 40% strength, it holds up to water well, and has a good chunk of flavour. It's good on its own, but also holds up to water, mixers and, dare I say it, ice – a nice one to sit and sip in the sun.
With the Kilbeggan 8yo receiving some love, it gives me hope for the reemergence of older versions. While younger grain is a nice alternative to malts and blends, older grain whisky can become something very special, and an old Irish release would definitely be something to keep an eye out for.