The Whisky Exchange Whisky Show 2015 is a mere four-and-a-half months away. Tickets are selling well, with early-bird weekend passes down to the last handful, exhibitors are starting to confirm and things are generally going swimmingly.
Sounds like it's time to announce our first masterclass.
We've had some impressive classes over the years, with incredible presenters, presentations and whiskies involved, and this one will go down in the history books with them. The theme of the show this year is Legends of Whisky, and this tasting is very much on topic.
Three Legends of Whisky:
Bruichladdich's Jim McEwan, Whyte & Mackay's Richard Paterson and Balvenie's David Stewart, with whisky writer Dave Broom as compere.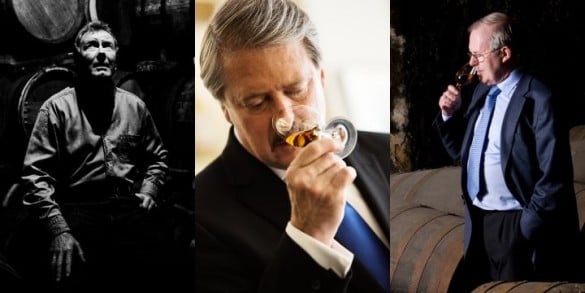 If, for some reason, you need to know more than that, you can find the full details over on The Whisky Exchange Whisky Show website. In short: there will be nine whiskies, three from each of our legends, and we've bumped the class length up to 90 minutes – they would have overrun if we'd only given them an hour, so we thought we'd let them take a bit more time over the whiskies they'll be presenting.
The tasting will take place on Sunday 4 October at 3.30pm. Tickets will go on sale on Friday 22 May at 1pm through our ticket partners at Billetto – just click below to jump over to the booking page.
Don't forget, this tasting is part of The Whisky Exchange Whisky Show 2015 and you will need a valid Sunday or weekend ticket to attend.
We don't expect the tickets to last very long, so don't hang around – set your alarm for Friday at 1pm and get ready.