On Kentucky Derby day, there is only one drink you should be seen with: a Mint Julep. This year's event takes place on Saturday 2 May, and at Churchill Downs racecourse in Louisville, where the great race is staged, a staggering 125,000 Mint Juleps will be served.
Cocktails have a variety of uses: aperitifs stimulate the taste buds, post-dinner drams help us relax and unwind, but the Mint Julep is all about thirst-quenching refreshment. Bourbon, sugar syrup, fresh mint and crushed ice combine to create a cocktail that is perfect when the sun is shining. The sweet richness of the bourbon is balanced by the zingy mint leaves, while the sugar syrup makes the drink more accessible to those who would normally steer clear of spirits.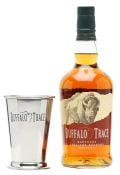 As we head into May, why not make your own Mint Julep at home? As an incentive, we're giving away stylish julep cups with every bottle of Buffalo Trace bourbon. Buffalo Trace is a great example of Kentucky bourbon, balancing sweet-spice aromas with notes of liquorice, honeyed fruit and cinnamon.
Here's how to make a classic Mint Julep. Don't forget to chill your julep cup, too – made of metal, it will help keep your cocktail cool in the sun.
how to make the perfect mINT JULEP
For a taste of Kentucky Derby fever, muddle a dozen mint leaves with the sugar syrup – place them in a glass and crush lightly with a cocktail muddler or rolling pin – then pour into a cocktail shaker with the bourbon and plenty of ice cubes. Shake, then strain into a pre-chilled julep cup half-filled with crushed ice. Stir, top with more crushed ice, and garnish with a generous sprig of mint. Wonderfully refreshing!
Buffalo Trace bourbon is available from The Whisky Exchange, priced at £24.25 for a 70cl bottle.