We're always looking for new, tasty things to stock at The Whisky Exchange, and while our name suggests a focus for that search, we don't stop at whisky. We've got a dizzying range of spirits, wines and liqueurs, as well as a bit of chocolate and a few cakes, but one area where we only have a few lines is beer. It's a carefully curated collection, and we've recently added a second brewery to our list: Windswept.
Windswept is based in Lossiemouth in Speyside, the heart of whisky country. The town is home to one of the Royal Air Force's largest bases, the obviously named RAF Lossiemouth, as well as a beautiful beach, and it's the former that led to the founding of the brewery. Two former RAF pilots, Al Read and Nigel Tiddy, started Windswept in November 2012 with the brewing of their first beer, APA – American Pale Ale. Since then, they've grown and now produce a range of craft beers, swinging from the New World hoppiness of IPAs, to German weizen, more traditional Scottish beer and whisky-cask-matured ale.
And, as a quick note to all you vegetarians and vegans who enjoy a swift half, their beers are vegetarian and vegan friendly, proudly proclaiming on the labels that, 'unlike some, we do not add fish bladders to clear our beer!'
To celebrate the new arrivals, we've put together a selection pack to make it easier to taste your way through their range. Here's what you'll get: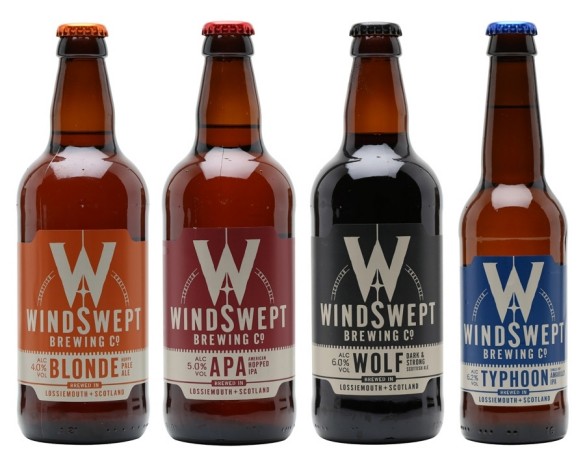 The lightest beer in the range, designed to be a crisp session ale. It's got Columbus, Cascade, Willamette and Citra hops in the mix, giving it a big burst of fruity bitterness.
Nose: Orange and sweet grain. Solid green-hop bitterness.
Palate: Big green bitterness up front, with some darker, chocolate malt notes. Sweet fruit sits behind that along with sweet and sour grapefruit.
Finish: Long and lingering bitterness: grapefuit and Seville orange rind, as well as dark roasted malt.
Comment: A lot darker in flavour than expected, but still a perfect session ale.
The first beer that Windswept produced, inspired by the daddy of the current wave of beer innovation: American IPA. While 'American India Pale Ale' is a weird combination, it's all about the hops, and this uses Columbus, Willamette and Cascade.
Nose: Freshly mown grass, orange zest and toasted cloves.
Palate: Softer than the nose suggests, but still shot through with green-hop bitterness and grass. Gets richer on the palate, with some orange juice and grapefruit marmalade.
Finish: Intense green herbs with hints of wormwood and grapefruit peel.
Comment: Hoppy, as US-style IPAs are, but with an underlying British-ale sensibility – this veers towards being a best bitter more than a fruity hop bomb, and is all the better for it.
Named after The Wolf of Badenoch – Alexander Stewart, son of King Robert II of Scotland – this is Windswept's traditionally Scottish ale. Dark and powerful, with British hops (Challenger, Fuggles and Goldings) and dark, heavily roasted chocolate malt.
Nose: Dark roasted malt, hints of burnt toast, coffee beans, rich treacle toffee and dark chocolate.
Palate: Sweet and fruity, with rich fruitcake and candied orange notes. It's brought back down to beery territory with toasted rye bread and marmalade.
Finish: Roasted malt and burnt raisins, with candied orange to stop things getting too dark.
Comment: A rich, dark ale that'll keep you warm on a cold evening.
A single-hop IPA, focusing on the flavours that Amarillo hops can give to a beer. It's got a bit of a punch at 6.2%, but delivers the focused fruitiness that is the hallmark of the new wave of pale ales.
Nose: Fresh peach and mandarin, with a hint of peach melba yoghurt. Toasted malt and some green leafiness sit behind.
Palate: Intensely fruity, with the peach from the nose joined by pineapple. It's gently sweet, with balanced bitter-leaf notes.
Finish: Grapefruit zest and pith, with some dark, roasted malt notes.
Comment: Big and fruity, with sweet peach and a little sharp green hop for balance. Exactly what I want in a hop-forward, fruity IPA.
And, to make things even better, the four-pack is just £8.95, a saving of £2 over buying the beers separately. It's a great introduction to one of our favourite new Scottish brewers.