Arkansas isn't the first state one thinks of for whisky production: half of its counties are 'dry', which prohibits the sale of alcohol; it's illegal to drink in a public place or private car (even as a passenger); and only a handful of businesses are licensed to sell alcohol on Sundays. Alcohol laws are so tightly controlled that it's one of the few US states we're unable to ship to. In 2010, it was a surprise when the state's first legal distillery since Prohibition opened  – Rock Town. I took a trip to the warm southern state in February, when it was already short-sleeve weather, and headed for the capital, Little Rock.
The distillery was founded by Phil Brandon and his wife Diana – why Little Rock? 'I was born and raised here,' he told me. 'I'd just been made redundant from my corporate job and had a passion for whiskey.' After much searching, an empty warehouse was found in the East End of Little Rock, the state capital, near the William J Clinton Presidential Center – the presidential library and home to a museum dedicated to one of Arkansas' two famous sons (the other being country singer Johnny Cash). Phil told me he was lucky as he was actually looking for a premises the size of FEW's (at least three times smaller), but the building had everything he needed for his new venture.
A permit to distill was received on 3 May 2010, with the first spirit coming off the still in July. As a distiller, Phil makes whiskey to be enjoyed; but due to Arkansas' strict alcohol laws, it took nearly a year before he could sell to the public. So tight are the regulations, he told me, it is easier for him to send a pallet to the UK than a single bottle a few miles down the road.
Plans are under way for a limited-release special bottling to commemorate the distillery's upcoming fifth anniversary, using some of the oldest casks in the distillery which by then will be four years old. I tasted direct from one of these casks during my visit. It was rich and complex with a slight spiciness on the finish, although a little too much wood tannin for bottling as a single cask in its own right.
All the grain used at Rock Town is from Arkansas, including barley, which is rarely found this far south as the climate is too warm (the angels' share is around 15% per year). 2014 produced a good crop and Rock Town plan to produce a single malt, using barley milled, malted and dried on site – the new malt floor and kiln are almost ready. The wood for the heavily charred casks (between 15-50 litres) comes partly from Arkansas and the rest from the neighbouring state of Missouri, with a preference now for the larger size.
Rock Town has picked up many awards in its short existence, including the Young Bourbon collecting Best Bourbon American Whiskey No Age Statement at the 2013 World Whiskies Awards, and Arkansas Single Barrel Reserve Bourbon Whiskey #190 winning the prestigious award of US Micro Whisky of the Year in Jim Murray's Whisky Bible 2015, with a score of 96.5pts. New single-barrel bottlings will sadly not be produced for the foreseeable future – the wood used for these releases was dried for 24-36 months, and due to the current oak-shortage crisis, these casks are impossible to source.
The range is varied with vodka, gin, whiskey (bourbon, rye and hickory smoked), rum and a range of (mainly fruit-based) liqueurs based on the distillery's Arkansas Lightning (white dog).
No distillery visit would be complete without a tasting – here are three of my favourites from Rock Town's 15-strong portfolio:
I first tried this when Rock Town was launched in the UK in June 2013. The room was full of hardcore whisky writers, but they all kept coming back for more. Made by adding apple juice and cinnamon to Rock Town Arkansas Lightning.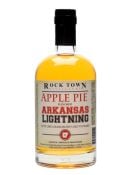 Nose: It lives up to its name; it smells like apple pie itself. Overtly appley with sweet cinnamon mixed in.
Palate: The apple is prominent at first sip with the cinnamon slowly building.
Finish: Very long. It turns full circle, with the apple disappearing, leaving a delightful cinnamon spiciness.
Comment: One of my all-time favourite liqueurs, it's up there with the legendary Berentzen Apfelkorn, but with the cinnamon adding an extra layer. There's a range of flavours with my second choice the Peach, which just has the fruit and no spiciness, so it's remarkably easy to drink.
Serving suggestion: When the weather warms up, chill and add 25ml into a pint (or a half for extra-intense spice) of cider – a perfect summer refresher. Or until those few warm days come, add 25ml and the pint of cider to a pan and heat for five minutes and you have a deliciously fruity mulled cider.
The first bottle I tried from Rock Town, and a great introduction to the distillery. The botanicals (juniper, coriander, angelica, cinnamon, lemon peel, orange peel and anise) are placed in a basket and vapour infused with spirit made from Arkansas soft red winter wheat.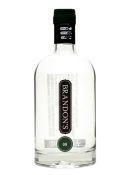 Nose: Juniper-led nose with a distinct lemon and orange fruitiness in the background.
Palate: Starts with separate components – a whack of juniper, followed by orange and lemon, then spicy anise and coriander are the last to appear.
Finish: All three elements come together in a long, spicy and fruity ending.
Comment: There are many craft gins on the market, but this is one that stands out for me. A complex gin that punches above its price point.
Serving suggestion: A versatile gin that is at home in a G&T, Martini, or even on its own.
Arkansas soft red winter wheat is cold smoked with hickory before milling. After distillation, it is matured in the distillery's ex-bourbon casks.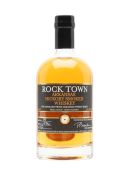 Nose: The hickory comes through, offering a delicate sweet smokiness. This is joined by a hint of coffee and dried apricots.
Palate: Multi-dimensional: sweet and smoky with vanilla, honey, nutmeg and apricots.
Finish: Medium to long with the sweet nutmeg and vanilla the last to dissipate.
Comment: A unique style of whiskey, this expertly combines softer wheat-whiskey characteristics with punchiness from the hickory smoke.
Serving suggestion: Mix two parts to three-quarters Drambuie for a spicy, smoky take on the classic Rusty Nail.
Fifteen bottlings is a lot for a microdistillery, but none feel superfluous. It is always interesting to see a distillery grow; the young whiskies have continued to improve over the past 18 months. The overall standard at the distillery is getting noticeably better and it is showing the potential to be even greater in the future. Rock Town has helped to revitalise not only the distilling industry in Arkansas (at least two others are now operational), but also the economy in the area post-recession, by employing staff from the local region and using regional grains. If you are visiting distilleries in the neighbouring state of Tennessee (or even Kentucky), and have a couple of days to spare, take a detour and visit Phil and the team – and not just because it is one of the few places to buy alcohol on a Sunday in Arkansas!