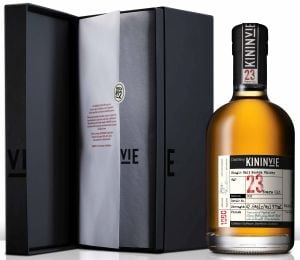 There was much excitement when William Grant launched Batch One from Kininvie to the Taiwanese market in the autumn of 2013, the first-ever release from this off-the-radar distillery. But now, UK whisky drinkers have something to get excited about: Batch Two, a 23-year-old Kininvie, is about to be launched in this country. Since it began distilling in 1990, virtually all of Kininvie's output went into Grant's blends and the tri-distillery blend Monkey Shoulder, but Kininvie itself stopped operating in late 2010, with William Grant seemingly reluctant to throw its weight behind a third single malt – understandable given that Glenfiddich and The Balvenie were doing very nicely, thanks very much.
So far, the only Kininvie we've seen here at TWE has been two bottlings, released under the Hazelwood banner (we still have some here), but William Grant is now ready to unveil Kininvie to a thirsty UK market – and the results are well worth it. TWE was invited to try three cask samples in addition to the two finished whiskies to get a good grounding of the whisky's style:
1. 2006 (bourbon barrel): bags of sweet fruit and vanilla, with refreshing green-apple notes
2. 1990 (American oak hogshead): briney, cured-meat notes, lots of spice, tight and lean
3. 1990 (sherry butt): big, big flavours of Christmas cake and rancio, but not overblown
The first 'complete' whisky I tried was the 17 Year Old. Sadly, at the moment it's limited to travel retail, but for the record, it offered clean, fresh aromas of apple and pear, with a sweet, creamy, mouth-filling palate delivering spicy cinnamon and clove notes. Thankfully, the best of the bunch was the one that is going to be available in the UK: the 23 Year Old.
Nose: Rich and complex with stone fruit and notes of Seville orange. Very seductive and moreish. Spices start to come through over time.
Palate: This is 20:80 sherry cask/bourbon cask, but the sherry influence certainly makes its presence felt, with a big whack of dried fruit (raisins), along with Christmas spices. Some honeyed notes in there, too.
Finish: Superb. Lovely balance, as the fruit and spices gently dissipate.
Comment: This was the pick of the five by some distance. A very classy product indeed.
Like its Batch One counterpart, Batch Two will be sold in 35cl bottles – very dinky but rather charming, with 1,286 available in the UK. William Grant's global marketing manager Kevin Abrook says: 'Good things come in small packages, and we think we've got a super whisky here. We went for 35cl because we wanted to convey the sense of something precious.'