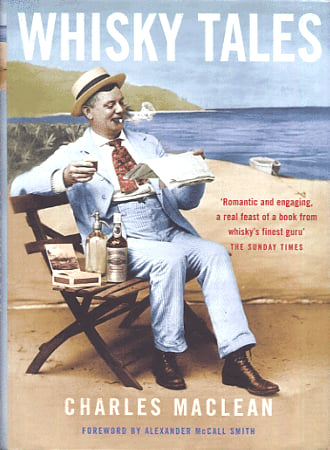 First published in 2006, Charles MacLean's Whisky Tales is an expanded version of his hugely popular MacLean's Miscellany of Whisky, which had first appeared two years earlier and is today more widely disseminated and easier to obtain than the tome under discussion here.  Whisky Tales is worth seeking out, though, as it contains several sections not included in the Whisky Miscellany; however the latter includes three sections that were omitted from Whisky Tales.  MacLean completists, therefore, will need both books, but for most fans Whisky Tales will suffice.
Mr MacLean, of course, is the last of the true gentleman scholars writing about whisky; although the industry has been his profession for the last thirty years or so, having given up a promising law career in the early 1980s to focus on whisky he still fits into the noble tradition of writers & scholars who wrote about whisky either as a hobby or as an adjunct to their main profession.
Whisky Tales is not a serious or important book.  It's certainly not Charles MacLean's most important work (hopefully we'll come to that later in this series), but I'm a big fan all the same.  By its very nature the book is, as its author describes it himself, 'a rag-bag' and yet it's a very interesting rag-bag and well worth a rummage. The brilliant full colour plates (not present in the Miscellany) reproducing early whisky advertisements are worth the cover price alone.
For one thing, Whisky Tales is the best book I can think of to give to someone just beginning on their whisky journey.  Mr MacLean's greatest strength as a writer is his ability to condense difficult technical information or dense historical events into accessible bite-size chunks.  His mellifluous prose flows across the mind's ear.  For those who have had the privilege to meet the man himself, it is impossible to read anything he has written without hearing it narrated in his endearingly posh Edinburgh lilt.
For the beginner, Whisky Tales has the most straightforward explanation of the process of whisky making I've encountered, with easily-comprehended but non-patronising accounts of the etymology of the word whisky and the differences between the whiskies made in Scotland and the other major distilling countries cropping up early on amongst a wealth of history and literary allusion.
And so it continues.  Whisky Tales is a series of short, easily devoured pieces, some looking at the big picture – the history of the industry in the 20th century is brilliantly condensed into six pages – and some taking pleasure in wallowing in detail. Minutiae and ephemera are treated fondly here, as befits any self-respecting miscellany.
As a leading light of the upper-middle class Edinburgh literary scene, MacLean is of course extremely well-read, and his erudition is evident throughout in the judicious use of quotes from a variety of historical sources.  If there was one whisky writer whose library I'd like to plunder, it would be a toss-up between Ian Buxton and Charlie MacLean, but I think Mr. MacLean would edge it.  Naturally, his good breeding means that this depth of knowledge is worn very lightly, with the prose never getting bogged down or over-serious.
It's difficult to think of any other whisky book that would take the trouble to elaborate on the history of whisky vessel closures for five pages.  MacLean attacks the subject with relish and somehow miraculously manages to make it interesting. Naturally, the appendices are also essential reading, containing as they do the full 1974 Blenders Classification of Single Malts plus a list of all Scottish distilleries (malt and grain) that existed in the 20th century.
Faults in this book are difficult to find, although readers who don't care for Robert Burns will find themselves flicking past several paragraphs and, perhaps due to the fragmented, bite-size nature of the articles, one or two quotes and stories are mentioned more than once.
But these nitpickings are more than forgivable in view of the book's highpoints, which are too many to detail here.  I particularly enjoyed the account of the Johnnie Walker agent's trip to Prohibition America and his astonishment at the widespread flouting of the Volstead Act:
"Another familiar sign was 'Gentlemen are requested to open their medicine in the Bathroom', where there was inevitably a bottle-opener and a corkscrew, both chained to the wall. 'Hotel keepers soon found themselves compelled to defend themselves in this way after the "dry" law was enacted, as guests were known to wreck whole suites of bedroom furniture in desperate efforts to remove a closure,' Redfern observed dryly."
My very favourite chapter of this book, though, was a piece I'd read before in a less widely-disseminated publication, but was delighted to see in proper print: Mr. MacLean's marvellous treatise on viscimetry.  Entitled 'Awakening the Serpent: The Science of Viscimetry, Now Lost', the chapter is a brilliant fandango of flummery, a heady blend of recondite half-fact, earnest near-truth and inspired mystic speculation, with MacLean at his most skillful and convincing while planting his tongue ever further into his cheek.
You can see the man himself explaining viscimetry in this excellent Youtube clip.
Viscimetry's victims have been manifold in the years since it first slithered from the pages of the now-defunct and much lamented Scotch Whisky Review, to the extent that it is now on the verge of official recognition, with its own Wikipedia page and, hopefully one day, mainstream acceptance in the form of an entry into the OED. One suspects that the author's merry devilry would lead him to consider the latter, if and when it occurs, to be one of the finest of the many achievements in his long and distinguished career.