Never say we're not good to you.  TWE have teamed up with Glendronach to bring you a very special heavily sherried single cask.  Bottled in March 2013, Cask #4682 was distilled on 8th November 1995 and was a Pedro Ximenez sherry puncheon that yielded a generous 631 bottles at its full cask strength of 56.6%.
As usual, the selection process was long and rigorous, with several samples discussed and rejected before we made the final selection. We are therefore very proud to present this outstanding single malt from one of Scotland's best distilleries: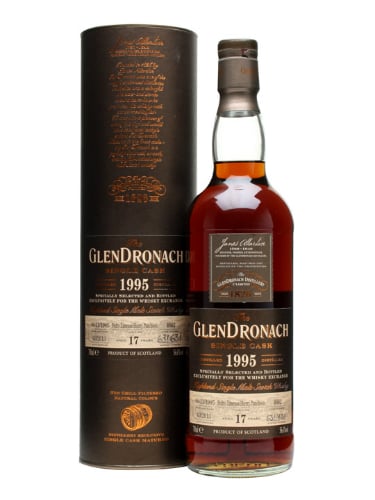 Glendronach 1995 Pedro Ximenez Sherry Puncheon #4682, 56.6%
Tim:
Nose: Very rich, with a nice combination of classical sweet sherry – prunes, dates, figs, fruitcake, chocolate sponge – plus some more savoury undernotes like rye bread and hints of balsamico. Develops on Black Forest Gateau, dark chocolate shavings, orange liqueur, toffee apple hints, strawberry jam, damson liqueur, malt loaf… you get the idea.  New aromas each time you stick your beak in the glass. Water lifts spongecake and sugared almonds.
Palate: Dark chocolate at first, then a big surge of sherrywood with some sappy hints and some savoury balsamico.  Quite drying mouthfeel at full strength, but the sweet & fruity flavours from the nose start powering through mid-palate. On the second taste, lots of worn leather and the Black Forest Gateau are most prominent.  After a bit of time in the glass the spices and dryness are tamed and the palate becomes amazingly chocolatey.  Doesn't need water but takes it very well, becoming fruitier and sweeter.
Finish: Very big and long.  Orange dark chocolate and spice (intense cinnamon bark & clove), lingering fruit and oak.
Comment: An absolute belter – and what I like is that it's got the savoury notes to complement the sweet, meaning it doesn't become a one-dimensional sherrybomb.
Billy:
Nose: Rich raisins and figs up front, cut through by sharp but still sweet fortified wine (more vintage port than sherry), and a nice hint of spice. There's cinnamon biscuits, polished leather, stewed apples, hints of bitter chocolate, a little bit of coffee and a touch of spicy sponge cake.
Palate: Not as sweet as expected at first, with savoury leathery notes, damp wood and freshly cut bark. As it sits in the mouth (it can stay there a while, as it's surprisingly easy drinking for 56.6%) it starts growing in sweetness and spice, with apple skin, cinnamon, dried fruit, sweet pastry and stewed apple building on the palate. Along with that it picks up some Good Old Wood, carefully cared for, well-worn oak with layers of polish slowly applied over the years.
Finish: Spicy, fruit and long, with a touch of cooling mentholated wood, lingering fruit cake and a hint of sweet pastry.
Comment: Quite different to its sister cask of a couple of years back, with darker, more savoury notes rather than the rich chocolatey fruit of the younger whisky. It's complex, very sherried and very drinkable without water. I think we chose rather well.