While Tim and I often take on the role of roving reporters when it comes to our Vinopolis tastings, it's not only us who make it along from HQ to 'help out'. However, back at the end of February Tim and I were both taken out by schedule conflicts (I was washing my remaining singular hair and Tim was torching cars, or whatever else it is that they do in South London) and couldn't make it down to London Bridge for the first of second of our monthly tastings. Fortunately, a crack team of thirsty TWE staff made the sacrifice, caught the tube and reported back on the evening. I am merely their editor and scribe, so I salute them – ta muchly Tara, Michael and Nic.
The topic for the evening's tasting was divided amongst two often opposing camps of spirits – Cognac and Rum. In this case they were unified by one thing: a single company and a single guiding hand were behind all of the spirits. The owner of Pierre Ferrand Cognac and Plantation Rum, Alexandre Gabriel.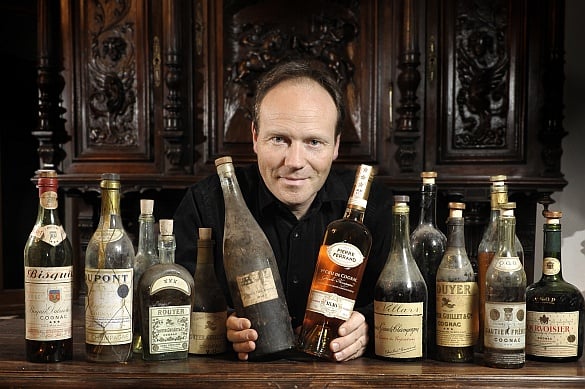 Alexandre is the latest person to lead the distillation at Logis d'Angeac, the small distillery in the heart of Grande Champagne where Pierre Ferrand produce their cognac. Founded in 1776 it's far from being a young distillery, and they still obsess about old skool techniques and small scale production. Their grape of choice is Ugni Blanc, increasingly the choice of cognac producers, which they grow on their own 102 hectare estate, producing the base wine for their eaux-de-vie solely using their own grapes. They distil on the lees and in small quantities, deliberately coming in at lower than the distilleries capacity to ensure the quality of their spirit.
First on the mat was Pierre Ferrand's 1840 cognac. It's based on a five year old cognac which is then blended with much older spirit, up to 45 years of age. Often the older cognacs have dropped below the legal strength limit of 40% and the introduction of younger spirit drags it back up into legal bottling territory while allowing the older, more developed flavours to come through. Here's what Nic thought:

Color: Old Gold
Nose: Fruity with a slight grassy note, ripe pears, vanilla and cinnamon sugar, a slightly unusual soapy note
Palate: Pears in syrup, vanilla pods, slight alcohol prickle through the mid-palate with drying spices
Finish:  The alcohol seems to evaporate rather quickly, spicy and peppery on the fade with a nice caramel sweetness to balance it out
Next was the Ferrand Selection des Anges, 'The Angel's Choice'. It's blended to give a taste profile similar to their 30 year old cognac, using spirit between 25 and 45 years old to do so:

Color: Copper
Nose:  Fruitcake, vanilla, sultanas, soft and rounded
Palate: Cloying on the tongue, a jammy note leads to prunes, a trace of burnt sugar, and an earthiness
Finish: Medium-long finish, some sugar and spice, slightly drying towards the fade
Next was the Ferrand Abel, recently arrived in our shop – 45 years old and pretty much the top of their range for now:

Color: Mahogany with copper highlights
Nose: Polished oak, dark chocolate, braised raisins, a hint of exotic dried fruits
Palate: Sweet entry, again traces of dark chocolate, nutty, some drying spices towards the end
Finish: Beautiful sweet & spicy finish that lingers for a while.  Pure enjoyment in the glass
We then shifted out of cognac territory and into the world of rum. There is an occasional connection between the producers in cognac and the roneros of the Caribbean – the trading of casks. While cognac can only be matured in new oak or casks that have previously only contained cognac, the rum world is much more open and Ferrand sold their used casks to rum producers. It wasn't long before the occasional small batch of old rum was coming back to France and Alexandre has since become rather well known as a rum blender, picking up the Master Blender of the Year award at last year's Golden Barrel awards.
The concept behind the Plantation Rum range is quite simple: 1) Select excellent quality, well-aged rums that have spent their life in the Caribbean, 2) Ship them to France, 3) Finish them in small Cognac casks in the Ferrand cellars, 4) Bottle them, 5) Profit. So far it seems to have been working rather well, with a string of awards to their name including picking up more Best in Class honours at the 2012 RumXP Competition than any company had in the past.
The first rum on the mat was Plantation Barbados 5 year old Reserve, aged for 5 years in the Caribbean and then for a further 18 months in Cognac:

Color: Gold
Nose: Crème brûlée, bananas, some woody notes
Palate: Coconut syrup, dried fruits, a little alcohol prickle on the tongue, vanilla is prominent
Finish: Sweet but well-structured, some traces of oak, but very good
Next we stuck with Bajan spirit and went for the Plantation Extra Old Barbados rum, bottled for Plantation's 20th anniversary. It's blended using a base of 12 year old rum and a selection of older spirit up to 25 years old:

Color: Burnished copper
Nose: Vanilla malted milkshake, buttered cinnamon toast wrapped with toasty oak
Palate: Creamy entry again with essence of vanilla, Christmas spice, slightly drying towards the end
Finish: Beautiful rounded finish.  Shows its age well with good balance between sweet and drying spice.
The last currently available bottling of the night was the Plantation Panama 2002, moving over to mainland South America and the company's more usual tradition of stating the vintage:

Color: Old Gold with Copper highlights
Nose: Parma Violets? A floral note, caramel, and a touch of oak, almonds
Palate: Definite marzipan coming through, clove, there is no floral note though on the palate, drying oak mid-palate
Finish: Suprisingly long finish with nice spice and a trace of caramel coming through towards the end
Last, but far from least, was a work in progress cask sample – a blend of rums from a number of different islands, produced in both column and pot stills, and aged for a variety of amounts of time. Presented at a fiery cask strength:
Color: Copper with ruby highlights
Nose: Marshmallow, caramelised banana, a nutty aroma, frangipani
Palate: Vanilla and marzipan dominant at first, but turning to drying spicy notes and burnt sugar
Finish: Sweet fade with some toasted oak and the vanilla re-surfacing again.  Really nice finish but begging for more!
Many thanks to Alexandre Gabriel for bringing along both himself and his rums – if you want to find out more you can check out the Cognac Ferrand and Plantation Rum websites, or have a look at their cognacs and rums on our website.