January is normally a bit boring for whisky releases. Christmas has been and gone, people are counting pennies and the whisky industry is plotting quietly as the end of the tax year heaves itself over the horizon. However, a few intrepid distillers brave the annual 'unseasonal' snow and fling their latest creations into the hands of whisky drinkers. One regular fixture in this sparse line-up is the annual Glenmorangie Private Edition.
Starting out three years ago with Sonnalta, finished in PX casks, and following it up with Finealta, lightly peated and made to a 1903 recipe, and last year's Artein, matured in 'super-Tuscan' Sassicaia wine casks, this year's entry is another examination of the wood used to mature the whisky.
It's called Ealanta, seemingly the Gaelic for 'Skilled and Ingenious', and is a 19 year old whisky, distilled in 1993 and entirely matured in new charred oak casks. This isn't the first time that Glenmorangie have gone down this path, with their 1991 vintage Missouri Oak release also being matured in their new oak Artisan Casks, made using wood from a patch of trees in the Ozark mountains specially selected and acquired by the company. However, that was released at 11 years old, whereas the new Ealanta has an extra 8 years in unforgiving new oak. Dr Bill Lumsden inherited the casks used for Ealanta when he took over as their whisky maker in the mid-1990s and has been nurturing them ever since, only now deciding to release them.
So, how did the experiment go?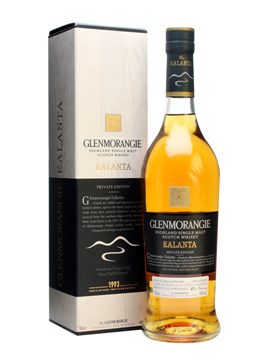 Billy:
Nose: Woodily spiced custard (nutmeg and cinnamon), apple crumble, white pepper, rich caramel, rhubarb and custard sweets, gummi sweets (red ones), sandalwood, damp green leaves, hints of sour wood, and the traditional Glenmorangie honeyed sweetness.
Palate: Soft and oily mouth feel, big vanilla, hot spices and lashings of good wood – sweet toasted oak, deeply flavoured dark wood and fragrant freshly sawn boards. Underneath the wood there's sharp green apple, as well as some tropical fruit and some boiled sweet sweetness.
Finish: Vanilla cream and woody spice, especially a lingering cinnamon tingle. There some drying woodiness, but it's not unpleasant.
Comment: It's certainly no shrinking violet, with lots of wood as you'd expect. However, it doesn't go too far, and while the hot and spicy finish may not be for everyone it's certainly a rather drinkable dram.
Tim:
Nose: Digestive biscuits, big apple pie, some sweet cinnamon; clean, doughy, bakery aromas, autumn leaves, raspberry jam on homemade bread, dry grass cuttings, some kiwi fruit, strawberry liquorice shoelaces. Gets very honeyed with time in the glass.
Palate: First impression is very nutty and spicy; hazelnuts and brazil nuts; dried bark, pencil shavings. There is some honeyed dark fruit (prune) under here somewhere, but it takes a bit of digging. The oak is very big, but very clean, not musty.
Finish: Spicy & woody as expected. Warming, slightly drying.
Comment: Remarkably bourbony – just goes to show how much of any bourbon's character is down to the new oak in which it is matured.  I reckon this is the best Glenmorangie Private Edition since Sonnalta.
I will admit to there being some scepticism amongst the TWE blog team – reception of the Finealta and Artein has been mixed and the prospect of an over-oaked Glenmorangie was a very real possibililty, but Dr Bill rewards those who have faith in him. It may not be one to stick with all night but it is a very drinkable dram which not only goes down well as a single malt but also, we've heard from those who attended the launch, works quite well as a substitute for bourbon in a variety of cocktails. Or just in a glass with some ice…
It's available to buy now over on our website.